#SupportLocalKCK
There are plenty of ways to continue to shop, dine, and support local and independently-owned businesses at this time. From restaurant updates and take-out ideas from local influencers, to creative ways to still explore Kansas City, KS - find out how you can #SupportLocalKCK below.

5 Ways to Support Local Businesses
From small taquerias and barbecue joints to museums, and specialty shops - our local businesses are what set Kansas City, KS apart from anywhere else in the Midwest. They are handled day-by-day with the tender love and care of their owners, frontline workers and families. Many of these people are residents of KCK, which means they are invested in the well-being of the community. This is why it is more important than ever to show these businesses you appreciate them.
Tips for dining safely during COVID-19
Seek out information on what restaurants are currently offering and what their hours are. Many Kansas City restaurants are still serving customers via carryout, curbside and delivery apps. Note that some restaurants have family specials, adjusted menus and hours. Check with the restaurant's website or social media pages for this information.

To avoid crowds and a wait, consider ordering during the week vs. weekends or off-peak meal times. 

A wait may be unavoidable. Consider this when choosing what time you order. 

If payment is not available online, ask about the  possibility of payment over the phone. 

If possible, only send one family member in if curbside is not available.

Remember to tip servers, delivery, cashiers, etc. 

Comply with all of the CDC's recommendations for avoiding COVID-19  including practicing social distancing, covering your mouth and nose with a mask or cloth face cover when out and around others, immediately wash your hands with soap and water for at least 20 seconds when you arrive back home. See here for more information 
More ways to support local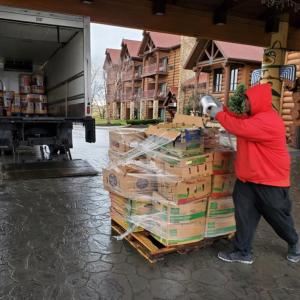 Find Local Opportunities to Donate and Volunteer
LEARN MORE
#SupportLocalKCK in the Community
Join in on the conversation and show us how you're supporting local businesses in Kansas CIty, KS at this time! Use #SupportLocalKCK on Instagram to be featured below.