Let your tastebuds lead the way on the most epic taco experience Kansas City has to offer. The KCK Taco Trail will take you to authentic taquerias, mouth-watering meat markets, homey Tex-Mex eateries and everything in between. No downloading an app or purchasing a passport required! Simply sign up, eat tacos, check in and redeem your rewards.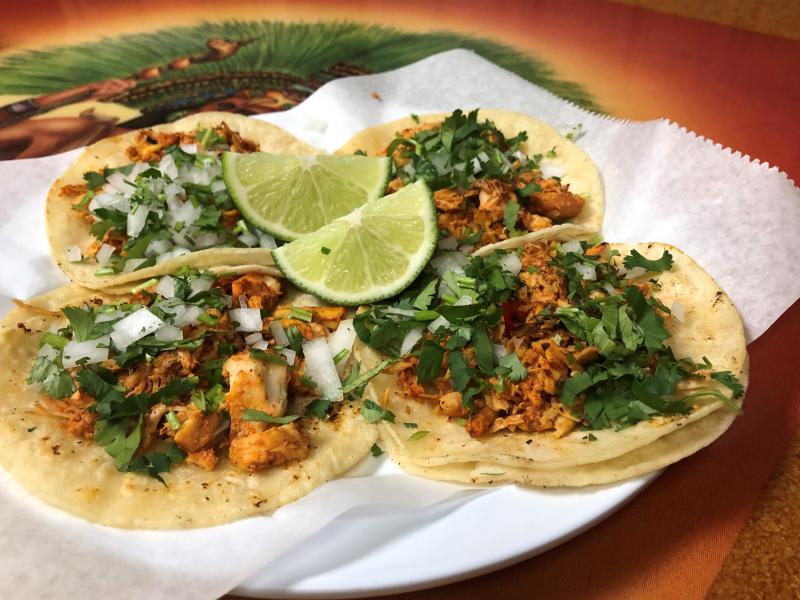 Why tacos you ask? 
Kansas City, KS is a melting pot of culture, and this can be found through our art, historical sites and most noticeably our food scene. Barbecue may be known as the classic cuisine of Kansas City, but here in "KCK", as the locals call it, you'll find you're never too far from tasty tacos. Many of these restaurants are small and immigrant-owned, with primarily Spanish speaking employees. The tacos, you'll find, will speak for themselves. With more than 60 places to try, it's a big job. However, the sight of al pastor in a taqueria window and the lingering scents of fresh-made tortillas will reassure you you've got just the appetite to do it! 
Here's a sneak peek of what you'll find on the trail: 
Restaurant Types 
Authentic Mexican: You'll notice the majority of the KCK Taco Trail stops feature authentic Mexican food. Taquerias, Tortilleria's, meat markets and more sit-down restaurants included. Here you'll find traditional dishes and recipes from varying parts of Mexico. Try your typical "street-style" tacos where the meat is the star (accompanied by fresh onion and cilantro) from North to Central Mexico inspired spots like Las Palmas and Carniceria y Toritilleria San Antonio.
Tex-Mex: Perhaps you love to load up your tacos with cheese, sour cream, lettuce and tomato. Tex-Mex style spots on the trail offer more Americanized dishes like hard shell tacos and soft flour shell tacos with ground beef and shredded chicken. Gather around with your family or friends for queso dip, loaded nachos and maybe a margarita or two. 
Taco Types
Adobada: Generally pork marinated in a "red" chile sauce with vinegar and oregano. Find adobada tacos at California Taco Shop, 1268 Kansas Ave.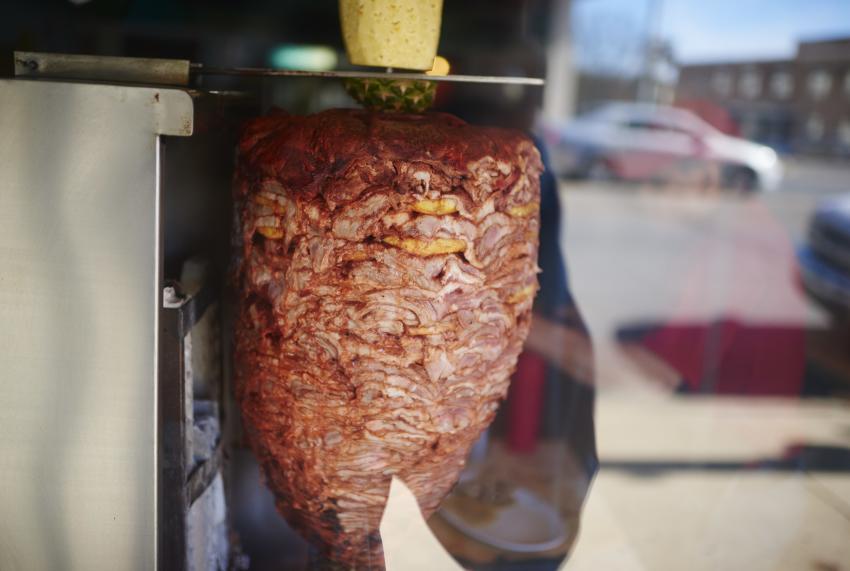 Al Pastor: Lebanese-fusion style way of cooking meat, al pastor is marinated pork with a mix of Middle Eastern spices and flavors more traditional to Mexico. The meat is grilled and usually served with pineapple mixed in. Find tacos al pastor at El Camino Real, 903 N 7th St Trfy. 
Barbacoa: Often made from beef cheeks or goat head. High in fat and full in flavor, cooking meat barbacoa style means low and slow over an open fire. Originating in the Caribbean, modern day "barbecue" derives from barbacoa. Find barbacoa style tacos at GG's Barbacoa Cafe, 210 South 7th Street.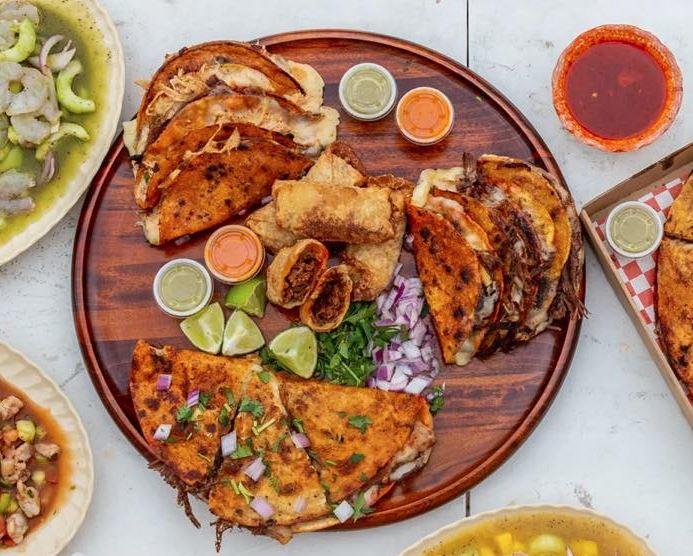 Birria Tacos: Originating from the state of Jalisco, birria is a traditional dish usually made with goat, lamb, beef or pork. It's typically served in soft, griddled corn tortillas with a layer of cheese in between, and accompanied with consomé, a broth made from the juices of the meat. Find birria tacos at Nunez Foods, 2110 N 18th St.
Buche: If you're an adventurous eater, add buche tacos to your list. Buche refers to pig stomach mixed with chilies and spices and stewed for hours into a rich and fatty dish. Find buche tacos at Los Altos de Jalisco #2, 1259 Central Ave.
Cabeza: Cabeza refers to beef head, which is steamed for hours, turning it into its tender consistency its most well known for. Find cabeza tacos at Tacos El Guero, 1410 Minnesota Ave.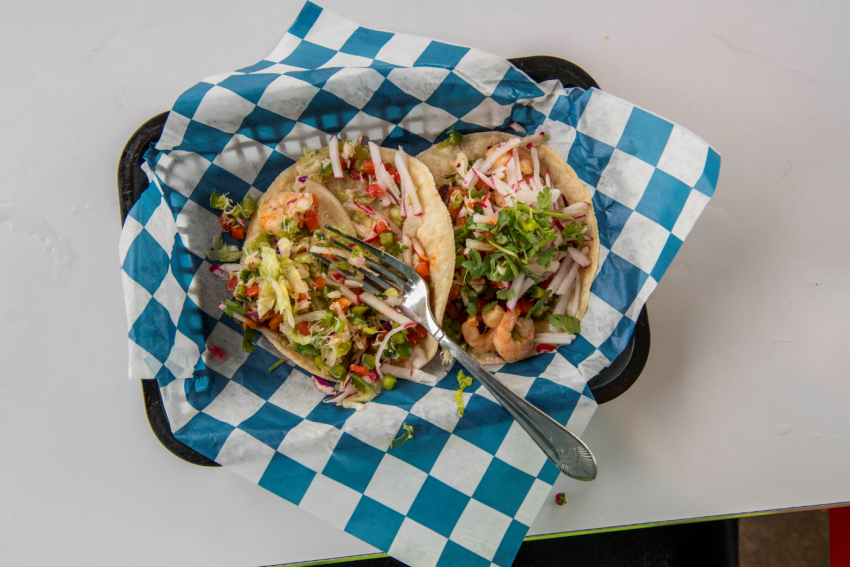 Camarón: Pan-seared shrimp that can typically be found at more South Pacific-style authentic Mexican taquerias and Tex-Mex restaurants. Find camarón at Las Palmas Restaurante, 825 Minnesota Ave.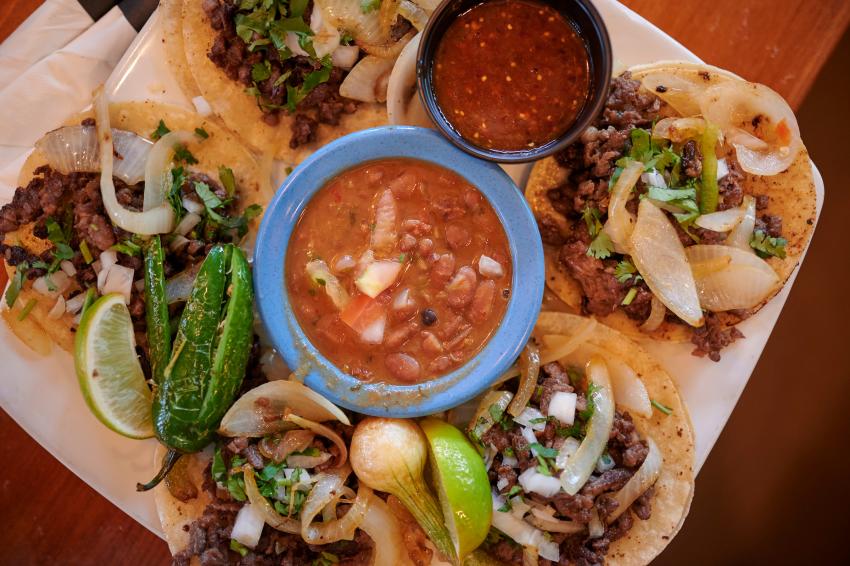 Carne Asada: Marinated and seared skirt or flank steak known for its charred flavor. Find carne asada tacos at El Toro Loco Authentic Mexican Bar & Grill, 1706 Village West Pkwy.
Carnitas: Originating in the state of Michoacán and made by braising pork in oil or lard until tender. Find carnitas tacos at  Pepe's Carnitas, 3208 Strong Ave.
Chicharrón: Made from fried pork belly, chicharrón, or chicharrónes, is traditionally served as a snack or finger food in Mexico or can be added to tacos. Find chicharrón tacos at Don Antonio, 7510 State Ave. 
Chicken Fajita: Marinated chicken grilled with onions, red and green peppers. Find chicken fajita tacos at El Bonito Michoacán, 1150 Minnesota Ave.
Chorizo: Pork sausage known for its smokiness and deep red flavor due to spices and red peppers. Find chorizo tacos at Mi Casa Bonita Authentic Mexican Bar & Grill, 1709 Steele Rd. 
Discada: With origins from northern Mexico, discada is a dish of mixed grilled meats including steak, bacon, ham, and chorizo.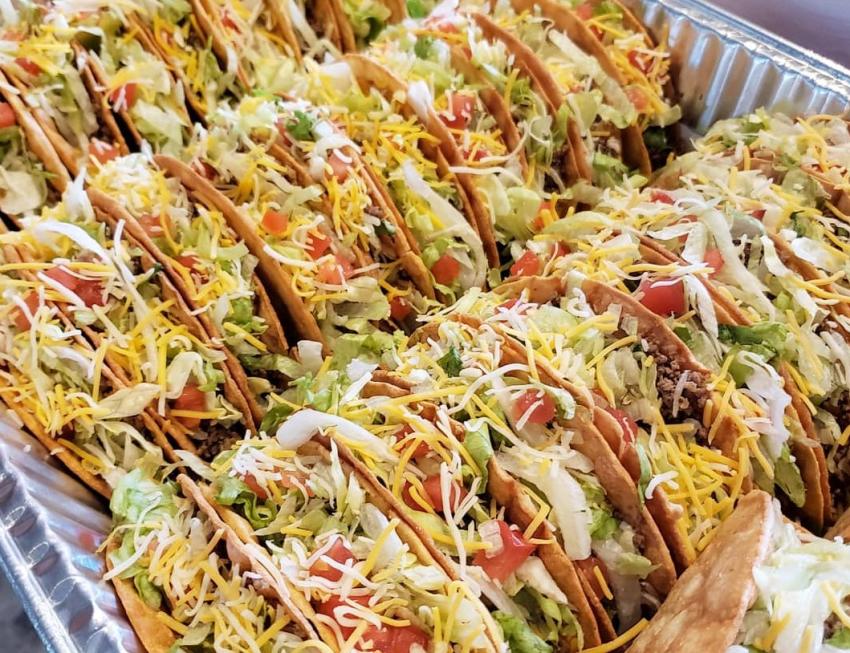 Ground Beef: Ground beef mixed with spices like cumin and chili powder. Typically found at Tex-Mex style restaurants. Find ground beef tacos at Tarahumaras Authentic Mexican Restaurant #2, 503 N 6th St.
Lengua: A classic Mexican dish of beef tongue which has been braised with garlic and onions. Find lengua tacos at Tacos on Wheels, 299 S 10th St. 
Longaniza: Spanish sausage. The dish varies from chorizo as it is made with minced meat while chorizo is made with ground pork. Chorizo is spiced with paprika while longaniza is spiced with black pepper. Find longaniza tacos at El Camino Real II, 1147 Argentine Blvd. 
Nopal: Spanish for Opuntia cacti, commonly referred to in English as prickly pear. Nopal is a vegetarian alternative for tacos, and has been a part of the traditional Mexican diet for generations. Find nopal tacos at El Torito Supermart, 1409 Central Ave. 
Pescado: Spanish for fish, pescado tacos are a light alternative to the typical red meat taco. Find pescado tacos at Tapatio Mexican Grill, 151 S 18th St.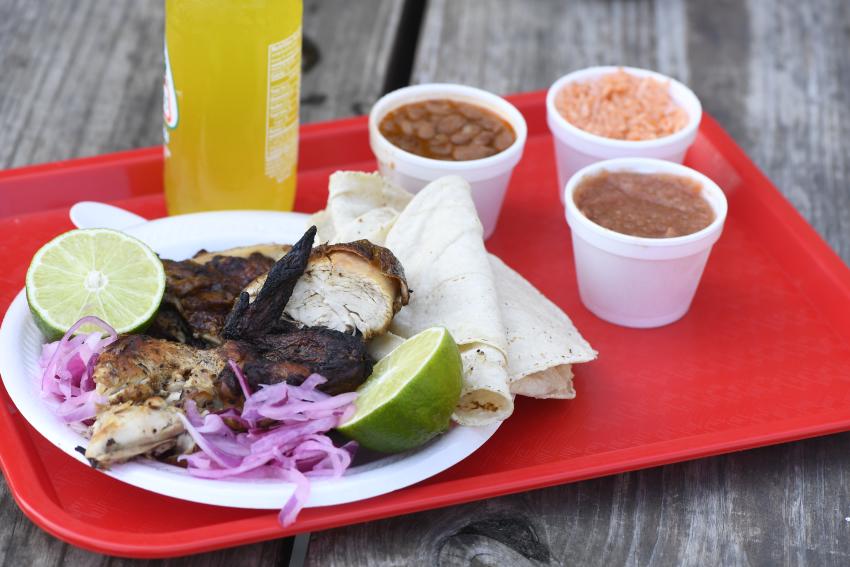 Pollo: Shredded chicken breast with traditional Mexican spices. Find pollos tacos at El Pollo Rey, 901 Kansas Avenue.
Suadero: Thin cut of beef from the meat that hangs from the breast bone on a cow. It's typically known for having a smooth texture rather than a muscle grain. Find suadero at Tapatio Authentic Mexican Grill, 151 S 18th St.
Tripa: Known to be rich and nourishing in traditional Mexican culture, tripa is made from the small intestines of farm animals, which are cleaned, boiled and grilled. Find tripa tacos at Tacos El Tio, 78 N 10th St. 
You can register for the KCK Taco Trail here. Then choose the type of tacos you're craving from one of our nearly 60 spots and hit the trails from there! With each stop you make you can check in and rack up points to collect prizes. 
Be sure to use #KCKTacoTrail as you're out and about to be featured on our social media channels or website. Happy Trails! 
The KCK Taco Trail is ongoing however, consumers have until December 31, 2023 to complete the trail and win prizes.
Join the #KCKTacoTrail today!