Hey, I can fly. Let me explain… I can fly with the help of a zip line, a few D-rings, and some great tour guides. But in the pictures, it looks like I can fly!
I recently visited Zip KC - a zip line course that sends you flying through the forest at speeds up to 60 miles per hour! I had never been zip lining before so I wasn't sure what to expect - maybe I'd hit a tree, maybe I'd drop my camera, maybe a tree would drop my camera (anything is possible), but luckily none of that happened and I had an amazing time! 
 Upon arriving at Zip KC I wasn't sure if I was in the right place; it's at the end of a road by some train tracks, but alas, I saw the sign and turned into the compound. I got checked in and weighed, met the guides (Carson and Jimmy who were both awesome), and met two other zippers, Avery and her mom Cindee.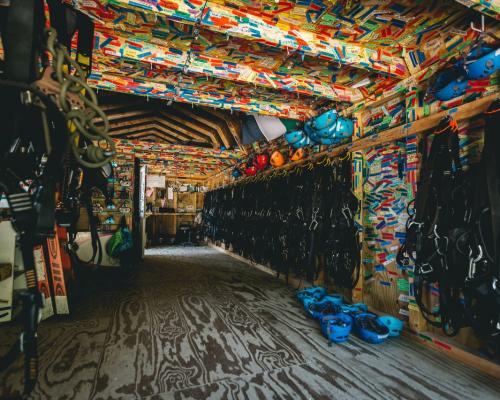 Before we embarked on our journey, we had to assign each other nicknames -- the twist -- it was written on your helmet and you didn't know what nickname you had been given until the name was called to the platform.
   Nicknames -
Cindee nicknamed me "The Rock" because i'm huge and bald (I'm blonde and skinny).

I nicknamed Cindee "Draper" because she works in marketing.

I nicknamed Avery "Spielberg" because she is a filmmaker.
   After taking a short bus ride up to the first tower and climbing several steps we were ready to zip (FLY!). Now, I have to be honest, it's pretty nerve racking before jumping off that first tower, but once you lean back and let it rip you'll have a blast! The first line is the longest, about a quarter mile, but I was surprised how fast I got to the second platform! Fair warning, the brake is a little jarring, but other than that it's an extremely smooth ride.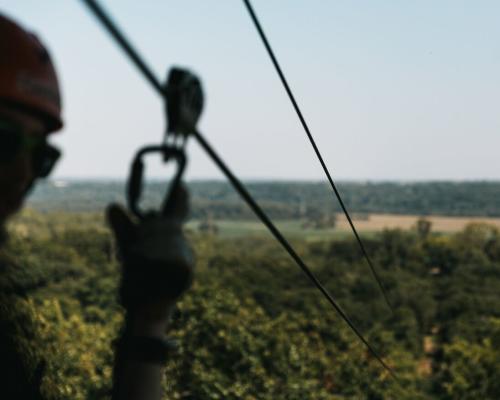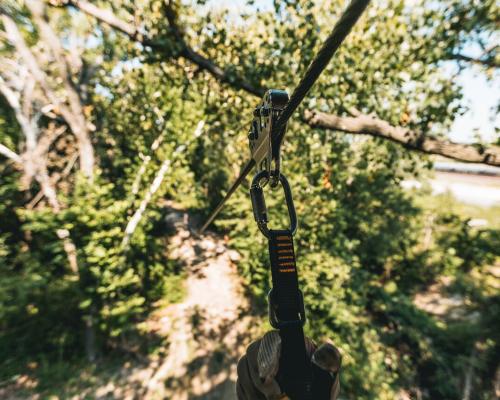 Once I got the hang of zipping, braking and landing I got into a groove and had a bit more confidence, but before I knew it we were on our last tower - The zero gravity drop - this one gave me that rollercoaster feeling in my stomach. It's a 12-foot free drop and then you gently swing to a stop. Then you're done and want to go again!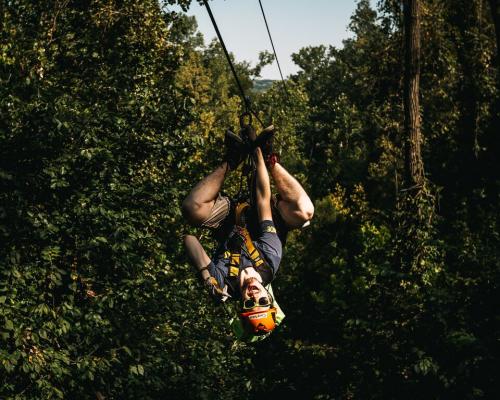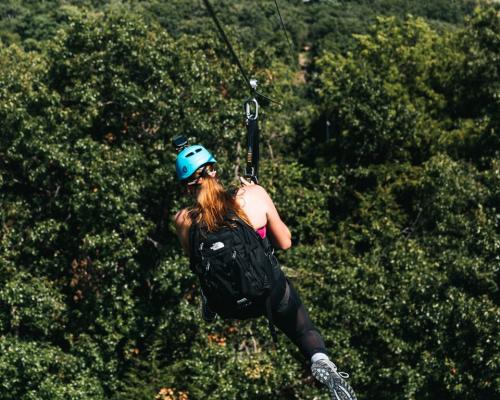 I really had a wonderful time at Zip KC and highly recommend it to anyone that's seeking a weekend thrill. Speaking of weekend thrills, my next stop was the Hollywood Casino because nothing brings you down from an adrenaline rush like going to a casino.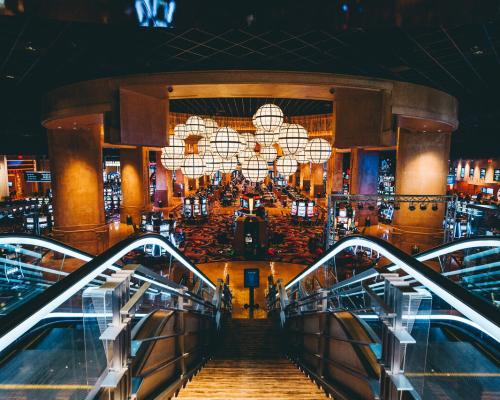 Okay to be fair I wasn't really there to gamble, I was there to check out the Turn 2 Sport Bar & Restaurant, a unique sports bar located inside the Hollywood Casino on the second turn (hence the name) of the Kansas Speedway.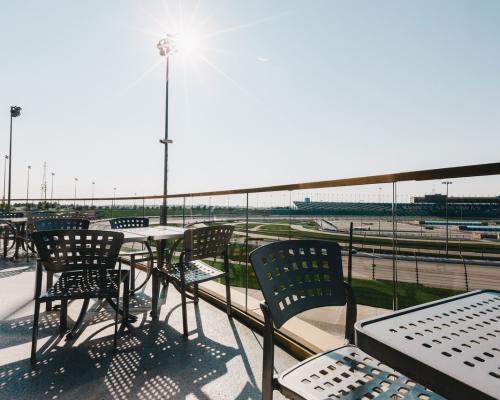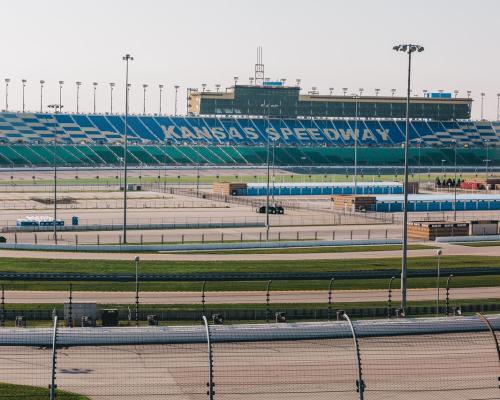 Zip lining makes you hungry (it's science) and I was in the right place. I ordered their Boerger's Burger, Pepperoni Pizza, and a Cheesesteak. Also, my dinner partner Sara, from the Casino's marketing department, chose the Chicken Cobb Salad which looked fantastic, but I wasn't there for salad. Full disclosure - I didn't finish everything I ordered because I'm not Takeru Kobayashi. Instead I sampled each dish and then took home three boxes of unfinished food which I enjoyed later.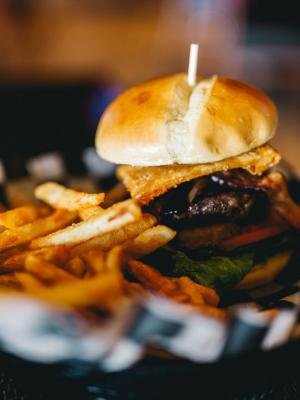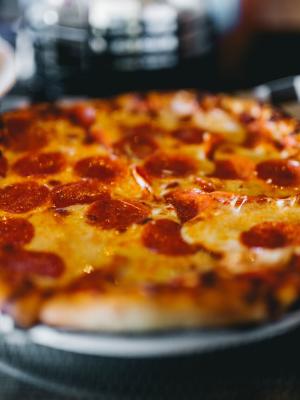 Here is a brief description of the food I ate from a non food critic -
Boerger's Burger - The biggest cheeseburger I've ever had. It took all my jaw strength to face this beast down, but I did it.

Pepperoni Pizza - Solid. The main thing about pizza is it's good no matter what.

Cheesesteak - I've never been to Philly so I don't I have the moral ground to judge a cheesesteak, but this particular one was great.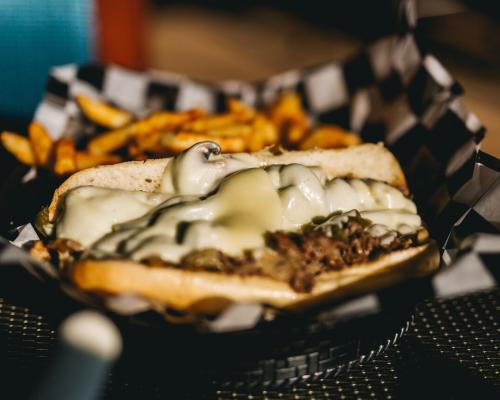 In all seriousness, the food was delicious and the atmosphere at Turn 2 is amazing. They have tons of televisions, one of them is a massive screen behind the bar! They host Royals watch-parties, Karaoke night on Thursday, and obviously they love Nascar. Do yourself a favor and check this place out. Watch a game, watch a race, or sing Karaoke!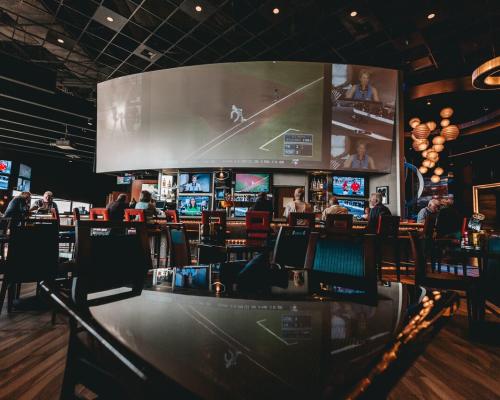 I had such a good time visiting Zip KC and Turn 2. Both are very unique places you need to experience for yourself!