As if an indoor/outdoor water park plus a plethora of indoor attractions weren't enough, Great Wolf Lodge in the Village West ensures families remain in a constant state of fun with its Summer Camp-In. 
Although check-in isn't until 4 p.m., visitors can arrive as early as 1 p.m. the day of their stay to take full advantage of all the swimming, splashing and sliding, plus the rotating schedule of hourly summer-camp themed activities. Kansas City, Kansas' Village West area is just a short drive from our suburb of KC, so the kids and I hopped in the car to get our Great Wolf party started while my husband finished his work day on Friday.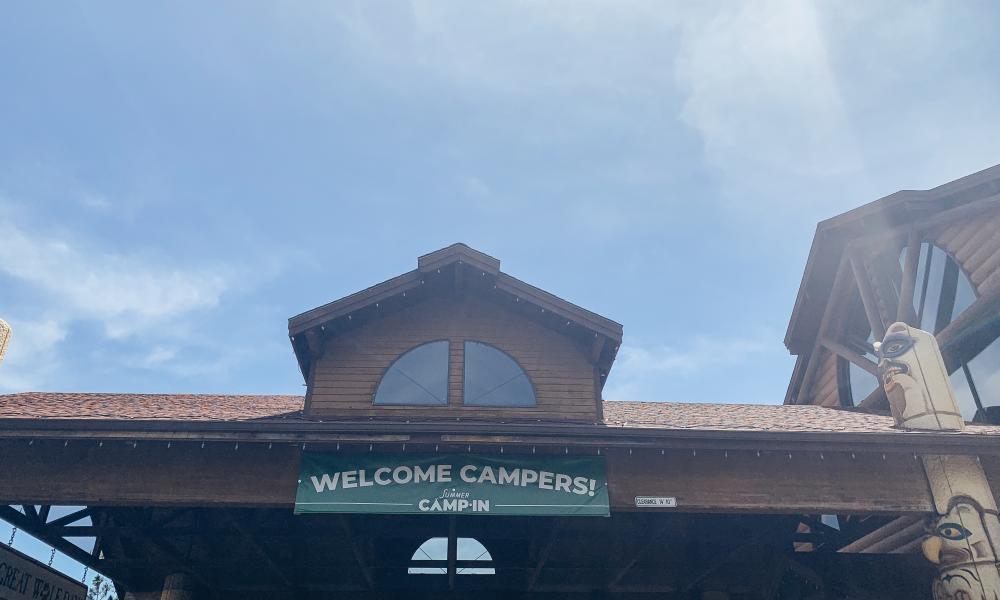 Summer Camp-In
Great Wolf Lodge apparently knows the key to many a mama's heart is the fun of camping without the actual sleeping outdoors! Upon check-in, we were provided with a Summer Camp-In daily schedule of activities in addition to the regular waterpark amenities and attractions. Activities include games like bingo and rubber ducky racing, crafts, face painting, special treats like gourmet s'mores, a summer dance party and more. Having a printed schedule was convenient, allowing us to pick-and-choose our activities, structuring our waterpark play time accordingly.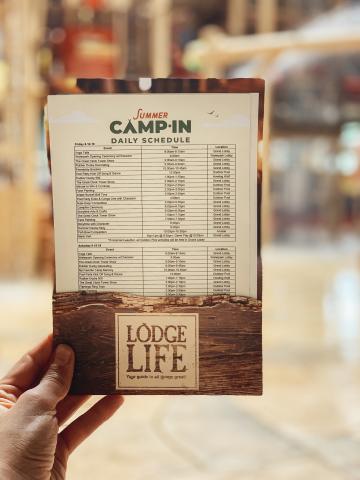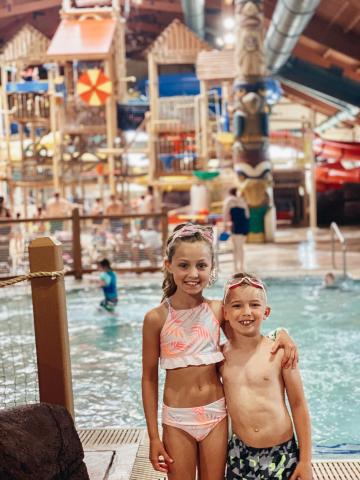 Great Wolf Lodge Eats and Activities
We passed several fun-filled hours in the waterpark, my husband joined for some time on the slides, and then we took a break for dinner. Buckets Incredible Craveables at the indoor waterpark and Grizzly Jack's Bar and Grill by the outdoor pool offer quick service snacks or meals poolside while Camp Critter Bar and Grill off the Grand Lobby provides sit-down meals. Guests can also call ahead for Brooklyn-style pizza for quick pick-up at the lobby from Hungry As a Wolf. After dinner, our family shared fudge and a caramel apple from Bear Paw Sweets and Eats just off the lobby, which also brews Starbucks coffee and offers grab-and-go breakfast items. Great Wolf Candy Company was also enticing.
After filling our bellies, we considered all the attractions Great Wolf Has to offer on-site including MagiQuest, Howl in One Mini Golf and the Northern Lights Arcade. Parents with smaller kids may want to wrap up the evening with PJs and story time in the grand lobby. Since our kids are a little older (ages seven and 10), we took advantage of their later bedtime, playing games at Northern Lights until they crashed in their bunk beds.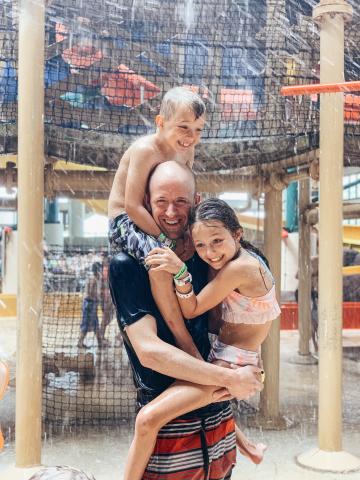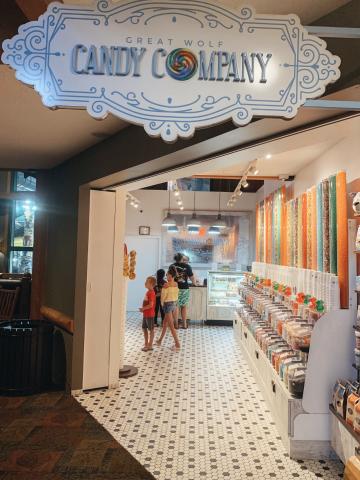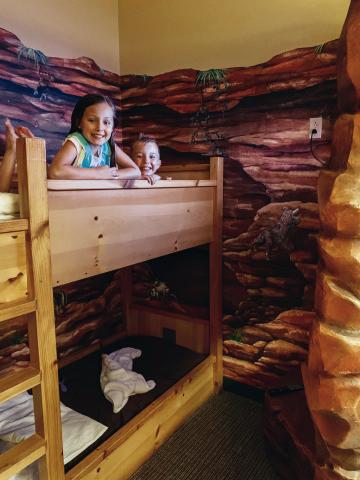 We started the next morning bright and early with Yoga Tails at 8 a.m., the first Summer Camp-In activity of the day. An instructor on-stage reviewed and practiced kid-friendly poses with families and then incorporated them into a fun story featuring Wiley and Friends. It was entertaining for everyone from the toddlers in the audience to me and my 10-year-old daughter!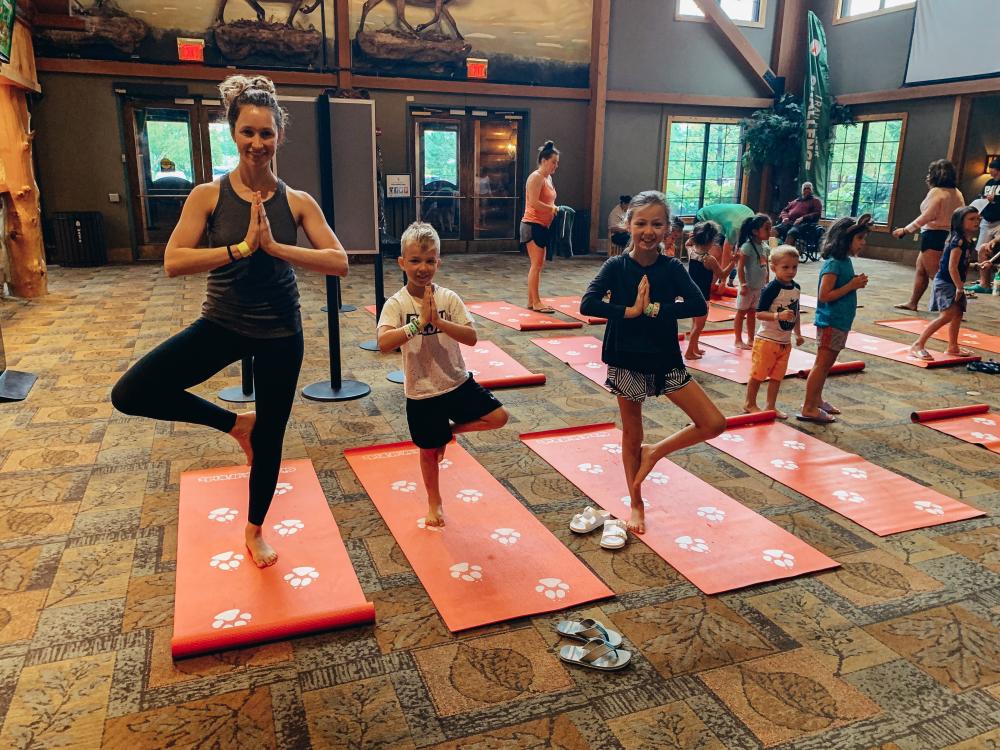 Check in- and out- via text simplified our stay. Check out was 11 a.m., but we planned to enjoy more swimming and activities that morning, so we packed up our room and texted our Great Wolf concierge that we'd left our room. We packed a smaller carryon bag with our clothing for that day, and we were able to store it securely and conveniently at the water park.
Surrounded by Fun
We worked up an appetite with several more hours of swimming, said 'goodbye' to Great Wolf Lodge and headed to the nearby Legends Outlets for lunch and shopping.
Chiusano's Brick Oven Pizzeria provided a family-friendly environment and delicious Neapolitan-style wood-fired pizza. The kids doodled with crayons on the paper-covered table while my husband and browsed the menu of unique specialty pizzas. We settled on the T-Bones pizza topped with ground beef, caramelized onions, mushrooms, green peppers and mozzarella.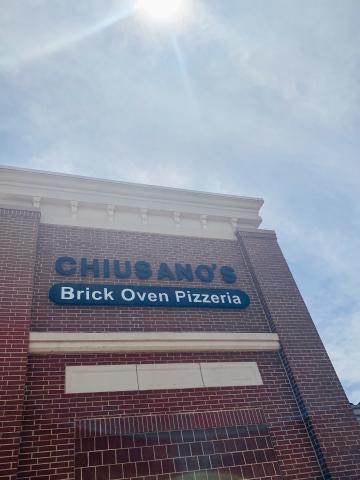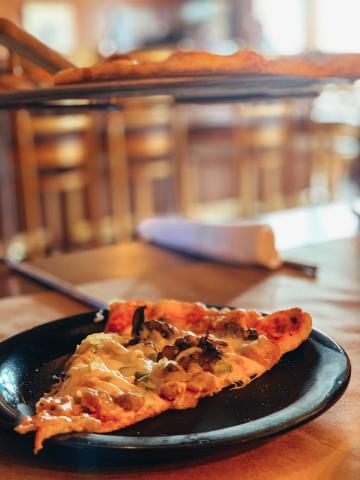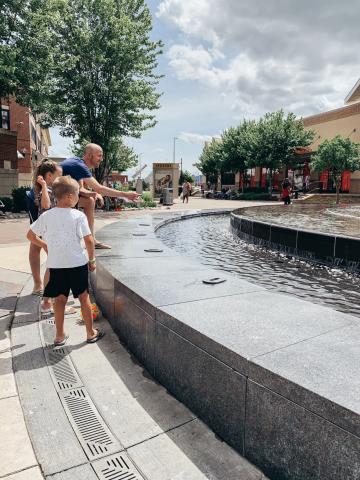 Our next stop was Legends Outlets, one of my all-time favorite shopping areas in Kansas City. I never fail to find deals for our entire family there! My husband will reluctantly shop with me for approximately 20 minutes, once a year, and Banana Republic Factory is usually it for him. Thankfully, there's more than just clothing at Legends. For those weary of shopping, there's always Dave and Busters or watching a movie at AMC Legends 14.
Our family jam-packed a lot of fun into a 24-hour period at Great Wolf Lodge and the surrounding Village West area. With Great Wolf's Summer Camp-In experience, there's easily to keep families entertained for a long weekend!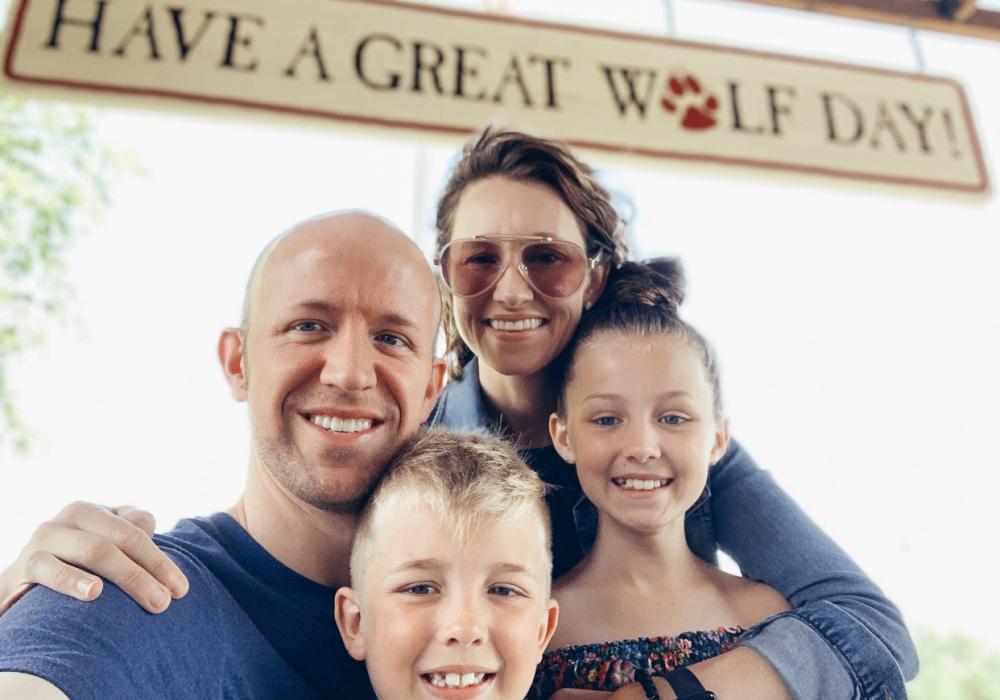 Want more summer fun in Kansas City, KS? Check out our free Summer Fun Passport here!