Cold weather months don't have to mean that all of your family's fun and travel are put on pause. Since the time around holidays and the New Year can be so chaotic, our family often finds that this is when we need to disconnect from our daily life and unwind more than ever. We did just that as we celebrated our daughter Caelyn's birthday at Great Wolf Lodge! She was turning 4 years old, and we wanted to make it a special adventure for her.
Family Fun at Great Wolf Lodge
In our usual fashion, my husband Troy and I set the stage for our getaway with an air of secrecy. We, seemingly spontaneously, whisked the girls away for an adventure at an undisclosed location. Unbeknownst to them, our bags had already been packed into the trunk of our car and we were ready for the weekend.
As we arrived at the Great Wolf Lodge, the girl's eyes lit up in excitement. The majestic entryway with its infamous tower clock provides the magical touch that's perfect for wowing children of all ages (even the grown-up ones)! At check in, the girls all received cute little wolf ears to wear during the duration of our trip. Caelyn's were equipped with a birthday crown, to commemorate her special day; and she was thrilled.
The Cabin Experience - Indoors
We stayed in the KidCabin Suite, one of the many themed room options at Great Wolf Lodge. Our girls had their very own room within our room, complete with bunk beds and their own television. The room also includes a fireplace, balcony/patio and a queen size bed and full sofa sleeper! Even with all that, we still had more than enough room for all 5 of us to stretch out and relax with plenty of space. The in-suite microwave and fridge and wet bar allowed us to store all of our extra snacks and beverages, which are essential for traveling with little ones.
Dining and Shopping at Great Wolf Lodge
When we were ready for a full meal, we needn't look far. Great Wolf Lodge features several food and sweet treat options including buffet dining, pizza delivery, a sweet and eats shop, and even a complete candy store! The Bear Essential Swim Shop and the Buckhorn Exchange Gift Shop are perfect for picking up a few items during your stay. If you want to go a step extra, however, and transform your visit in to a magical adventure throughout the entire lodge… you'll want to visit the Magi Quest Marketplace and grab a wand.
Fun and Games at Great Wolf Lodge
The MagiQuest wand allows visitors to join into a live-action adventure game throughout the entire resort! The programmable wand remembers your adventures, and allows you to take them home with you at the end of your trip! Mini golf, the arcade, and the interactive creation station are a few of the other fun attractions at the resort. There is even a fitness center and spa (complete with spa services for even the smallest nails and toes)!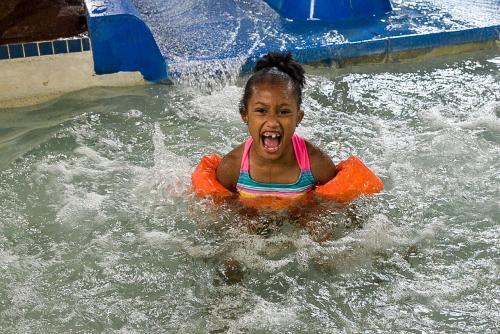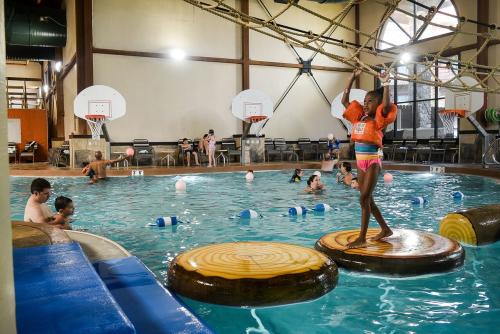 Of course, no resort visit is complete without a little water fun. This is at a whole new level at great wolf lodge, however! The water park is HUGE with designated areas for toddlers, an activity pool, a huge water fort, multiple slides, and even North and South hot springs that allow you to sit back and relax with the whole crew.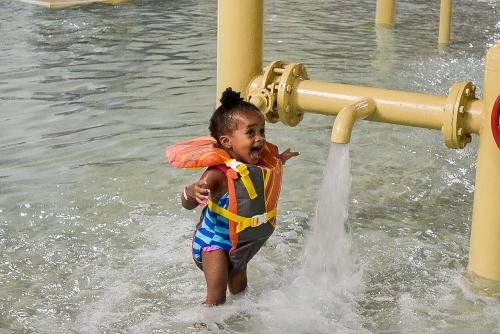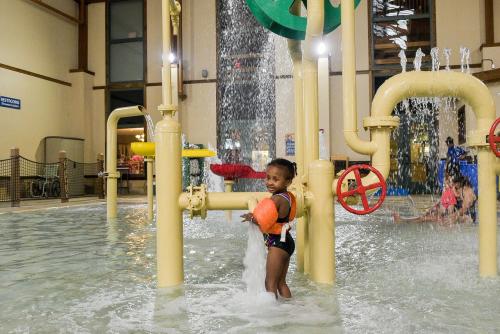 Nearby Fun!
The Great Wolf Lodge is conveniently located near the Legends Outlets Kansas City in Kansas City, KS. We wanted to explore the area a bit during our stay, without losing the outdoor lodging vibe of the resort (not to mention Daddy was eager to scope out some new outdoor equipment of his own). We journeyed next to Cabela's. If you're thinking that an outdoor hunting and equipment supply store doesn't sound to appealing for a family adventure with three young children… you're probably right. Cabela's is soo much more though!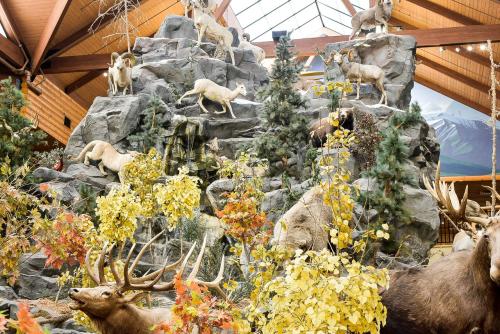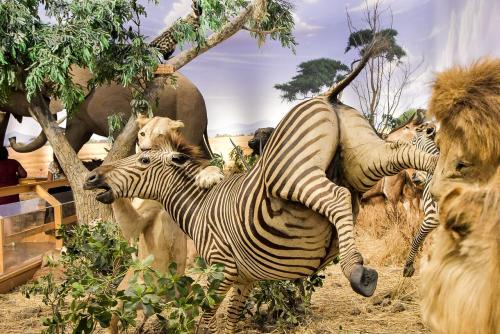 In addition to the beautiful aquariums we admired when we walked in, the girls also enjoyed exploring the very lifelike taxidermy displays throughout the store. We had a little fun at the indoor archery range, and learned a lot about different species' and habitats as we walked around the store. Cabela's also features a fun gift shop, and instore restaurant that features highly acclaimed wild-game sandwiches!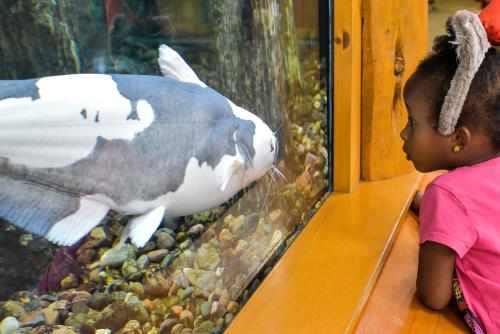 The Fudge & Nut Shop is definitely my new guilty pleasure whenever I visit Cabela's. You can choose between delicious roasted nuts and sweet flavored fudge… or just do what I did and buy them both!
Winding down at Great Wolf Lodge
After a busy day of adventures like we had, it's usually hard to get the girls to wind down for the night.  Not at Great Wolf Lodge! They had us covered when it came to the nighttime routine. We headed  to the lobby for Storytime and the evening Tower Clock show, where all of the children danced and laughed and had a fun time.
Back in our room, we sung Happy Birthday to Caelyn in front of the in-suite fireplace and cuddled up together to watch movies and doze off. On our car ride home the next day, Caelyn exclaimed that this was the best birthday ever, and her sisters eagerly chimed in in agreement. My Husband and I, who usually feel flustered and overwhelmed by the end of most family vacations, shared a smile and silent appreciation. Great Wolf Lodge had been the perfect getaway for us all, and just the winter vacation we'd needed. We're already making plans to go back soon.