Restaurant and hospitality workers play a vital role in our local  tourism industry. You'll recognize their familiar faces all throughout Kansas City, KS. Here's one to remember! Meet Andi Ryan, Director of Hospitality at J. Rieger Co. and Kansas City, KS local.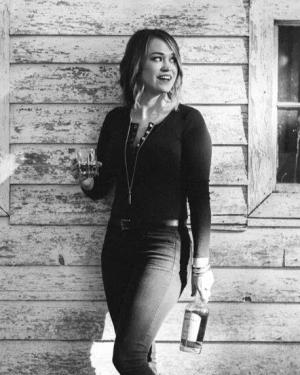 Share a little about your experience in the hospitality industry...
I began working in the service industry as a host when I was 15 years old and never turned back. I have waited tables, bartended and managed through the years at a variety of places, from dive bars to Michelin-starred fine dining. In 2015 I began working as a brand ambassador for J. Rieger & Co. while I was living in Chicago. What started as a part time gig turned out to be the real beginning of my career. Eventually it brought me back home to KC to take on the role of Director of Hospitality at J. Rieger & Co.'s new distillery.
.What do you think makes the service and hospitality industry in Kansas City so unique?
 The hospitality culture in Kansas City is so supportive! I have learned that people who work in the service industry will usually band together no matter what city you find yourself in, but that support system is even more elevated in Kansas City. I think it is our Midwestern nature to want to help each other out, but we really root for each other to succeed which is not always the case in such a competitive industry. I also feel that our bar and restaurant scene is very underrated in comparison to other cities. KC is full of talented and passionate industry professionals! 
The COVID-19 pandemic has had a huge impact on the service and hospitality industry. How do you think what has happened could change the industry long term? 
If social distancing becomes a long term practice everything will change. Dining rooms, corner bars, kitchens, carryout, everything. When regulations are put into place to control the capacity of any establishment it will be very hard on the service industry to maintain. Who would like waiting in a "one-in-one-out" line to get into your local watering hole or restaurant? I would imagine not many, but we must always prioritize the safety of our employees and guests. I don't believe anyone really knows what will happen in the near or distant future, but I believe the road will be hard to get back to normal. I haven't seen anything like this in the 17 years I have been in hospitality, but I have been witness to the strength and resiliency of the service industry which gives me faith that we will be alright. ​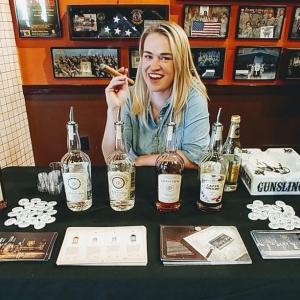 What are some initiatives you've seen taken that have been especially helpful for the service and hospitality industry during the pandemic? ​
I am extremely fortunate and proud to be a part of a big initiative - the production and distribution of hand sanitizer at J. Rieger & Co. The leaders of our company flipped our distillery pretty much overnight from producing only spirits to becoming a full fledged hand sanitizer factory. The willingness of our team to step into completely different roles so quickly was inspiring. Our bartenders, servers and tour guides became assembly line workers, the distillers began making a completely different kind of alcohol, the sales team became delivery drivers and management spent their time organizing pickups for hospitals and first responders. We were also quickly able to donate sanitizer to our fellow industry friends that were open for carryout and curbside pickup as well as our liquor store partners who saw a rush in business. We at the distillery were lucky to be able to keep our jobs when this hit but a lot of our peers were not so lucky. It was incredible to see the response to help one another city wide. Most notable for me was the transformation of The Rieger into a hub where those who were out of a job could get a meal on a pay-as-you-can basis. They are a great example of how this industry always looks out for each other. 
What are some ways people can support the service and hospitality industry post pandemic? 
When we get the all clear to go back out, do it! But please continue to be cautious and practice safe habits to keep yourself and those working safe. If you are still leary of getting back out into public spaces then continue to get food and to go cocktails from your favorite spots. Buy local when you can. And remember to tip those that are putting themselves at risk and working hard to serve you! Most industry workers will be significantly behind financially, so any generosity will always be appreciated. 
You're a KCK local. What are some places and experiences you can't wait  to return to in Kansas City, KS post pandemic? ​
I can not wait to get back to my favorite spots on Strawberry Hill! Root beer floats (the adult version, ice cream not included) at Chicago's, eating BBQ on the new deck at Slap's, hanging out at Splitlog Coffee Co. and enjoying the weather and drinks on the patios at 403 Club, Breit's and The Mockingbird Lounge.
Find out ways to show your support for local businesses and hospitality workers at this time! Check out our #SupportLocalKCK page here. 
Keep up with all the featured familiar faces and places in Kansas City, KS! Explore our KCK Insiders Blog here.