Restaurant and hospitality workers play a vital role in our local  tourism industry. You'll recognize their familiar faces all throughout Kansas City, KS. Here's one to remember! Meet Anakaren-Ibarra Dumovich, a sous chef at Rye KC and Kansas City, KS local.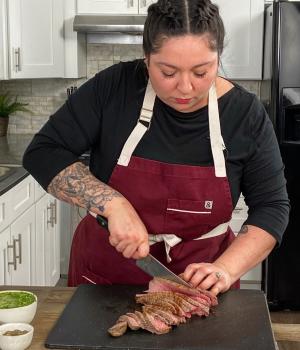 Share a little about your experience in the hospitality industry...
I've been cooking for almost 10 years, all in the KCMO area. My roots however are in KCK though and I'm very much proud of them. I was a Sous Chef at rye plaza prior to COVID-19 and had been there for over a year and a half. I was previously at Happy Gillis, a local favorite brunch spot that was very neighborhood friendly and it taught me a lot about Management. I never had any formal training, I sort of just jumped into the scene and worked my tail off. 
.What do you think makes the service and hospitality industry in Kansas City so unique?
  I think KC is so unique in that it 's growing more and more every year, but it still feels like a small town. The Hospitality here is what a lot of other places lack in other cities. Everyone in the Hospitality community here supports each other. We collaborate with each other. We dine at each other's places. It's like one big family. We understand one another and take care of each other in that sense. As well as our guests.
The COVID-19 pandemic has had a huge impact on the service and hospitality industry. How do you think what has happened could change the industry long term? 
 As we've seen, restaurants and other small businesses run on very small margins and something like this could just ruin things so fast. Most of the people who work at these establishments live paycheck to paycheck. I'd like to see some kind of way we could offer insurance for all, raising minimum wage and most importantly having the government help out the small businesses in this country. We need it badly. I saw somewhere that the majority of people who filed for unemployment were hospitality workers. There's something wrong with that.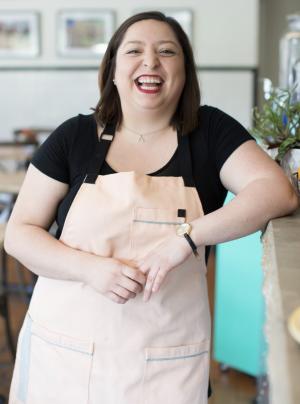 What are some initiatives you've seen taken that have been especially helpful for the service and hospitality industry during the pandemic? ​
A few restaurants have become community kitchens who are there for anyone who might be in need of a meal and unable to pay. Once again we take care of each other. I've seen companies turn into mask making machines, t-shirt brands creating fundraisers for restaurants by buying a shirt. People are rallying and it's a beautiful thing to see. 
What are some ways people can support the service and hospitality industry post pandemic? 
 I think people are seeing how important it is to support their local establishments. I definitely encourage that, keep supporting locals and do it for a while. Be patient as we get our bearings too. Most people have already pivoted, but it's only going to change more. We'll have to find what works for us as we try to follow any new guidelines. And social media too. Tag your favorite places, mention them, take pictures, review them… all of those things get the word out.
You're a KCK local. What are some places and experiences you can't wait  to return to in Kansas City, KS post pandemic? ​
First thing I will do is go on a taco crawl! It's something I regularly did here in KCK and it'll be a great way to support them. The full dining experience. & I'd like to attend a Sporting Kansas City game again after all this ends. I've always enjoyed going out there and cheering them on. It's such a good energy. 
Find out ways to show your support for local businesses and hospitality workers at this time! Check out our #SupportLocalKCK page here. 
Keep up with all the featured familiar faces and places in Kansas City, KS! Explore our KCK Insiders Blog here.