Three generations of women discover the true meaning of girl power in Kansas City, Kansas
Lyda Conley fascinates me. I wish I had known about her in high school, when I was struggling to write a paper titled "If you could go back in time and have dinner with anyone in history, who would it be?" Now the answer was obvious to me: Lyda Conley. But I was long out of high school when I first saw a mural with her image on the side of a building in Kansas City, Kansas The mural made such an impression on me, that I was moved to learn more about the Huron tribe of the Wyandot Nation, who came to Kansas in the 1840s after they were forcibly removed from their home in Ohio.
I love the image of her and her sisters with loaded shotguns guarding the family cemetery to protect it from commercial development. I particularly love that Lyda became the first woman admitted to the Kansas Bar Association in 1910, that her legal career was launched in order to protect this cemetery and that it is now a National Historic Landmark.
Apparently, I talked about Lyda Conley a lot because at one of our family gatherings, my mother said she would like to see this mural and this cemetery. To my huge surprise, my teenage niece jumped into the conversation saying she, too, would like to visit Kansas City, Kansas
And that's how, on a warm spring day, I found myself walking the Avenue of Murals on Minnesota Avenue with my mother on one side and my niece on the other, talking about the strong women who helped shape this community.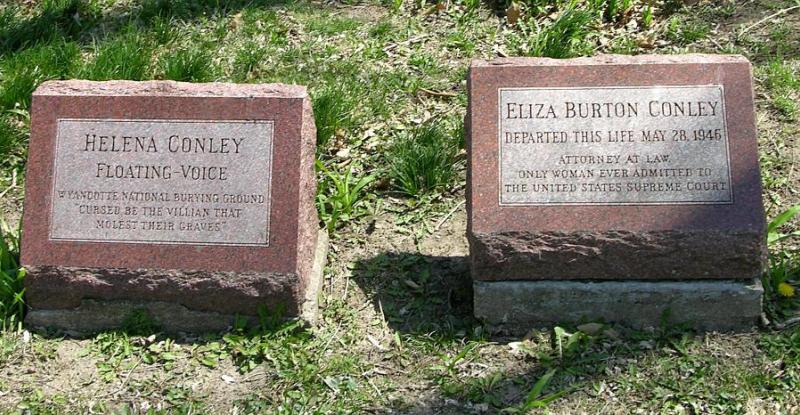 Standing strong
My niece, who we all think will grow up to be an artist of some kind, loved the murals. She chattered on and on about the colors and how impressed she was by the artist's ability to work in the various images of the Huron creation story. From the upper right side of the mural, Lyda Conley looked down on us, seemingly enjoying my niece's chatter as much as my mother and I.
We crossed the street to the Wyandotte National Burying Ground, where the Conley sisters are buried along with their mother and numerous other relatives. Their graves have simple markers. Lyda's reminds us that she was the first woman to argue before the U.S. Supreme Court.
But her sister Helena's marker was my favorite. It read "Wyandotte National Burying Ground. Cursed be the villain that molest their graves."
As my niece and I were laughing at the image of the Conley sisters, somewhere in Heaven keeping watch with loaded shotguns, my mother reached down to brush a bit of debris from Lyda's marker. Then she patted the stone gently.
Tears welled in my eyes. How many times had I witnessed my mother do the same at her mother's gravesite? Her intimate expression of respect and devotion defied the reality of time and space.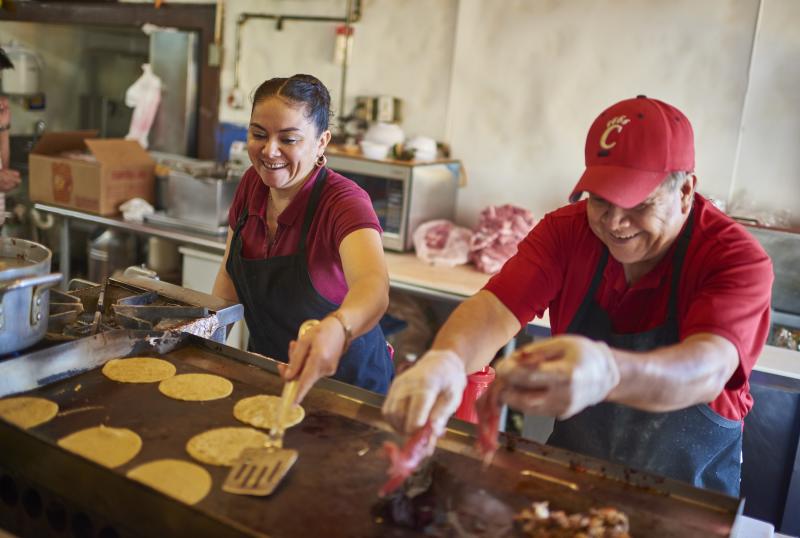 My niece announced she was hungry, so after debating between our choices, we followed our noses to nearby El Camino Real. We were greeted right away with chips and salsa, and the tacos that followed—succulent pork wrapped in fresh corn tortillas—were the best I'd ever had.

Tough decisions
During lunch, my mother said she would like to visit the Grinter Place State Historical Site. It's the oldest home in Wyandotte County and also on the National Register of Historic Places. It's a beautiful home, but learning about Annie Grinter's life is what really made the trip stand out. She was a member of the Delaware Nation and her Native American name translated to "sweetness."
My niece and I debated what our names meant. With a wink, my mother assured both of us that whatever they meant, they did not translate to "sweetness."
Annie married Moses Grinter who operated a ferry across the Kaw River and if the size of that house is any indicator, business was good. Annie gave birth to ten children, physically helped build the house and managed their farm, which included an apple orchard. Although Moses is the one we read about in history lessons today, we know Annie had to have been one of the hardest-working women around.
But this is what we found most interesting about Annie Grinter. In 1866, the U.S. Government once again relocated the Delaware people. Annie was forced to forego her heritage in order to remain in her home with her husband. This decision meant that her relationship with the tribe would be dissolved. She would no longer be considered a member of the Delaware Nation.
We had a hard time wrapping our heads around that. None of us had ever had to make such a momentous and challenging decision. We had nothing to compare it to in our lives today.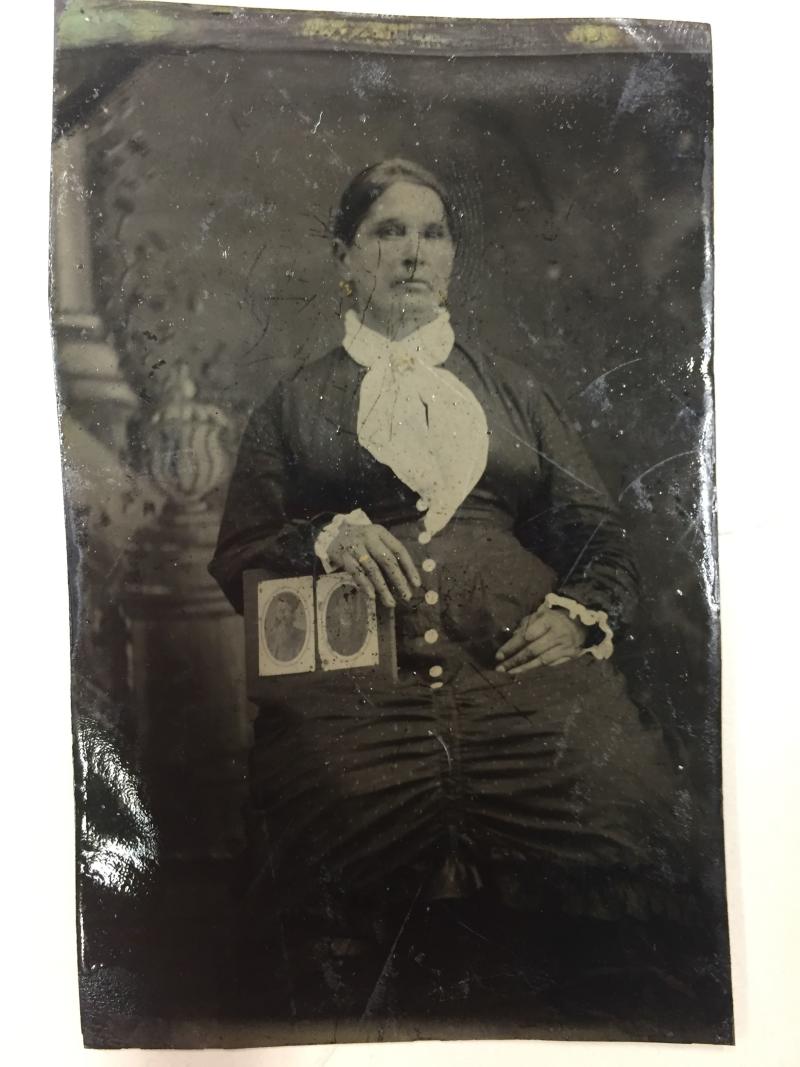 Taking risks
My mother had done her homework and announced that our next stop should be the Quindaro Ruins and the Underground Railroad Museum. Looking out across the Missouri River into Parkville, we tried to imagine the town that once occupied this site. Without Nancy Quindaro Brown, a Wyandot native who convinced tribal leaders to sell land for the town, this place of freedom for so many would not have existed.
We walked carefully around crumbling stones where buildings once stood and talked about the period prior to the Civil War when Quindaro was an active river port. We tried to imagine the streets filled with abolitionists, freed and runaway slaves, Native Americans and Eastern European immigrants. It had to have been an exciting time, we agreed, but we knew it was a dangerous time as well. The moniker "Bleeding Kansas" was well earned.
I wondered out loud if we would have been bold enough to work alongside Nancy Quindaro and Clarina Nichols to help those struggling for freedom along the Underground Railroad. It was a sobering question.
After touring the museum, we drove in silence, each of us reflecting on the inspiring but challenging lives of the women whose lives we'd learned about throughout the day. As if to shake off the weight of our thoughts, my niece fired up the car stereo and the finger snapping of Janelle Monae's "Pynk" filled the air.
"This is one of my favorite artists," my niece said. "She grew up around here, you know." My mom pointed out that Kansas City, Kansas has a long legacy as the birthplace of incredible female musicians. She told us about a woman named Nora Douglas Holt.
Before my niece or I could Google the name, my mother continued, "She was the first African American woman to receive a master's degree of any kind in this country. She was a composer and performer and had her own radio show for a while in the 1960s."
What started as a trip to introduce my family to one of my personal female heroes had turned into an inspiring journey of bold, brave and creative women who shaped the world around them. I was so grateful to share the experience with my mother and niece, and, as we drove home, innovative and catchy music coming through the car speakers, I knew Kansas City, Kansas would always be an important place for our family.
Guest Blogger: LAURA TWAIN