It's said over and over today that kids just don't understand the meaning of play like they used to. The good old days where toys seldom required batteries, and exploration and creativity reached far past the limits of the World Wide Web. While it may seem like the whimsical memories of younger days are a thing of the past, I often find myself finding things that allow me to experience a blast from the past. At Marble Crazy, however, I had the rare opportunity to bring my entire family along for the ride! 
What is Marble Crazy?
Marble Crazy is an annual event that makes its way to the Moon Marble Company in Bonner Springs, KS each year. I had been dying to show my children the wonders of the Moon Marble Company for what seems like ages, so Marble Crazy was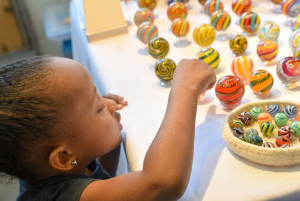 certainly the icing on the cake!
I worried a bit about whether or not my youngest children would find the marble's to be interesting. As soon as we walked in the door and I saw their eyes widen at the many colorful and shiny displays, however, I knew I had nothing to worry about!
Soon they were looking through Kaleidoscope's and aweing over the beautiful displays! There were so many intricate and amazing designs that it was impossible to grow board. Each marble was something new and intriguing, and the artist were right there on hand to tell us all about them.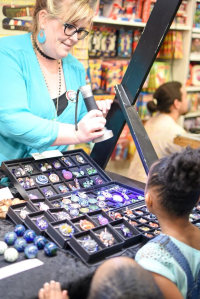 The artists explained the meanings behind some of the pieces, and for others they detailed the techniques used to create them! There were marbles of all shapes and sizes, and the details in the designs were so precise and perfect that it was hard to believe a person could have possibly made it by hand!
Exploring the Moon Marble Company
While Marble Crazy may be an annual event, the Moon Marble Company is open year-round! Browse the many beautiful marbles and marble jewelry on display, or take a journey back in time with your favorite toys from your youth!
My Husband and I spent so much of our time rounding up our childhood favorites and showing them to our girls! His favorites included kites, boomerangs, and a whole plethora of noise making devices. Mine included this like metal jacks, pick up sticks, Cabbage Patch Dolls, Slinkys, and more!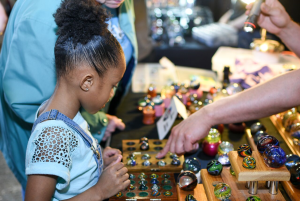 The girls loved learning more about the things we had played with as children, and we even picked out a few to take home! Another amazing feature at the Moon Marble Company is the marble demonstration. Here you actually have the opportunity to watch a marble being made, from start to finish! Did I mention this is completely free?!?!
If you're looking for something fun to do with the family on our next outing, add the Moon Marble Company to your list! 
What's one childhood toy/game you'd love to share with your own family? Drop a comment below!