Do you live at Cider Hill Family Orchard?
 Well I don't actually live at Cider Hill. My family brings me over whenever it isn't too busy. My favorite thing to do at the orchard is to chase the ducks in our ponds. I also love to follow families out in to the orchard while they pick apples!
Cider Hill Family Orchard offers so many delicious treats. Which is your favorite?
 That is a hard choice... But I have to say I love the apple cider slushes. They cool me down on a hot day and taste delicious!
You've recently had a story coloring book written about you called, Cider the Orchard Dog. Can you tell me a little bit about that?
 I am so excited about my book! My master's mom, the orchard owner, wrote the book about me and my master, Meg. The story is about me and a few of my friends. Margo, my sister that recently passed away is the old basset hound that wears a straw hat. She loved the orchard and spending time with her master.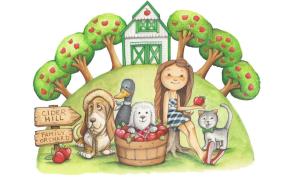 Another character is Isabelle, our gray kitty at our house. The last character, Hamilton the duck, has a pretty funny story. Hamilton was raised mostly like a human and was treated like one. When he came to the orchard he didn't want to hang with the other ducks, just the humans. He was pretty funny because he would just follow around people visiting the orchard.
What is your favorite part about Kansas City in the fall?
In the fall I love all the activities going on at the orchard, I love to go to the dog park and meet new friends, and I love going to the sunflower patch in early September at Grinter Farms. My mom takes me every year and I love running through the fields.
Cider the Orchard Dog, a Story Coloring book, was written by Joan M. Shearer and illustrated by Beth Snider. You can purchase this book at Cider Hill Family Orchard in Kansas City, KS.