If you asked me two weeks ago what I knew about roller derby I couldn't say much beyond the fact that they wear roller skates and Drew Barrymore starred in a movie about it a while back. Oh, and I saw the Kansas City Roller Warriors a few years ago, but my seats were far back and my adorable niece was being a bit distracting. The combination of the two made it hard to pay attention. However, when I heard the Kansas City Roller Warriors were moving from the Kansas City Convention Center to Memorial Hall in Kansas City, KS I was intrigued. I hadn't considered going back to see KCRW since my previous trip, which felt like forever ago. But with the league making a new home out of the side of Kansas City that's most near and dear to my heart, I knew I needed to make it out to a game..er to the bouts.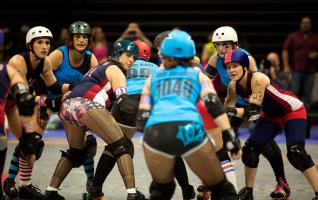 I did some research that morning to prepare for my Saturday night with KCRW. The league's description on its website is: "Kansas City Roller Warriors, LLC is KC's premier all-female flat track roller derby league. What started in 2004 as an alternative underground game driven by a do-it-yourself ethos has grown to become a distinct sport that's captured the hearts of men and women across the globe." This association in particular played an active role in helping the sport grow worldwide. The league is made of both traveling and home teams. The home teams include the Dreadnought Dorothys, Black Eye Susans, Knock Outs and the Victory Vixens. The home teams would be playing each other that night in two separate bouts.
My friends and I arrived a few minutes late to the first bout. The moment we walked into the historic Memorial Hall, we were welcomed by a few of the skaters. Some were dolled up with red lipstick and pin-up hair, others were no fuss. But there was one thing they all had in common – they were friendly, and they could definitely beat you up.
Before we went in we made sure to stop by the concession stand for some good old fashioned nachos with everyone's favorite galactic orange cheese. Ahh - like a warm blanket of salty nostalgia. We took our seats toward the side of the rink, in front of a tiny woman who was making it clear this was not her first derby. We sat for a few minutes just kind of taking it all in. The sport moves pretty fast. With whistles blowing, the crowd cheering and the sound of 40 tiny, ferocious wheels soaring along the court, it's easy to get lost in what's actually going on.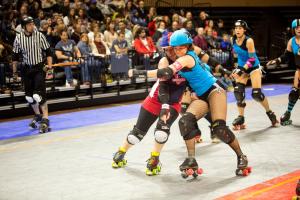 After a few minutes of trying to figure it out for ourselves, we decided to ask the tiny cheering woman behind us. We found out she was actually the mom of Candii Crusher, who skates for the Victory Vixens. It didn't take long to learn why Candii had "Crusher" at the end of her name.
Candii's mom (Mama Crusher?) explained to us the basic rules of the game: The bout is split into different jams. Each team has your pivots, your blockers and your jammers. When the first whistle blows, blockers all skate together in a pack. Once they hit about 30 feet from the starting line a second whistle is blown. This is where the fun starts. The two jammers then take off and must work their way through the pack to score points. The first to do so earns the title of the "lead jammer." Once the lead jammer makes it through she has to lap the pack. Each time she passes the pack she scores points. Jams last two minutes, or when the lead jammer calls off the jam.
If this sounds like it's hard to follow along, never fear. Once you get the rules it's easy to be as enthralled with the bouts as Mama Crusher was.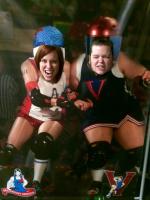 Of course there are penalties. You can't purposely trip someone or throw an elbow to the face. But helmets and pads aren't worn just because they match the uniform.  There is also A LOT of bumping, blocking, crashing and collective "oohs" and "ouches" from the crowd.
If I had to use one word to describe a night with KCRW it would have to be unique - plain and simple. There is a real intriguing quirkiness to sitting in the beautiful Memorial Hall watching tough, hard-hitting women skate to win. It's engaging, it's entertaining for anyone from 6 to 96, and it's unlike anything else you can find in Kansas City.
The Kansas City Roller Warriors 2016 season ends June 18th with the Rink of Fire. Get your tickets here.