When the sun is shining and the birds are chirping, there's no better way to spend an afternoon or evening enjoying a meal and beverage with great views in Kansas City, Kansas  With more people seeking outdoor dining and social distancing options, we've put together a list of some of the coolest patios in KCK to help you navigate the patio scene.  Whether you're looking for a breath of fresh air, a meal with a view, or a place to hang with friends and family, check out these hidden gems in KCK.

Starting your day with coffee is a morning ritual that most of us have adopted and continue to enjoy. Splitlog Coffee in Strawberry Hill has an ultra-convenient Central Avenue location right off I-70 and features a patio with an amazing view. The coffee shop name pays tribute to the area and Mathias Splitlog, a landowner, and entrepreneur, and son of the Chief of the Wyandottes. See the large mural of the Mathias Splitlog holding a strawberry facing their parking lot. Their coffee is stellar and they offer a variety of hot and cold drinks to sip on while admiring the Kansas City Skyline.  
The Mockingbird Lounge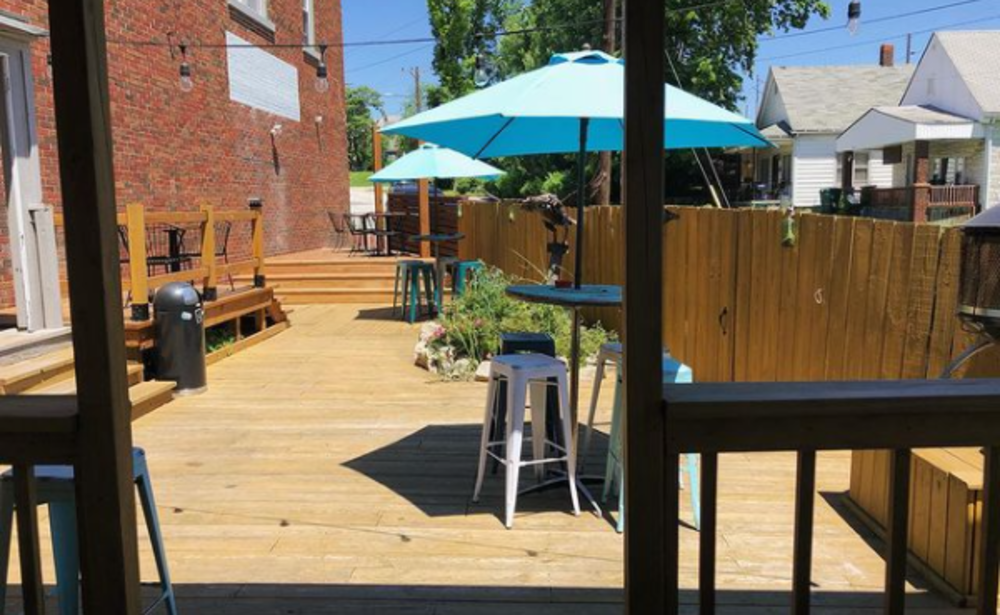 The Mockingbird Lounge is tucked away in the Strawberry Hill neighborhood of Kansas City, Kansas surrounded by a residential area and a view of the Kansas City skyline. Whether your brunching, lunching, or meeting up with friends after a long week, the pup-friendly and welcoming patio is a great place to meet up with friends or chat with locals. Mockingbird Lounge offer a simple and extremely delicious food menu and a full bar. They even offer a cocktail featuring Mexican coffee that has tequila, Rumchata, blip coffee, cinnamon, and whipped cream. 

They say if you don't eat barbecue in Kansas City, you didn't really go to Kansas City.  Luckily, barbecue is something that usually has the entire family licking their plates - literally.  Woodyard Bar-B-Que is known for its quirky exterior and the smell of smoked-meat that will have you drooling even before you pull into the parking lot. Woodyard features a large outdoor dining area filled with picnic tables, perfect for large crowds and dining with your furry friends.
Since opening its doors in 2014, this KCK hotspot has been featured on many television networks including the Food Network. Slap's BBQ is one of a few restaurants in the KC metro area that still compete on the barbecue circuit and continues to take home top prizes. Due to demand, they recently added a rooftop patio dining option.  Now you can feast on award-winning 'cue with a view!