Close your eyes and imagine the anticipation of you and your partner standing on the edge of the final tower, each preparing for the exhilarating sensation of "free fallin'" 12 ft DOWN; say hello to your next adventurous date night in Kansas City! 
Kansas City is chock-full of amazing options for entertainment, and yet our minds immediately default to dinner, drinks, or something otherwise 'routine.' As an "experiential" fanatic, I am always on the hunt for where, when, and how I can expand my horizons to find utter happiness in a new adventure, and my hubs and I ended our most recent unique and exponentially fun night out among Zip KC's Sunset Date Night concluding tower, properly nicknamed "The Tom Petty!" (#getit)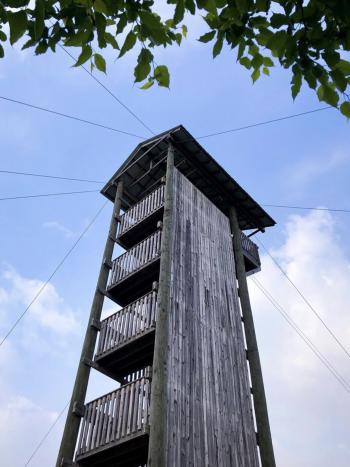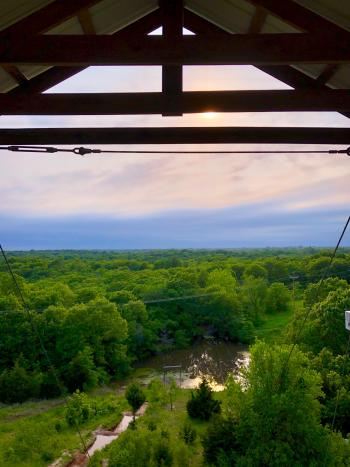 Romantic date nights can come in many forms, and we are so fortunate to have a seemingly endless bucket list of destinations to check off. That being said, date nights are often pushed to the wayside, or gravely underestimated in terms of the importance of breaking up the everyday monotony of responsible adult life. Particularly for the parents out there, date nights can either end up stale, or worse yet, nonexistent. The responsibility of professions and finances aside, nothing is more important, and oh-so fulfilling in this life than quality time with friends and family, and while most of us appreciate the regular meal out, the noise, wait times, and sitting around idly can sometimes be less than satisfying. So, getting out of your potential comfort zone and pushing you and your partner to the level of the "undiscovered adrenaline rush" is one guaranteed way to come out more alive and impassioned for the zest of this life together! Keep. It. Fun. And, never stop exploring!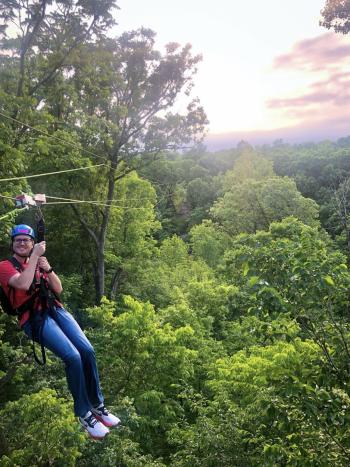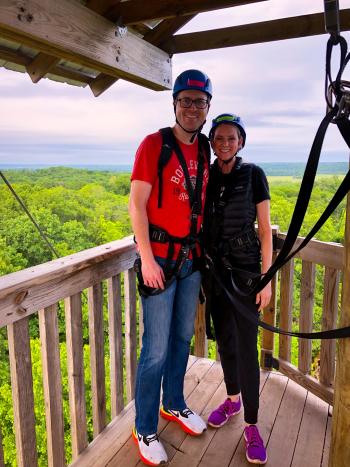 Bonner Springs, KS-based Zip KC is a gorgeous way to experience the sights and sounds of the perimeter of the metropolitan market, no matter the season. Open year around, come ready to gear up and zip high above, below, and directly through treetops, as you make your way to summit the first 65' tower with 360-degree county views. Whether the scenery incorporates lush, green foliage, colorful fall leaves, or snow-capped branches, eyes will gleam, laughs will ensue, and hearts will race as you escalate to speeds of 55mph+, bringing 'take your breath away' to a totally different caliber here in our hidden gem of the Midwest. Ease your way into the adventure with small hikes and the beginner level "bunny" zip line that just scratches the surface of letting go. By the end of your chosen tour, you will be smiling ear-to-ear and wa-hooing start to finish as you so naturally step right off each vertical platform, craving the zip frenzy!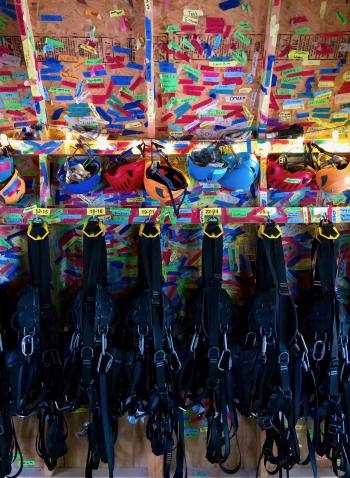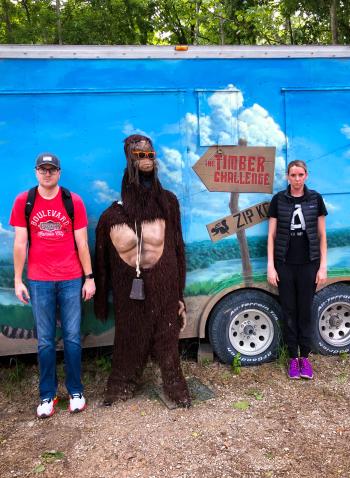 Zip KC offers 5 tours to choose from, ranging from the peaceful and ground level Hike and Zip, to the Ultimate Adventure that scales 5 towers. A short drive from downtown, Zip KC has an incredible team of passionate adrenaline junkies who will ensure your time is great fun, all while keeping you feeling confident, and safe. Check out Zip KC in Bonner Springs, KS for your next date night out, I promise you will thank me for it!
See here for more date night ideas in Kansas City, KS
Don't miss out on a single KCK Insiders Blog! Sign up to receive our blog alert today