The Kansas City Chiefs have made it to another Super Bowl Championship and we have a list of places in Kansas City, KS to snack on during the game and celebrate! The Kansas City Chiefs are playing the Tampa Bay Buccaneers on Sunday, February 7th in the 2021 NFL Championship Super Bowl Game LV at 5:30 pm CST in Tampa, Florida.
You can catch the game on CBS, ESPN Deportes, or 106.5 The Wolf. We've watched the Chiefs play their hearts out all season to take us to another Super Bowl and here we are!  
Whether you're watching the big game at home or socially distanced at a small gathering or outdoor event, we have a list of places that will satisfy your game day food cravings. We haven't forgotten the excitement from the Chiefs 2020 Super Bowl victory and we're hoping to celebrate another one.
The difference this year is that the pandemic is limiting the types of gatherings and celebrations possible and that's okay!
We encourage you to stay safe, be careful and follow CDC, state, and city guidelines for wherever you choose to watch the game. 
Let's start with the Gameday classics...Pizza and Wings! 

Rosedale Neighborhood - 2876 W 47th Avenue Kansas City, KS 66103 - 913-608-5889    

Jason and Kelli Kolich are husband and wife owners that know people crave a different type of pizza – fresh, handmade Neapolitan pie. Pizza Napoletana has been inspiring people for more than a century. 1889 Pizza strives to bring Kansas City a high-end concept at a fast pace, without compromising authenticity or flavor.
Special: To celebrate the big game, they are offering a super deal all weekend long. Two, 1-topping Margherita Pizzas + 1 Large Caesar Salad for $25. They are offering contactless curbside pick up and you can make your order online or by calling 913-608-5889. 
Wilson's Pizza and Grill

Northeast KCK - 1801 Quindaro Blvd, Kansas City, KS 66104 - 913-621-4066

 

There are countless great reviews of this hidden gem on yelp, they offer a wide variety of delicious food including pizza, burgers, sandwiches, calzones, and wings. 
They have 3 gameday specials and are taking pre-orders by phone at 913-621-4066. 
Gameday in Kansas City wouldn't be complete without BARBECUE.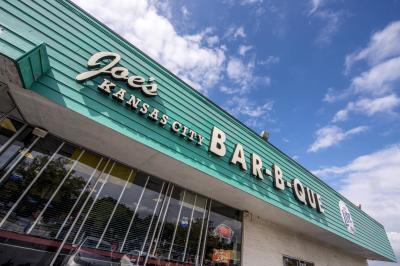 Rosedale Neighborhood - 3002 W. 47th Ave Kansas City, KS 66103 - 913-722-3366     

Joe's is a Kansas City staple with 3 locations around the Kansas City Metro that attracts barbecue lovers year-round. The gas station location is the most famous and resides in the Rosedale neighborhood of Kansas City, KS. 
Joe's is opening their doors on Sunday from 11 am to 4 pm before the game on Sunday. All Joe's locations are usually closed on Sunday's so this is a special treat for game day. Although they are not having any gameday specials, their regular menu is amazing and they offer meat by the pound and pint and quarts of their amazing sides. Click here for their menu.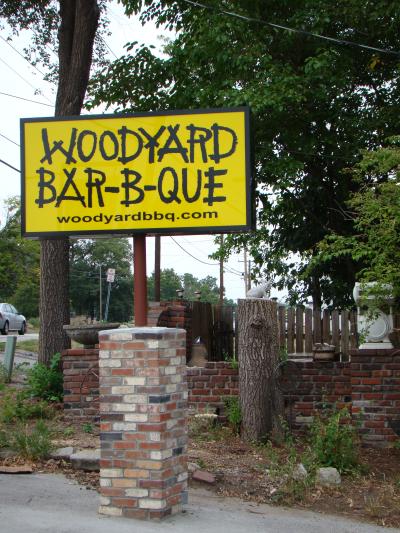 South KCK - 3001 Merriam Lane Kansas City, KS 66106 - 913-362-8000    

Woodyard and its amazing barbecue has been featured on shows like Guy Fieri's Diners, Drive-In's and Dives, Anthony Bourdain's No Reservations, and Andrew Zimmern's Delicious Destinations. They've recently remodeled and are open again to take orders for gameday. 
Special: Burnt End Chili Family Special that Feeds 4-6 and includes Pan of Burnt End Chili, 6 Cornbread Muffins, Cheese & Crackers for $39.95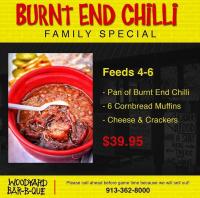 ---
There's always room for Tacos. 
Strawberry Hill - 503 N 6th St, Kansas City, KS 66101 - 913-912-7259 
Tarahuamaras Mexican Restaurant #2 offers a wide array of fresh food and Mexican dishes. Gameday or any day in Kansas City, KS wouldn't be the same without tacos or Mexican food and luckily this joint is here to offer deals for the big game. 
Special: 20 Birria tacos, Consume, 2 orders of rice, 2 orders of beans, Chips, and fixings for $65. 
Whether you're craving pizza, wings, barbecue, or tacos, these places have you covered for Sunday!
Go Chiefs!!!!!