As we welcome the New Year we also welcome a sense of curiosity to see and try new things. Kansas City, KS is a place that's full of opportunity to do just this. Here are four unique experiences you can have this winter in Kansas City, KS.
Bring out your inner child at Moon Marble
Have you ever looked at a cat's eye marble and wondered how it came to be? Marbles are truly magical in the way such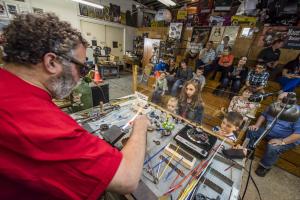 detailed designs and beautiful colors all fit into a tiny, perfectly round sphere. The procedure used to make marbles is pretty magical as well. Each year Moon Marble Co. in Bonner Springs, KS attracts thousands of visitors from all over the world to see the colorful shop's countless handmade marbles and glass trinkets, and old timey games and toys. Each week demonstrations of the marble making process give visitors a look at what goes into creating these tiny works of art. Little ones and adults alike will ooh and ahh over this event, which is also free of charge!
Take a taste of the Downtown Taquerias
In the land of barbecue, it's hard to think about saving room for any other type of cuisine. But before you fill up on burnt ends and brisket, take a trip downtown Kansas City, KS to experience a whole new culinary adventure.  El Camino Real is a lunchtime favorite for locals. Your senses will be tantalized with the sight of the yellow corn tortillas being hand-cranked right in front of you, and the scent of the sweet al pastor (thin shavings of spit-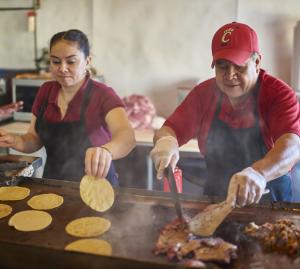 roasted pork) rotating in the window. El Bonito Michoacan is another must-stop spot if you want to get a true taste of what makes Kansas City, KS so different from anywhere else in the Midwest. Choose from mouth-watering lengua, tripa, chicharron and all of your other favorite ethnic street taco meats. Add some color to your plate with fresh cilantro, salsa verde, pickled onions and more.
Have a laugh at Stanford's Comedy Club
Stanford's Comedy Club has made its way back to Legends Outlets Kansas City. Each week brings open mic nights, hilarious up and coming acts, and some of the most well-loved comedians in the business. The comedy club features full bar and sharable appetizers, making it the perfect place to spend a night out with friends or add a funny twist to date night. Upcoming headliners include Kevin Farley and Chris Franjola.
Roll with the Kansas City Roller Warriors
Introduce yourself to some fast-paced, hard-hitting entertainment. The Kansas City Roller Warriors is an all-female flat track roller derby league. With 12 seasons under their belt, the teams have taken Kansas City by storm. Watch the Knockouts,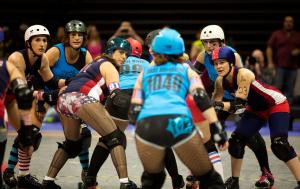 Dreadnought Dorothys, Black Eye Susans, Victory Vixens go head-to-head and elbow-to-elbow at Memorial Hall in downtown Kansas City, KS. The eclectic mix of the intense sport, lively crowd and the beautiful architecture of the historic building makes for an evening you won't soon forget. Catch the Kansas City Roller Warriors at their next bout on January 28th!