Fall in Kansas City always holds a lot of significance for me. A change of pace, change of wardrobe, and crisp, beautiful weather that seems to have a funny way of inducing the most pleasant nostalgia. It is my favorite time of year to get out and explore what the city has to offer. While I'm always interested in checking out a tasty new restaurant or a trendy boutique, there are a few activities that I have adopted as required fall traditions. 
Of course, I love taking my daughter to the pumpkin patch, where we fill up on warm apple cider and kettle corn while searching for a perfectly-shaped pumpkin to carve. Then there's the can't-miss visits to a few haunted houses, Halloween costume parties, and at least one Chiefs football game. Fall in Kansas City is also known for all of it's seasonally-themed festivals and community events. Perhaps my very favorite fall tradition of all, though, is what I consider my annual "trip to fantasy-land" at the Kansas City Renaissance Festival. Fairies, dragons, mermaids, gypsies, knights, kings & queens, witches, unicorns…all things magical, colorful and bizarre come together here to make for the perfect day of family fun.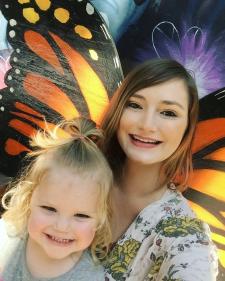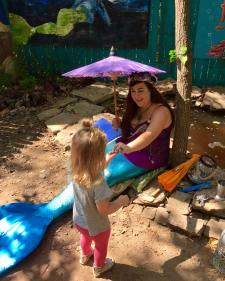 This past weekend my daughter and I went and had the time of our lives. She is only two-and-a-half, so although she's been
several times before, I was very excited because this year she would actually get to run around and talk about what she saw. Her reaction was even better than I expected, and I drank up every little moment of witnessing her delight. One of her favorite parts was our walk through Mermaid Cove, where a pretty mermaid gave her a "bubble" (a clear marble) that she proudly carried around the entire day and somehow managed not to lose.  She also loved the Fairy Village, where tiny homes made out of all kinds of natural materials and every knick-knack you can think of—think buttons, pins, jewelry, game pieces, etc.—were on display. It was incredibly cute and creative. There was also a petting zoo where children could feed and pet chickens, goats, bunnies and even ride a pony. We had a great time cheering and jeering at the Royal Joust, and the fire twirlers, known as Tricks of the Light, were quite a mesmerizing sight to see. These are not just your average jugglers either. The way they contort their bodies while balancing, flipping and tossing flaming torches is a skill that must take years to perfect.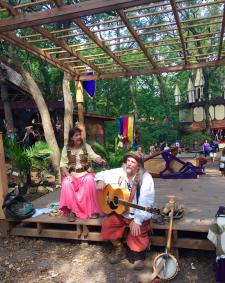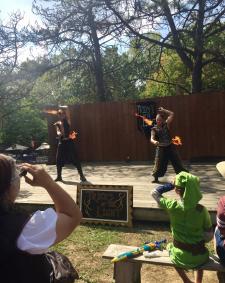 While I could go on and on about all of the amazing live entertainment and music, there is just so much happening around every corner that you must go and see it for yourself. Which brings me to the food—oh, the food! It's all so good that it's nearly impossible to decide what to get each time I visit. Between the cream cheese and cinnamon-stuffed pretzels, juicy giant turkey legs, and the corn on the cob crusted with Flamin' Hot Cheetos, I could have made a whole separate day out of sampling all of the yummy festival eats alone.
Another thing I absolutely love about this festival is the shopping. There are dozens of little boutiques and artisan shops, selling beautiful hand-made clothing, accessories, artwork, décor, jewelry, furniture, toys, pottery, woodwork, weaponry, and so much more. Every year I have to pick up a hand-dipped wax rose and a necklace from the gypsy jewelry booth. The prices are very reasonable considering the amount of time and work these items require to be made. Not to mention, there is something truly special about picking out a one-of-a-kind keepsake to serve as a reminder of the memories made at this extraordinary annual event.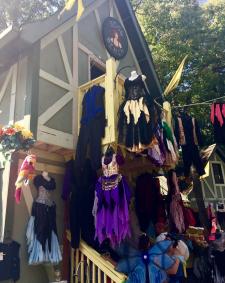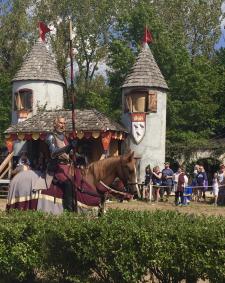 If you haven't been to the Kansas City Renaissance Festival, I urge you to attend before this season ends. You will not be disappointed. Don't forget to don your best mid-evil or mystical get-up and join in on the magic! The experience is beyond enjoyable for even the most skeptical, and the fun to be had is truly unmatched. There is a new adventure to explore upon each visit, and virtually every person leaves with a smile, a great story and the anticipation of returning next fall.