Sporting KC's new secondary jersey for the 2022 and 2023 seasons is finally here! Sporting KC expressed that one common thread has united them since the beginning: The "State Line." It's at the core of who Sporting KC is. Our city was founded on it, it anchors their shield, and it has been featured in their kits since the introduction of the Sporting era. And now, for 2022, Sporting KC and Kansas City celebrate State Line 3.0, featuring an embossing of 913/816 – Kansas City's area codes - in a traditional State Line pattern. 

Two States. One City. One Club.
To see the jerseys and get notified when they're available click HERE.

Sporting KC has announced their 2022 gear kit and its design honors both Kansas City, Kansas, and Kansas City, Missouri. Sporting KC has represented Missouri with the famous 18-foot tall badminton shuttlecocks created by the husband-and-wife team, Claes Oldenburg and Coosje Van Bruggen, that adorn the lawn of the Nelson-Atkins Museum of Art in the heart of Kansas City, MO.  The state line stitches us together and Sporting KC's new gear is a reflection of a united Kansas City. Get to know more about the landmark that represents the Kansas side of Kansas City.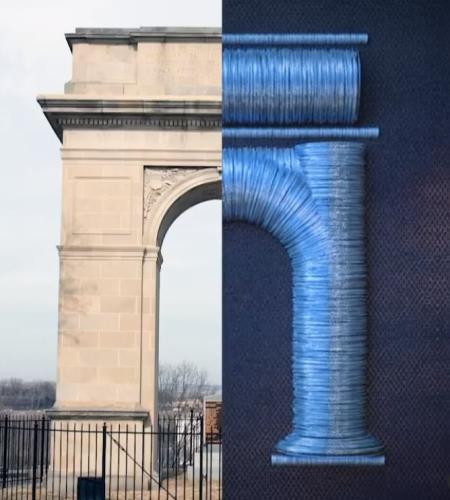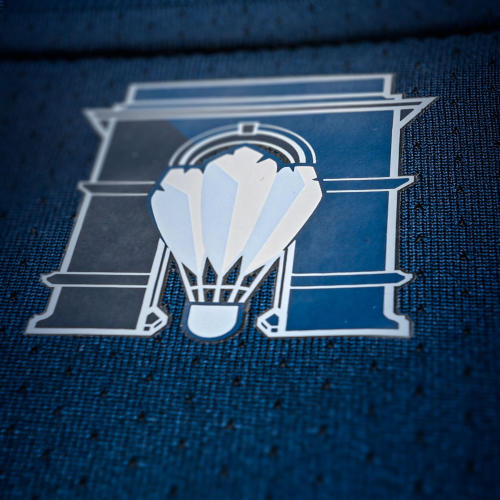 In Kansas City, Kansas, a highway sign on I-35 provides the first clue that a stunning war memorial is nearby. The exit leads to Southwest Boulevard, which meets a narrow roadway that mounts a steep hillside. An almost hidden driveway enters Mount Marty Park where the Rosedale Memorial Arch stands. The site reflects a century of history and provides a gorgeous panoramic view of the Kansas City area.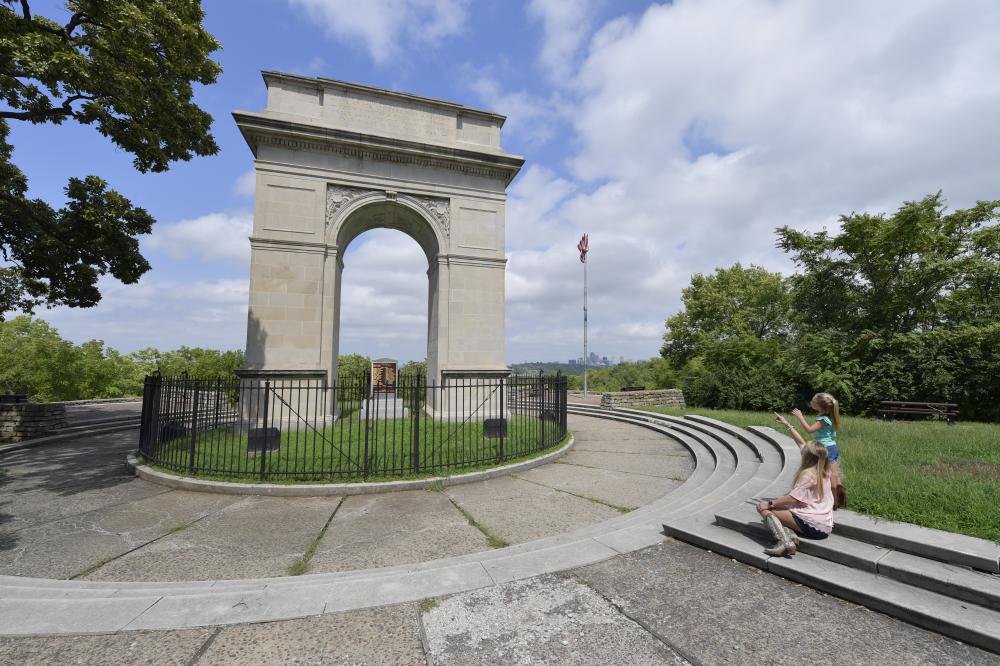 Approximately 34½ feet tall, this memorial is a scaled-down version of France's Arc de Triomphe. It reflects sketches made by 29-year-old World War I soldier, local resident, architect, and engineer, John Leroy Marshall. He designed a monument that featured four inches of limestone facing on top of brick, with minimal embellishments.
The memorial began as a project of a small municipality called Rosedale, which is now part of Kansas City, Kansas. As local veterans fought in the 42nd (Rainbow) Division, during World War I, the city of Rosedale decided to commemorate their service with a stunning, hilltop monument based on Marshall's sketches. The Rainbow Division had won some of the bloodiest battles of the war. Although Rosedale initiated creation of the memorial, Kansas City, Kansas honored the old city's plan after Rosedale merged with the larger municipality. The monument was completed in September 1924.
Several cleanup and expansion efforts occurred at the Rosedale Memorial Arch during the 1960s and early 1970s. The monument was listed on the Register of Historic Kansas Places and the National Register of Historic Places during summer 1977. It also became a Kansas City, Kansas Historic Landmark, in July 1982.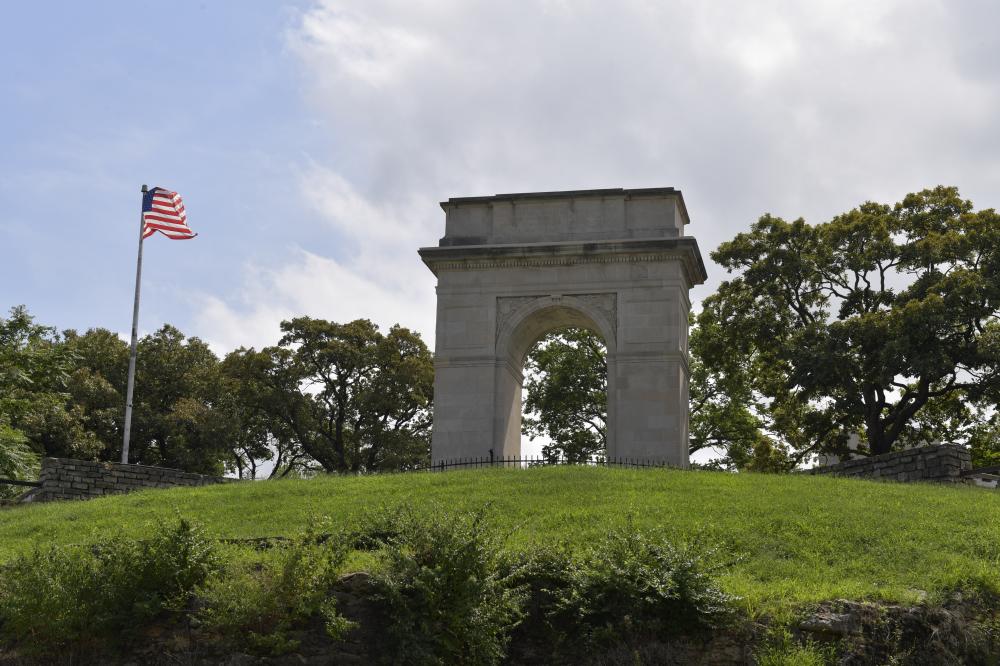 Then, in 1987, the not-for-profit Rosedale Development Association collected more than $30,000 for a massive restoration project. With assistance from City Councilman Richard Ruiz, Kansas City, Kansas donated $20,000 of sales tax funds for the project. More than 30 Patrons of the Arch donations, and individual donations, raised an additional $10,000. 
A professional restoration company cleaned and repaired the Rosedale Memorial Arch. It sealed the monument to stop water damage, patched the monument with German limestone, and replaced mortar that reflected the original white color. A local ironworks manufacturer donated, and installed a tall, wrought iron fence to protect the Arch from vandalism. And a local cement company donated materials and labor to rebuild surrounding cement platforms.
A celebration followed, honoring the 65th anniversary of groundbreaking for the Rosedale Memorial Arch. A candlelight memorial service was the kick-off event. A rededication event, community picnic, and band concert took place the next day.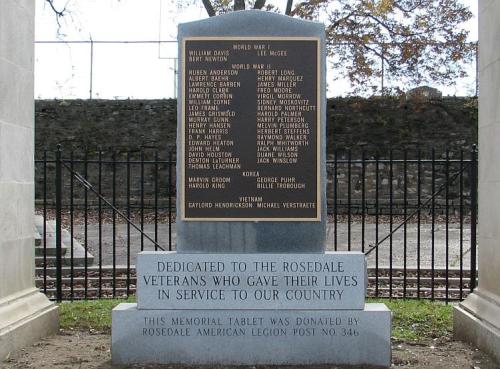 Guests included Councilman Ruiz, U.S. Representative Jan Meyers, Rainbow Division veterans, and the French Consul for Kansas City. Kansas City, Kansas provided free shuttle service and extra police security. In addition, the U.S. Postal Service hosted a postal substation and a pictorial stamp cancellation that commemorated the celebration.
Since that time, new spotlights, streetlights along the curving driveway, and a flagpole, arrived onsite. Finally, in 1993, Kansas City, Kansas added a monument beneath the Arch, which honors soldiers who fought in World War II, as well as the Korean and Vietnam wars. 
Today, you can visit Rosedale Memorial Arch from sunrise to sunset, free of charge. For more information click HERE.