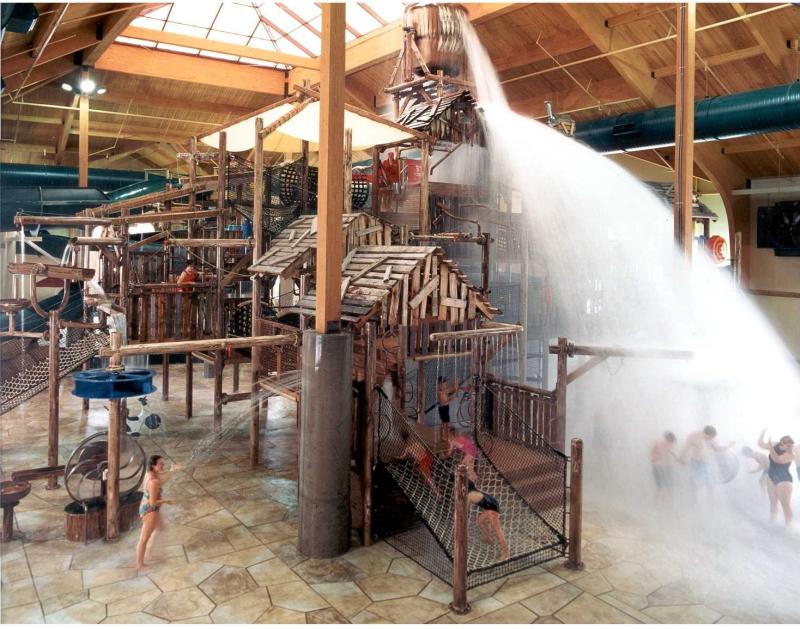 Kansas City, KS is fun for kids through grandparents
My husband, Randy, and I consider ourselves lucky and we have four grandchildren to prove it. Our two grandsons and two granddaughters are between the ages of six and twelve, and it feels like each time we see them their personalities have become more pronounced.
Our oldest grandchild, Ivan, is almost a teenager, preoccupied with his sports and his teammates. His little sister, Allison, is eight, and misses her brother when he's not around. Their couin, Tessa, is six and a girly-girl, while 10-year-old CJ is content to be alone with his book or his tablet.
It's a pleasure to see how they're growing up.
Spending quality time with each one of them used to mean a sleepover at Nana and Pop's. Over time, thanks to differing interests and a greater difference between ages, it's become clear that sleepovers can no longer serve as a catchall. A friend recommended Great Wolf Lodge in Kansas City, Kansas With its indoor water park, it's a place that has something for everyone. We called our daughters and asked them to schedule a weekend getaway. It was time to get the family together.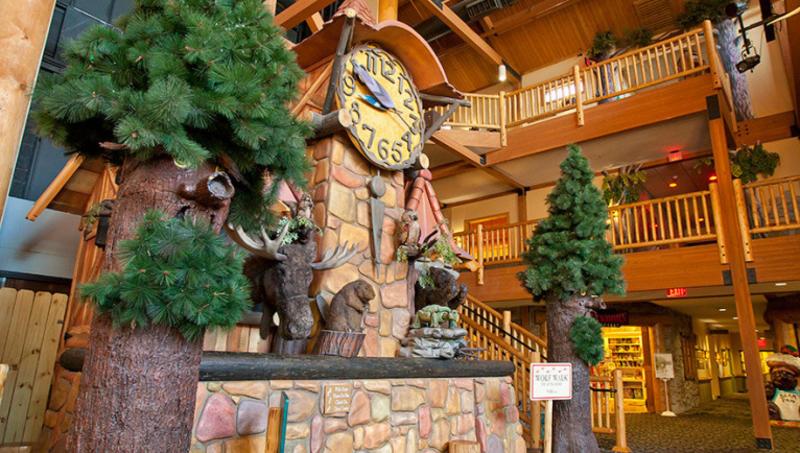 FIRST IMPRESSIONS
The moment we walked into Great Wolf Lodge, I knew this would be family time that everyone would remember. Inside the door, my two adult daughters and their husbands stopped, struck by the architecture and atmosphere. The lobby was warm and open to the ceiling, graced with wild animals posed so lifelike that Ivan put away his phone while Tessa ran over to the massive fireplace, her eyes wide, staring at the creatures above. The Great Clock Tower, with its whimsical face and the woodland animals underneath, entranced Allison, but it was the look on CJ's face that said it all. Mouth open and eyes darting from animal to animal—what an expression!
If I thought the lobby made an impression, the looks on my grandchildren's faces when we entered the water park is something I will never forget. The massive indoor structure was filled with families of all ages and water slides of all sizes. There are colorful water wheels and wading pools and water sports all openly accessible and easily visible.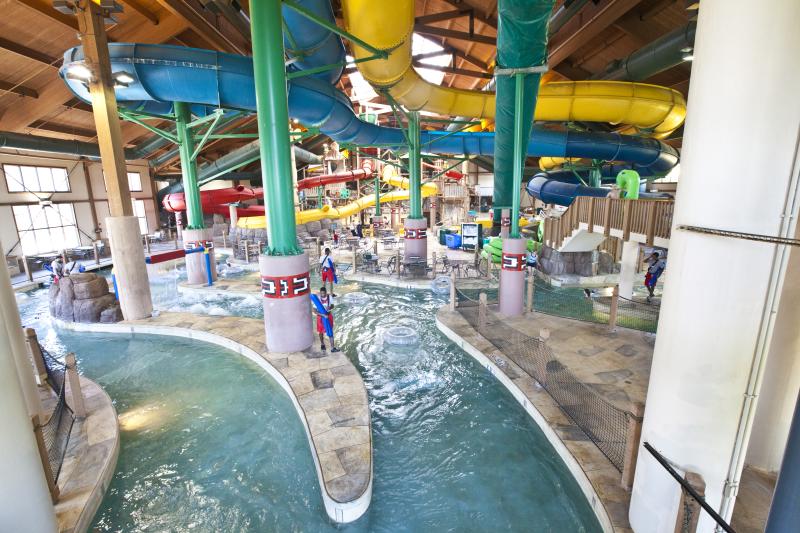 My girls happily reminisced about pool parties from their own childhoods, but agreed this was a big step up—or splash down! We spent the whole day slipping and sliding and splashing with each other, oblivious to time and the world outside. It was touching to see our daughters and sons-in-law act like children, romping around with the little people in their lives (and what a moment when CJ beat Ivan in a friendly game of water basketball). Randy played water games with the grandkids, letting them convince him to try the slide. I was quick to ask our oldest to send me the video of him plopping out of the end of the slide into the water below, his ear-to-ear grin reminding me of CJ's can't-hold-in-the-joy expression from earlier.
Between wading around, chatting with the other adults and splashing with the kids, I was content to observe. Once again, I found myself learning more about Randy and I's four grandchildren: Ivan has a competitive streak but is patient and sweet with Allison, who now wants to join the swim team. Tessa is developing a tomboy streak (she roared with laughter every time she was splashed—no fuss about getting water in her eyes!) while CJ's dry sense of humor made us all laugh out loud.
There is much more than playing going on at Great Wolf Lodge.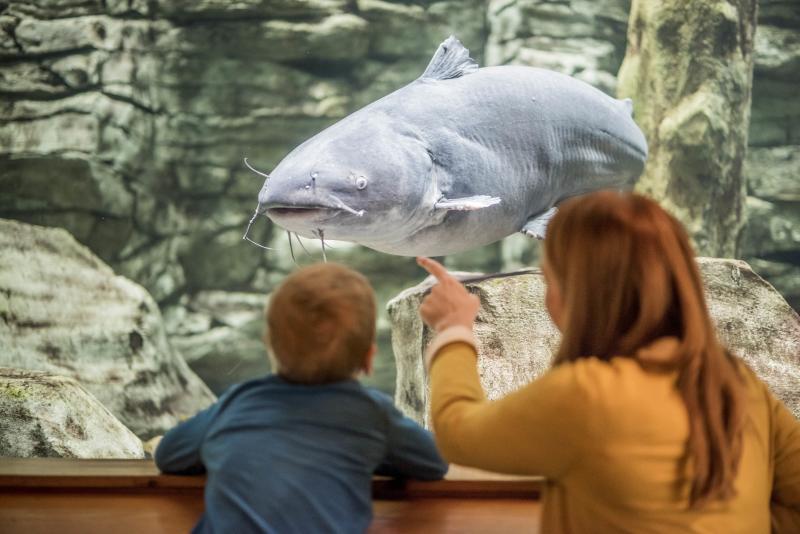 BELLY FLOPS AND BEYOND
The next morning we took our troop to Cabela's, a quick walk from Great Wolf Lodge. My husband is an outdoorsman and knew, even though Cabela's is a hunting, fishing and outfitters store, it's also an experience! Immediately the stunning exhibitions of wildlife captivated the children, so we took our time strolling through the displays of animals in their natural settings. One of my favorites was when we walked through a path of wall aquariums where giant fish and thick, round turtles swam through sunken boats and fallen trees. Randy loved explaining different fishing rods and hunting bows to the kids, and everyone kept Pop on his toes with their curiosity.
Back at Great Wolf Lodge, we all gathered in front of the Great Clock Tower for stories and games led by the lodge staff. I looked over and Ivan had pulled his little sister into his lap, while Tessa curled up at his side. CJ was wrapped around his grandfather while my daughters and their husbands stood in the back, content to watch their children laughing together. Everyone was happy, especially Nana.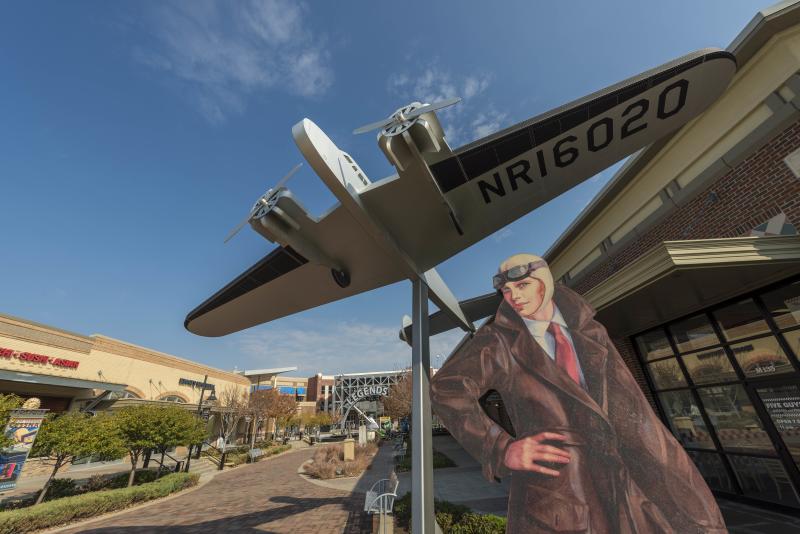 FINISH LINE SCRAMBLE
On our final day, at nearby Legends Outlet Kansas City outdoor mall, Randy and I organized the kids in a scavenger hunt I found online. While their parents were having lunch and shopping, our little squad was exuberantly searching for statues or landmarks or artwork that was scattered throughout the outdoor mall. Randy was in the middle of it, puffed up and proud as his four grandchildren worked together to solve the clues. Pop was having as much fun as anyone.
When our time in Kansas City, Kan was over, we knew we would be back. Although sleepovers served us well for so many years, well, this was a lot more fun for our entire group. I can only imagine what we'll learn about each of our grandchildren the next time we visit.
Guest Blogger: Lorry Myers