It may seem like good news is hard to find right now. However, during a time of crisis many KCK locals and businesses have stepped up to help those in need. Here is your roundup of good things that happened in Kansas City, KS this week.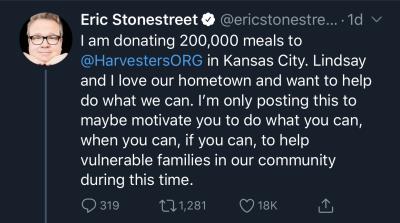 Emmy winner and Kansas City, KS local Eric Stonestreet tweeted on Wednesday, March 18  that he would be donating 200,000 meals to Harvesters in support of those effected by COVID-19. Harvesters is a regional food bank, which serves 26 counties in northwestern Missouri and northeastern Kansas. In his tweet, Stonestreet showed his support by saying he loves his hometown, "I'm only posting this to maybe motivate you to do what you can, when you can, if you can, to help vulnerable families in our community during this time.  
On St. Patrick's Day, Tuesday, March 17,  Yard House at the Legends Outlets Kansas City delivered holiday themed meals to the Kansas City Kansas Police Department after restaurants were shut down for in-dining services.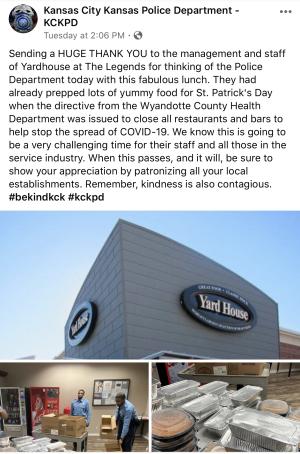 Granite City at Legends Outlets Kansas City is providing free sack lunches of a sandwich, chips and a drink for children. Those looking to ensure their children receive a meal can simply stop by or call Granite City at 913-334-2255.
Kansas City Kansas Public Schools are also supporting area families in need. Starting on Monday, March 23rd, students of KCKPS can pick up lunches curbside at four locations around Wyandotte County. Meal distribution will be offered to those 18 and younger. Families are asked to utilize the curbside service to help promote personal health and social distancing. Pickup times are Monday through Friday from 11am - 2pm. Parents must have children present to pick up meals.
The locations include the following:
Arrowhead Middle School- 1715 N. 82nd Street

Wyandotte High School- 2501 Minnesota Avenue

Schlagle High School – 2214 N. 59th Street

JC Harmon High School – 2400 Steele Road
Despite current restrictions on dining services, many Kansas City, KS restaurants are offering safe ways to still serve customers. The Kansas City Kansas Convention & Visitors  Bureau is working hard to keep information on services updated. See here for more ways you can support local businesses in KCK today.
Stay up-to-date on resources and COVID-19 information for Kansas City,  KS here.