You may not have known Kansas City, Kansas is home to more than 40 parks, featuring all kinds of amenities for play, relaxation, and enjoying the beauty of the great outdoors. Staying true to the "nature" of Kansas City, Kan, many of these parks also share stories of explorers and trailblazers who helped shape the city. Whether you're looking for fresh air, adventure, family togetherness or even  to learn something new, you can use this guide as a quick reference for 12 of our fabulous parks found all throughout Kansas City.
Village West Area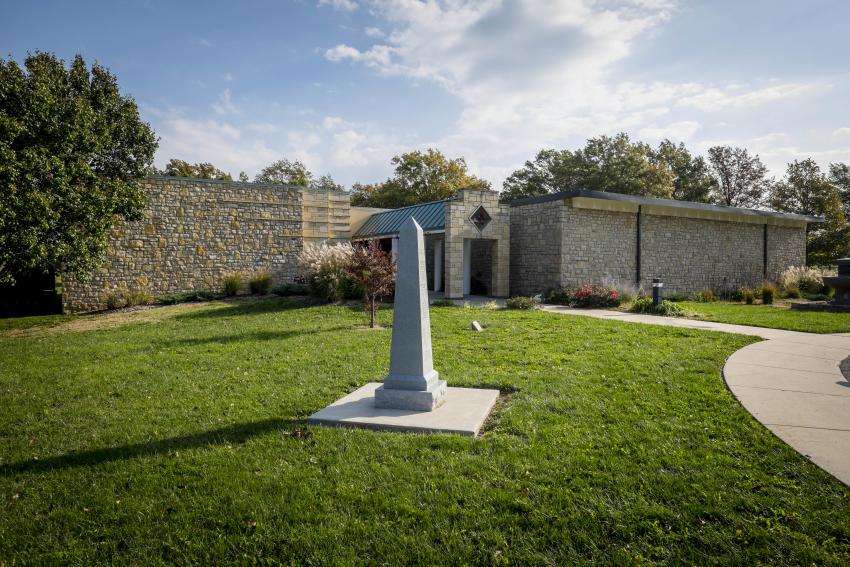 Wyandotte County Park (State Ave & 126th St. Bonner Springs, KS)
Quick Facts: 325 acres, 7 shelters, all with water, electricity, restrooms and playground equipment. Four lighted tennis courts, two lighted softball fields, one lighted soccer field, one 18-hole disc golf course, skate park, 6-hole junior golf course. 
What makes it unique: Wyandotte County Historical Museum is also located on the grounds of the park. Here you can find the outdoor  B-25 Bomber Builders Monument, which was created to honor the employees that built 6,608 B-25 bombers in the Kansas City, Kansas Fairfax district during World War II.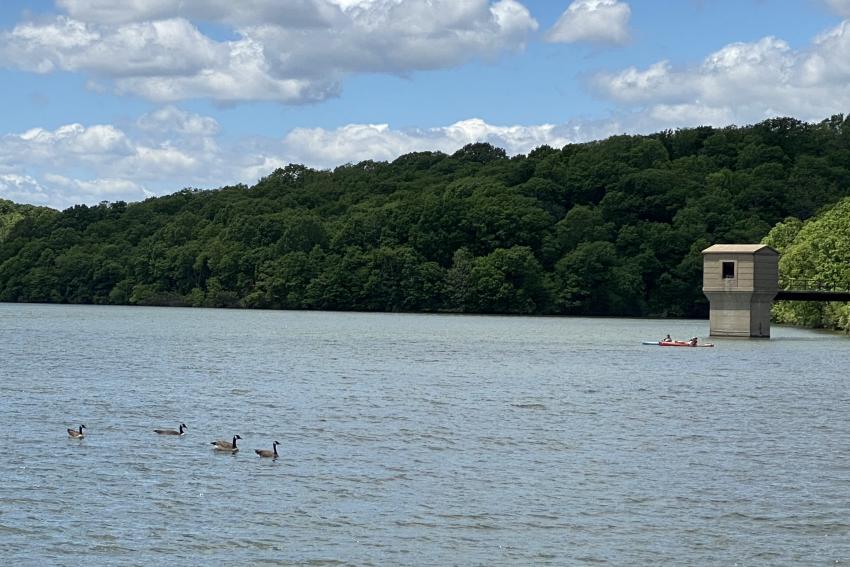 Wyandotte County Lake (91st & Leavenworth)
Quick Facts: 1500 acres, 400 acre lake for fishing and boating, 16 shelters, all with water, electricity, playground equipment and restrooms. James P. Davis Hall will accommodate for parties, meetings and receptions. Large playground area available for the public. Pontoon docks available for annual rental. Horse riding trail.
What makes it unique: Each season the 8+ miles of scenic bridle trails present a brand new experience for hikers, horse riders and explorers. Springtime blooms with flowers and budding trees along the trails.  In the summer you'll see sailboats, pontoons, and fishermen on the lake in the distance. Breath-taking autumn foliage captures Kansas City's fall beauty.  The winter brings a different view, with leafless trees and glimpses of the ever-present wildlife, including eagles nesting in the park. WYCO Lake is also the site of the Korean-Vietnam War Memorial, the nation's first dual war memorial. 
Midtown Area
Pierson Park (Douglas & 55th) 
Quick Facts: 125 acres, three shelters, all with water, electricity, restroom and playground equipment. Two lighted tennis courts, skate park and playground area. 10 acre lake for fishing, no boating allowed. The Pierson Hall can accommodate for parties, meetings and receptions.
Eisenhower Park (Georgia & 72nd St.) 
Quick Facts: 64.53 acres, one lighted baseball diamond, two softball diamonds, four lighted tennis courts, parking lot, restroom, football field, soccer field, exercise area, six lane track, shelter, playground equipment.
Downtown Area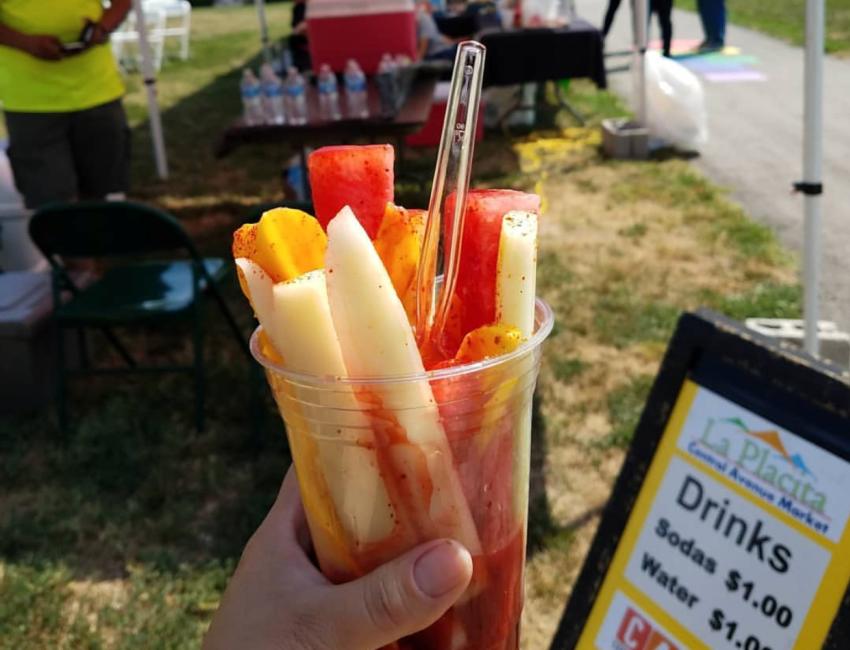 Bethany Park (Central  Ave & N 12th St)
Quick  Facts: 8.40 acres, two lighted tennis courts, picnic grills and tables, parking lots, drinking fountain, walkways and sand volleyball court, walking trail, recreation center with gym and meeting rooms.
What makes it unique:  Each summer, Bethany Park becomes home to the La Placita Market - a community market from Central Avenue Betterment Association featuring local food vendors, live music, activities and more. La Placita will run from June 13 - September 5 and will also include booths from the KCK Farmers Market.
Jersey Creek Park ( Between N 5th & N 18th St. on Parallel Pkwy) 
Quick Facts: 24.4 acres, basketball court, bicycle trails, bridges, seating areas, walkways and playground equipment.
What makes it unique: Jersey Creek Park Project is just one of the parks and trail projects included in the Healthy Communities Corridor of Kansas City, KS, which promotes a safe and usable parks system for the community. Another project in this initiative includes the Armourdale Hike & Bike Route Island View Loop.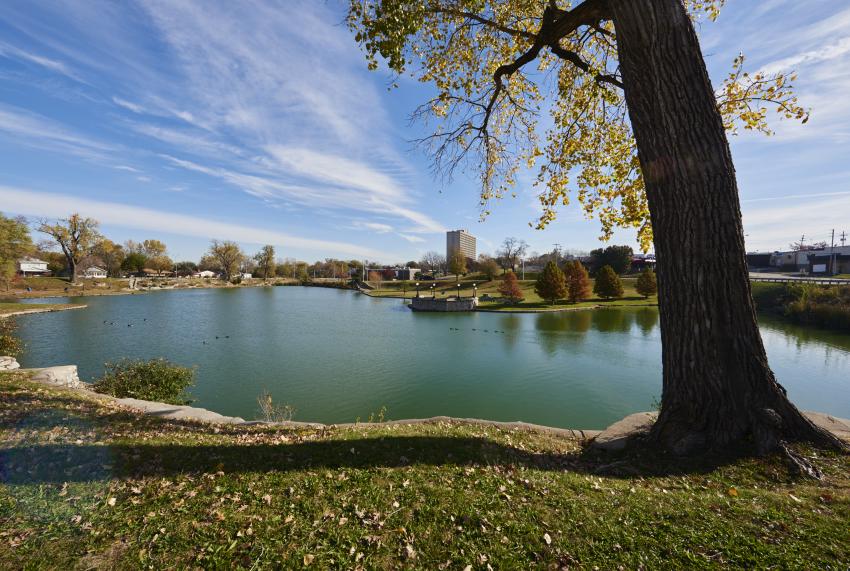 Big Eleven Lake (Between State Ave & Washington Blvd on N 11th) 
Quick facts: 3.8 acres, man made fishing lake, picnic tables, portable toilet and bandstand.
What makes it unique: Along Big Eleven Lake you'll find KCK's very own Charlie 'Yardbird' Parker memorial, which honors the Kansas City, Kansas born saxophonist and leading figure in the development of "bebop" jazz.
St. John's Park (Ann Ave & N 4th St.)
Quick facts: 2 acres, benches, lookout
What makes it unique: While it may be the smallest and most unassuming parks in Kansas City, Kansas St. John's Park sits atop Strawberry Hill, directly in front of the Strawberry Hill Museum. A fenced-in dog park was recently added on, with a separate area for small dogs as well. The park faces downtown Kansas City, Missouri, and locals are known to gather at sunset to watch the skyline be illuminated in a pink light.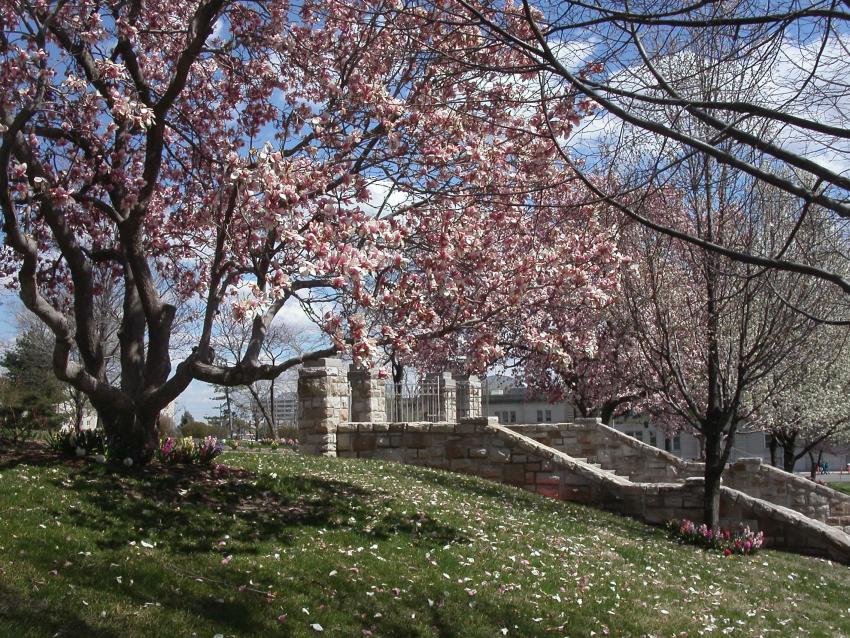 Huron Park  (7th & Ann St)
Quick Facts: 7.43 acres, walkway, floral gardens, benches, gazebo and Wyandot National Burying Ground.
What makes it unique: Known for its spring and summertime beauty, Huron Park is located on the Wyandot National Burying Ground, which is rich with the history of the Wyandot Nation. While only a few graves are marked, there are estimated to be about 400-600 bodies buried on this sacred ground.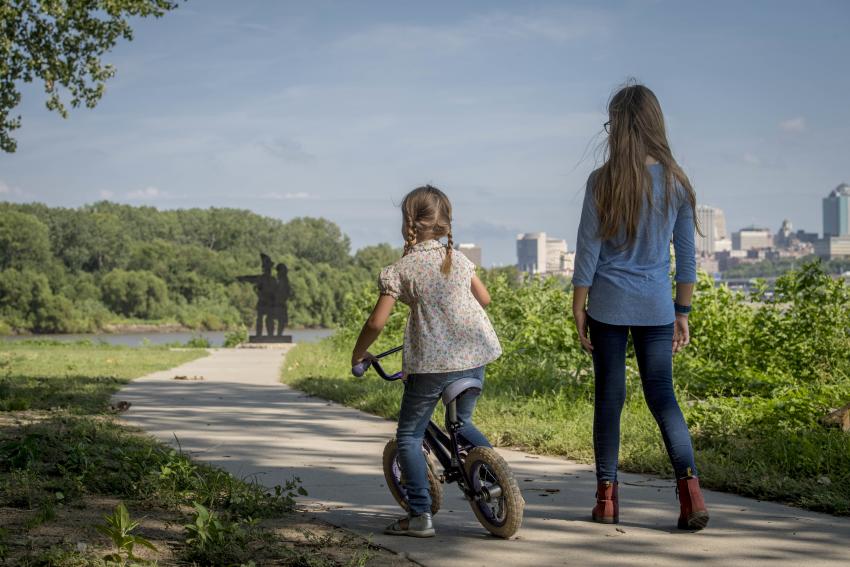 Lewis & Clark Part at Kaw Point  (One River City Drive)
Quick facts: Provides access to the river where the Kaw meets the Missouri, boat dock, boat ramp, 1/4 mile trail and Lewis and Clark historic information. Restrooms are not open on a regular basis. 
What makes it  unique: Kaw Point Park ties in with one of the most fascinating tidbits of Kansas City, Kansas history. Here is where the Lewis & Clark Expedition camped for three days on June 26, 1804. A statue of the famous explorers, who appear to be gazing out across the river to the skyline, makes for an iconic Kansas City photo op. 
KU Med Area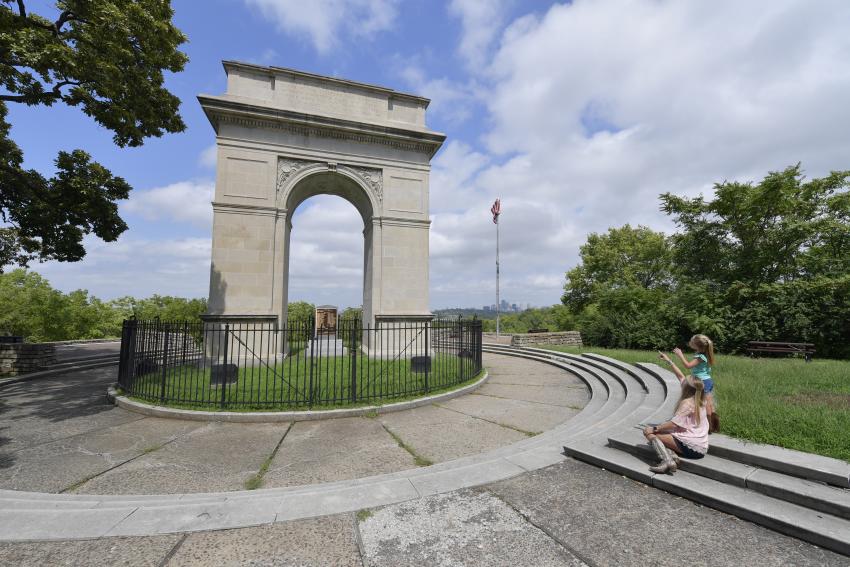 Mount Marty Park (35th & Booth) 
Quick Facts: 10.99 acres, trails,  site of Rosedale Memorial Arch (overlooking the city), lighted areas and parking areas. 
What makes it unique: Not only is Mount Marty home to the giant Rosedale Memorial Arch, here you'll find a trailhead to the Rozark Nature Trails, an easy 4 miles of lush natural track trails.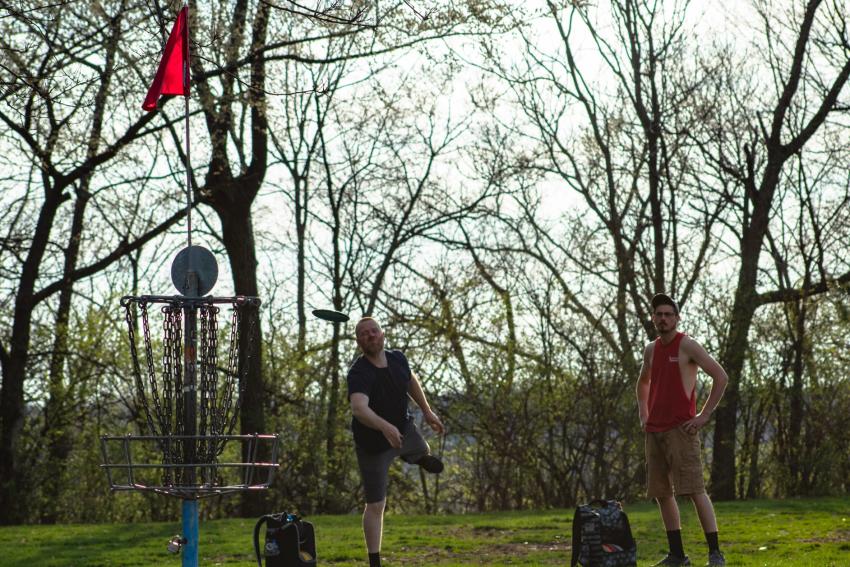 Rosedale Park (4100 Mission Road) 
Quick Facts: 55 acres, lighted softball fields, three non-lighted softball fields, two lighted tennis courts, shelter, playground equipment, skate park drinking fountain, grill, picnic tables, restroom, parking lot and two 18 hole disc golf courses.
What makes it unique: The Rosedale Disc Golf Courses loop around the hills of the park and have been the site of many disc golf tournaments and events. Rosedale Park is known to be one of the best kept secrets for disc golfers looking to find less crowded courses. 
Find out more information on all Kansas City, Kansas parks through the Wyandotte County Parks & Recreation Department.
Get outdoorsy in Kansas City, Kansas! Find more parks, trails and adventurous activities on our things to do page.