This week May 2nd through May 8th is National Travel and Tourism Week (NTTW) and there is more reason than ever to celebrate the collective strength of the U.S. travel and tourism industry and its dynamic workforce and sheer power. 
National Travel and Tourism Week (NTTW) 2021 recognizes the POWER OF TRAVEL and the tourism industry's role in helping our vibrant communities bounce back after the pandemic, restoring the U.S. economy, rebuilding our workforce and reconnecting America. This year, we start a new chapter, one where the POWER OF TRAVEL will drive recovery and help define our country's way forward.  
Prior to the pandemic, the travel industry was a powerful economic engine, supporting jobs and driving local economies in every pocket of America. The industry had experienced 107 straight months of growth, generated $2.6 trillion in economic output, supported 17 million American jobs and delivered a $51 billion trade surplus to the U.S. 
Unfortunately, that strong growth trend plummeted last year due to the pandemic. Travel spending in the U.S. declined 42%, costing the economy $1.1 trillion, while hardworking Americans supported by travel made up a staggering 65% of all U.S. unemployment.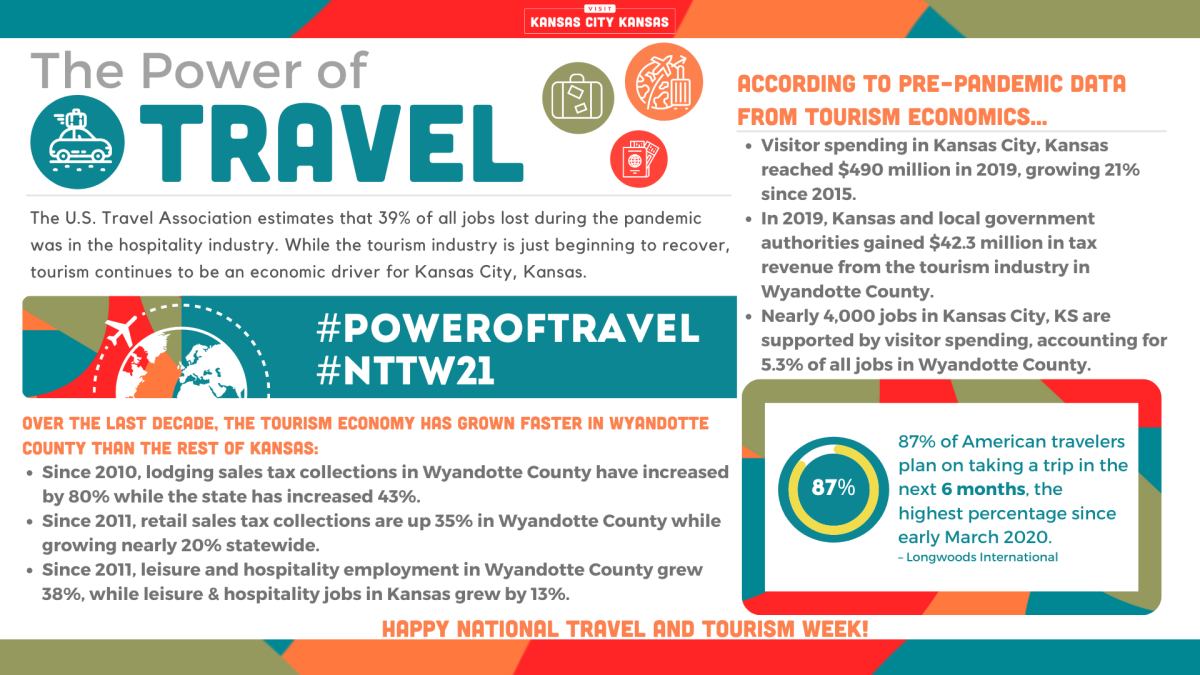 ---
In Kansas City, Kansas we saw organizations, businesses and attractions make an innovative shift in order to make the best of what 2020's pandemic had in store. We talked to our local partners about how they were affected and more importantly, how they got through this past year. 
---
1) What was the initial effect of the pandemic on your business? 
---
Cider Hill's mission is to create a place where families can come spend time together either in the Orchard, in the Pumpkin Patch or at the Fishing Pond. It is all about creating memories and making fun family traditions. Jeff and Joan Shearer purchased the 38 acre property in the spring of 2011. The family voted on the name which is how it became known at Cider Hill Family Orchard. The Orchard is a new and exciting venture for the Shearer Family.​

"We usually spend  a lot of the spring time doing events: weddings, family reunions, graduation parties, etc. Right at the start of the pandemic we lost about 50 events initially. We didn't have a deposit for three months, and to be honest it was very scary."

- Joan Shearer – Owner - Cider Hill Family Orchard 

---
Nebraska Furniture Mart is more than a store. We're in the business of improving people's lifestyles. By offering big selection, big savings and big ideas, we inspire our customers to create the home of their dreams (without breaking the bank). NFM prides itself in having an inclusive and unique culture and value their teammates and know that when their staff excel, their customers are getting the best shopping experience. 
"NFM saw unprecedented growth in categories such as refrigeration, home office desks and chairs, and computer equipment.  As more people began working from home, and as schools shifted to remote learning, this growth continued to skyrocket."  
-Ethan Stover - Store Director - Nebraska Furniture Mart

---
2) How did you pivot as a way to safely serve your customers and visitors? 
---
Mockingbird Lounge 
"The pandemic's initial effect on The Mockingbird was pretty dramatic. All signs pointed to 2020 being our biggest year of growth. We were on pace to set a new sales record in March and then all the lights went out.

We were really only shut down for about four or five days. After the initial shut down I caught wind that we could sell food to go (and I was bored out of my mind) so I worked the kitchen alone under limited hours through April. Once we were allowed to sell alcohol to go, we came up with fun sack lunch combos that I think people enjoyed a lot. "
-Dan Castillo - Owner - The Mockingbird Lounge 

---
The Mockingbird Lounge is tucked away in the Strawberry Hill neighborhood of Kansas City, KS. Mockingbird Lounge was a popular hang out for locals and visitors alike, providing live music, comedy shows and scenic patio and cozy bar and dining area. The pandemic had an immediate effect on bars and restaurants which provided the opportunity to figure out how to continue serving their community. 
---
"We decided we needed to come up with ways to change how we run our business, and wanted to keep paying our staff. So we took some of our customer favorites and created an outdoor drive-thru system. We sold apple butter, apple sauce, cider donuts, kettle corn and apple crisp. We'd ask for people to order ahead of time and we would be the ones to bring our products to our customers' cars. We didn't want them to get out, and they were only on the property for about 5 minutes. We saw a ton of support from the community – we even had to cap our cider donuts at 100 dozen! "
- Joan Shearer -  Owner - Cider Hills Family Orchard 

---
3) How did the community support you this last year and how you were able to support others?
---

"The initial effect of the pandemic on the Wyandotte County Museum was one of uncertainty as we attempted to figure out how to pivot our new exhibit, Look Up: The Architecture of Wyandotte County, into a virtual format. We quickly began to think about what was on our calendar and how we could adjust to continue to serve the community. 

Through the pandemic the Wyandotte County Museum expanded our social media content and audiences, added virtual exhibits, and made more of our research materials available online.  

Over the past year our Facebook audience grew by more than 3,000 followers and many of our in-person museum visitors were discovering our museum for the first time."

- Amy Loch - Wyandotte County Museum 
---
The Wyandotte County Museum highlight's the county's history from the stone ages through the present.  They strive to identify, collect, preserve, interpret and disseminate material and information pertaining to Wyandotte County history in order to assist the public in understanding, appreciating and assisting in the preservation of the heritage of this county. Attractions like museums and galleries saw a huge decline in visitors last year and many had to adapt with socially distant exhibits or digitizing their programming. 
---

"Sporting Kansas City and the club's charitable arm, The Victory Project, united with community partners in response to the COVID-19 pandemic to support those in need. Sporting Community Kitchen provided over 30,000 free meals to local families and the club's "KC As One" campaign teamed up with Harvesters to donate an additional 50,000 meals. Sporting KC and The Victory Project donated surgical masks and non-latex gloves for essential workers at Children's Mercy, while Sporting KC associates assisted in sorting and delivering PPE to emergency managers in rural communities to help protect first responders, health care professionals and long-term care facility personnel. Children's Mercy Park hosted numerous blood drives for the Community Blood Center which collected over 400 units of blood, saving more than 1,200 lives.

Children's Mercy Park served as a socially-distanced, outdoor venue for 20 high school graduation ceremonies and welcomed the Class of 2020 to have free professional graduation photos taken on the field last summer. Sporting Kansas City players also joined the cause to participate in public service announcements, telethons and social media campaigns for media outlets, local hospitals and other area organizations to promote public health initiatives and show their support for frontline workers." 

-  Kurt Austin - Director of Communications - Sporting KC 
---
Children's Mercy Park is located in Village West and is the proud home of Sporting Kansas City which has helped make Kansas City now known as the Soccer Capital of America. A state-of- the-art stadium, an infectious atmosphere and a talented club led by Sporting Kansas City's winningest coach, Peter Verme—Kansas City is proud to have their hometown hero's down the street. Sporting fans are amongst the most loyal and engaged in the nation and the pandemic left a lot of fans without the same legendary gameday experiences. 
Sporting Kansas City was a leader within Major League Soccer and American professional sports both in identifying and implementing comprehensive COVID-19 protocols and procedures. The club worked closely in consultation with public health officials, as well as local, state and national authorities, to establish extensive safety measures designed with the wellbeing of fans, players and staff at Children's Mercy Park as the top priority. 
---

 

"The KCK Chamber's young professional arm, KCK Forward, had a safe socially distanced fun outdoor event last fall called Connect the Dotte, with the key activity being an urban hike!  This helped to get the word out about Urban Hikes KC and it was such an energizing and fun event with a band, food and drinks at the 403 Club! The PAL (Police Athletic League) Center has also supported our business by being a key stop on our Strawberry Hill KCK urban hike.  They are always so happy to share about their kids programs  to our participants which really enriches the hike."

- Lisa Peña - Owner -  Urban Hikes KC

---
Urban hiking mixes the sport of hiking and the city. Since we take hikes, this means that we stop and talk about what we see about 20% of the time and hike the other 80%. Afterwards, you will have nearly gotten in your 10,000 steps for the day, and will have experienced some of the hidden gems of Kansas City.
---
4) What are you looking forward to with travel coming back in 2021? 
---

"Sporting Kansas City has joined The Victory Project and Children's Mercy to launch a "Force for Good" community campaign to celebrate the club's landmark 25-year anniversary in Major League Soccer and 10-year anniversary at Children's Mercy Park. For the 2021 season, The Victory Project will be featured on the front of Sporting's jerseys which marks the first time in MLS history that a charitable foundation will appear on the front of a team's jerseys for a full season. A portion of all jersey sales this year will be donated to The Victory Project in support of its mission to help children through all of life's challenges. 

On the field, Sporting KC is coming off a first-place finish in 2020 and the team's roster for 2021 features club captain Johnny Russell, Mexican National Team striker Alan Pulido and former MLS Goalkeeper of the Year Tim Melia alongside MLS All-Stars Roger Espinoza, Ilie Sanchez and Graham Zusi. Eighteen-year-old midfielder Gianluca Busio headlines a growing group of homegrown players signed from the Sporting Kansas City Academy who are ready to step into the spotlight in 2021." -  Kurt Austin - Director of Communications - Sporting KC 
---

"In the fall we also partnered with churches and organizations like Urban Scholastics. We put together bags of produce and could help feed about 40-50 families each week. In October we had pumpkins, and we picked the leftovers, processed and froze them. Then we collected donations for ingredients and were able to make more than 200 pumpkin pies we distributed around Thanksgiving. It wasn't just us. There were so many people involved beginning to end – the piemakers, people who donated, kids from the community who decorated pie boxes, the organizations we worked with, etc. "- Joan Shearer – Owner - Cider Hills Family Orchard 
---

"We've been humbled by the way that the community continues to support us.  We're looking forward to continued growth and community outreach, and wish all of our community businesses nothing but success."  -Ethan Stover - Store Director - Nebraska Furniture 

---
"I'm looking forward to helping refresh our participants' views of Kansas City KS because they have come on our urban hike.  Our hikes truly give a taste of the history, diversity and depth of Kansas City, KS and I look forward to more people experiencing that!"
- Lisa Peña - Owner of Urban Hikes KC

---

Mockingbird Lounge

"I am looking forward to getting this pandemic under control, seeing our friends at the bar and making new ones. We are moving forward optimistically and with caution but I think we weathered the storm."

- Dan Castillo - Owner of The Mockingbird Lounge 

---
With the right measures and attitude in place, we can get Kansas City, Kansas moving again in a safe and healthy way, which will help our partners, local businesses and the community get back to thriving from travel and tourism. Our industry needs continued and sustained relief to ensure our businesses can stay open and travel and tourism workers employed. Safely reopening our borders and restarting international inbound travel will be essential for our industry to rebuild.
A robust recovery requires the return of business travel, meetings and events, which can be done in a healthy and safe way.  By bringing attention to the tourism industry and maximizing the POWER OF TRAVEL we can define the future of mobility, reimagine the air travel system, increase our global competitiveness, and implement innovative technologies that will strengthen security while improving travel facilitation.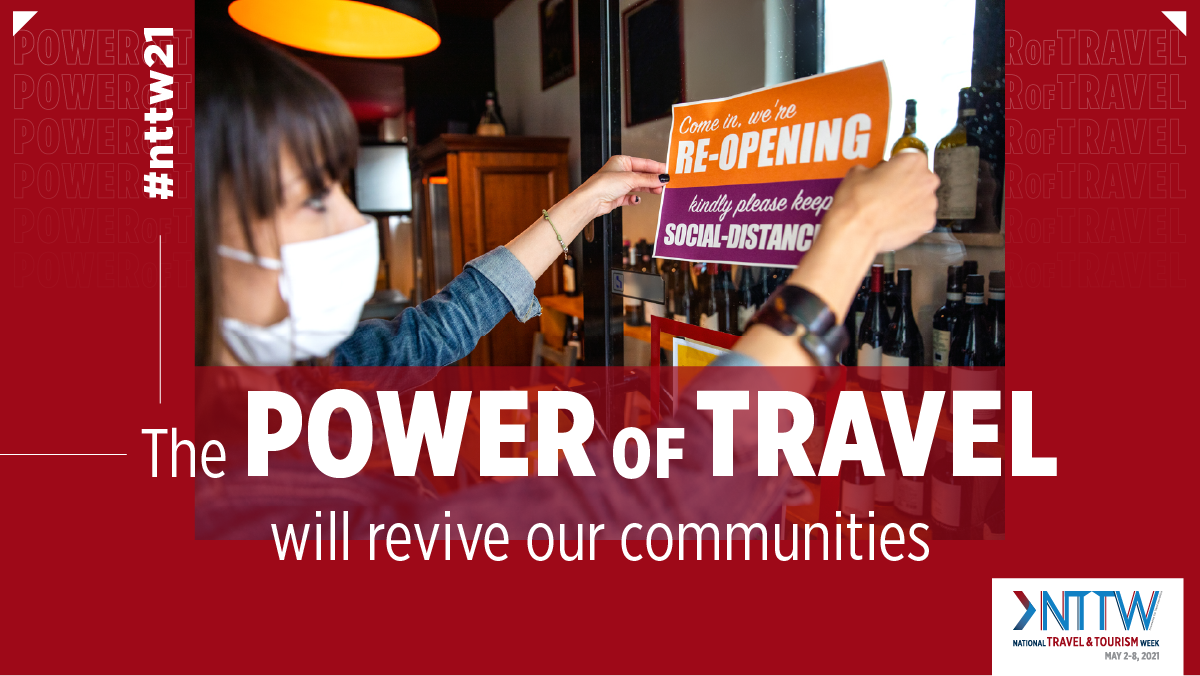 The U.S. Travel Association has more on National Travel and Tourism Week and its push towards recovery at USTravel.org.