TWO COUPLES LIVE IT UP ON A WEEKEND GETAWAY TO KANSAS CITY, KS.
We'd just dropped off our daughter, Maddie, for her first college visit. College. When did Dave and I grow old enough to have a daughter scouting out campuses and contemplating dual degrees?
I wasn't ready for us to become empty nesters at 45. Dave, always looking for the rainbow, remarked on how much more time we'll have to get back to our active lifestyle. He reminded me there were plenty of things to do in nearby Kansas City, Kansas
"You're right." I told him, as we buckled in and pulled away from the University of Kansas campus. "We finally get to go to a game with Howie and Beth!"
As sad as I was that our "baby" girl was growing up, I was actually just as eager as Dave to meet up with our dear friends for a weekend of fun in Kansas City, Kansas We hadn't spent quality time with them since they visited us in Omaha two years prior. And we were starting big with a soccer match at Children's Mercy Park—a state-of-the-art stadium known as the Soccer Capital of America.
Soccer Fans Unite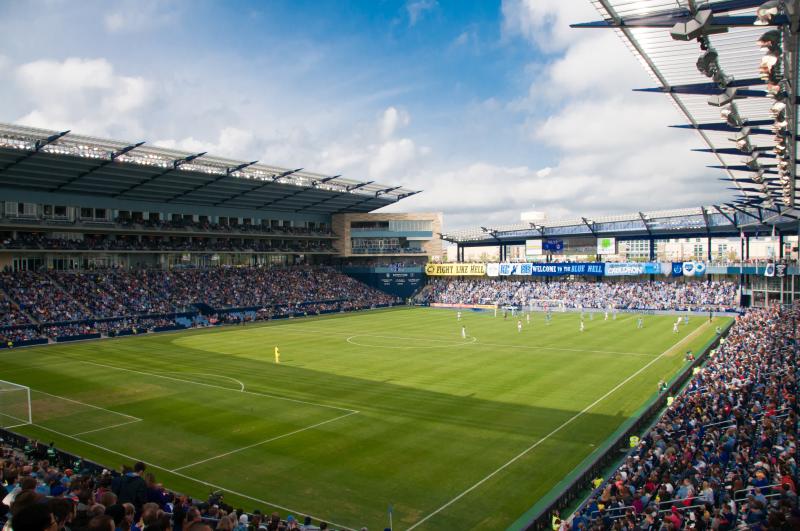 Home to Sporting KC, Children's Mercy Park has been on Dave's bucket list since it opened during the 2011 Major League Soccer season. Without a Nebraska team to cheer for, he is a dedicated Sporting KC supporter and couldn't wait to get through the gates.
Upon finding Howie and Beth at our meeting spot, we exchanged squeals and hugs before making our way to our seats. We loved our perch on the west side of the stadium (although the sightlines from any of the 18,500 seats are fantastic) and were happy to know the canopy roof would protect us rain or shine.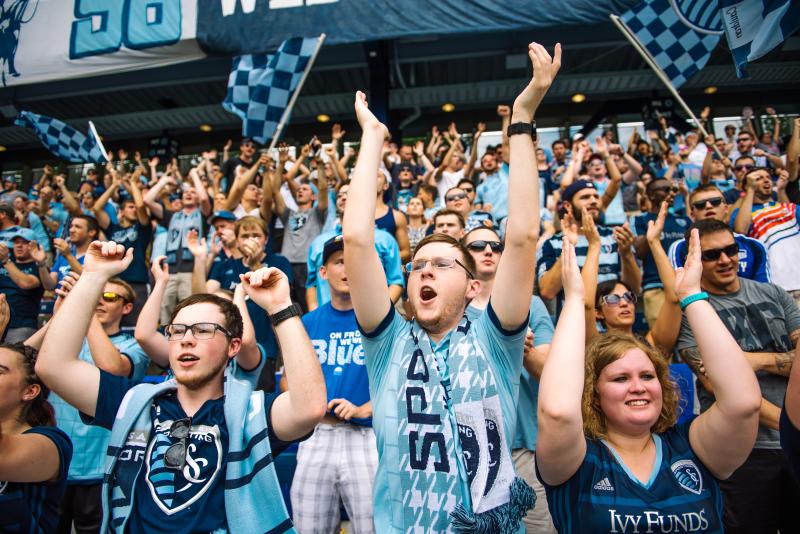 Immediately, we confirmed that the rumors are true—Sporting KC fans are NO JOKE. Dave was in heaven with the non-stop cheering, high fives and camaraderie; I, too, was captivated by the palpable energy throughout the 90-minute match against Minnesota United.
Did Someone Say BBQ?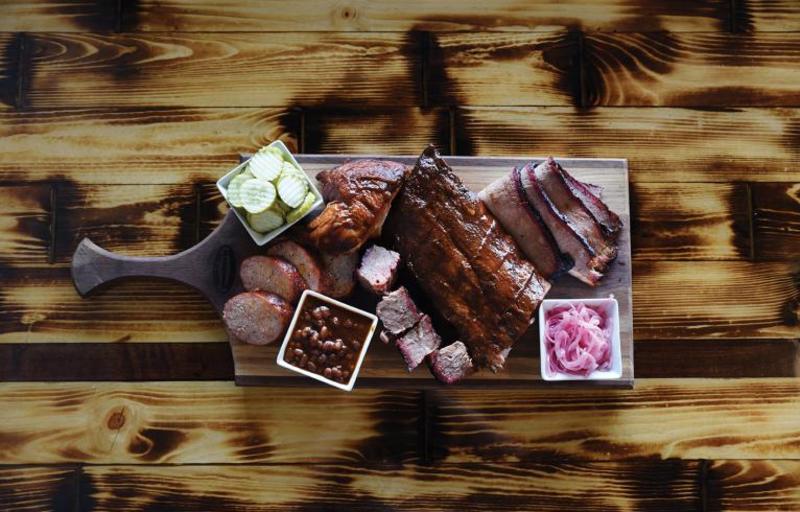 After the heart-pumping game, we shifted our attention to one of my favorite sports: eating! Turns out Kansas City, Kansas has no lack of dining options, but I was eager to dig into its famous barbecue. And so our first food outing was to Blind Box BBQ —just a quick walk from Children's Mercy Park.  We devoured plates of ribs and pulled pork as we continued to catch up on our jobs, travels and life in general.
"I can't get enough barbecue in this town," Howie quipped, licking his fingers of spicy sauce. "Let me take you on a BBQ tour!"
We readily agreed to his genius offer, though I was unsure how I'd find room in my belly for Jones Bar-B-Q in midtown and Slap's BBQ downtown over the course of the next few days (spoiler alert: I managed!). When we finally decided to call it a night, we checked the weather forecast (glorious!) and committed to meeting in the morning for an active, calorie-burning day.
Better than the Gym
We started early at the Armourdale Hike and Bike Route for a jog along the Kansas River. The 1.3-mile stretch was the perfect distance for all of us—Dave and I were able to run up and down the path a few times to complete our daily four miles, while Howie and Beth sprinted the length once and walked back—helping us all to achieve our step goals before 10 am.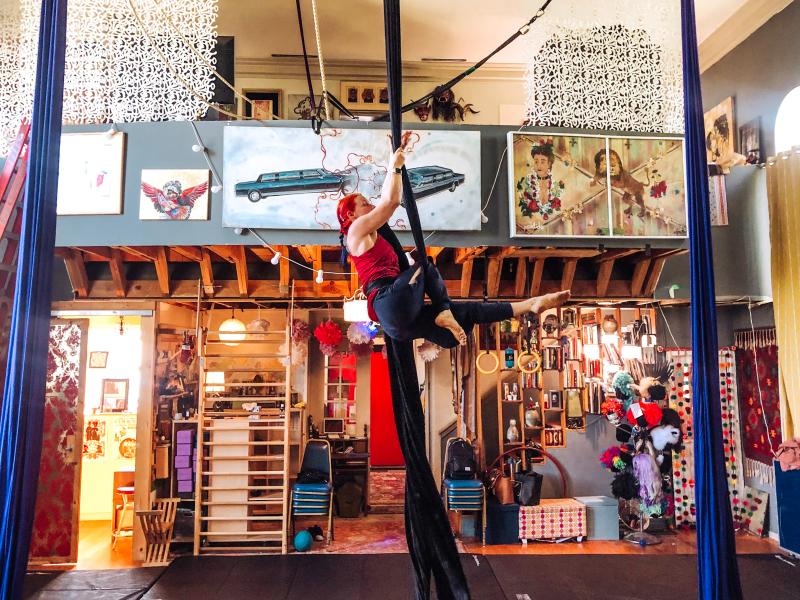 Already sweaty, we stayed in the area to check off one of my fitness ambitions—aerial acrobatics! Okay, maybe I wouldn't be flying through the air after one lesson, but I was stoked for our class at Voler Thieves of Flight. I fell in love with conditioning, strength training and learning basic poses, and I cannot wait to pursue this new activity.
"Maybe by the time Maddie graduates college, you'll be in the circus!" Dave joked. "Not a bad goal!" I responded, not joking.
We all agreed to regroup later that afternoon, allowing enough time to snack on BBQ, shower and revive ourselves for our next adventure.
The Ultimate Double Date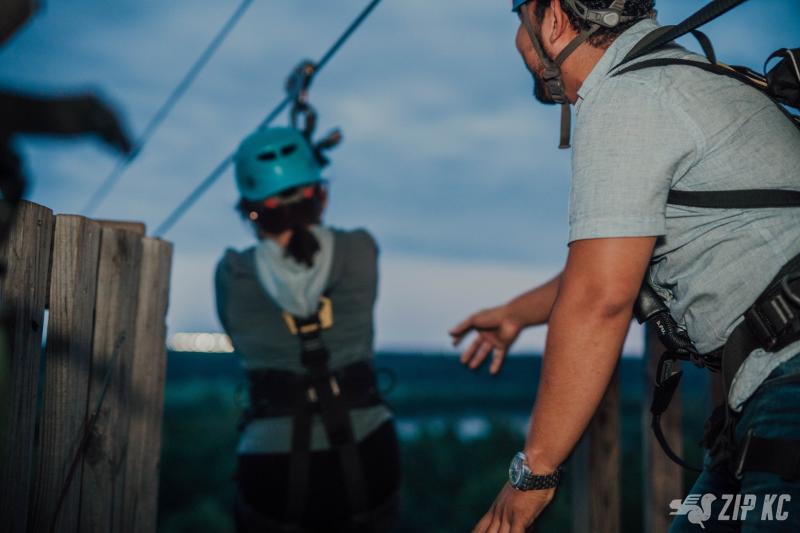 "I couldn't dream this up!" I said to Beth as we locked into our zip line safety gear.  We were about to embark on the Date Night Sunset Tour with Zip KC, during which we experienced four different zip lines, including the longest and fastest line in the region. Both romantic and exhilarating, we not only caught breathtaking views of the sunset, but also the forest and wildlife below.
Back on solid ground but not yet stripped of adrenaline, we forged ahead to our last scheduled activity, also in the Bonner Springs, KS, area. In stark contrast to the beautiful expanse of the woods we'd just zipped across, the Captive escape room at Exit Games KC was an enclosed camping-trip-gone-wrong space from which we had 60 minutes to flee. Together we pieced clues hidden throughout the room together with hints from the help screen, busting through the exit with two minutes to spare.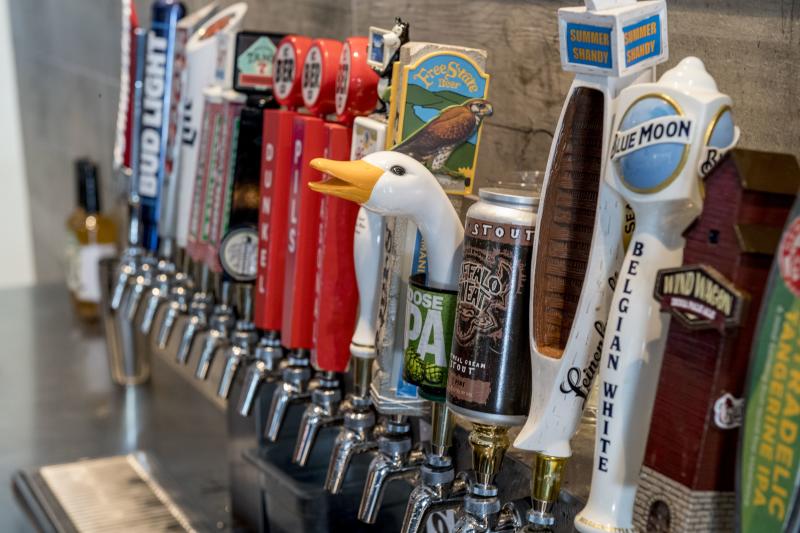 "Who needs a drink?" asked Beth, as the boys high-fived and boasted about their problem-solving abilities. We landed at Mason Jar Brews and Burgers for beers and seriously great bar food (hi, bratwurst sliders and honey chipotle wings!). As we clinked glasses with our friends, I was overcome with an a-ha! moment: Yes, I will miss Maddie terribly when she goes off to college. And Dave and I will enjoy our time as fabulous forty-somethings!