Winter in the Midwest can be a mixed bag of surprises. The old saying about Kansas is that if you don't like the weather just wait five minutes and it will change. While it may not be that drastic, we can experience a wide variety of temperatures in one week. After a couple of months of these fluctuations, we were ready for a break, but wanted to stay close to the hometown. No problem with that, since there are plenty of places to escape to right here in Kansas City, Kansas. Our plans were made for a short stay in Village West, which is situated on the western side of the city. I hurried home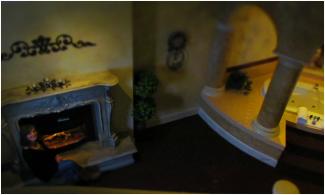 after work to pick up Crystal, who had already packed an overnight bag. Away we headed to Chateau Avalon, which offers uniquely themed rooms in a romantic French hotel setting.
Check-in went seamlessly, and soon we were standing in the doorway of the Tuscany Suite. It is lavishly decorated with marble columns, an oversized jetted tub, fireplace, and even a fountain. We explored our new digs, before heading to D'Nile, the in-house bar. We had been tipped off that Patrick would be on duty, and that he was an entertaining character. There were a few other hotel guests already there, and everyone was in the mood to unwind from a busy week. We let Patrick surprise us with a couple of his signature martinis, while he spouted a continuous stream of one-liners. Everyone was enjoying themselves, and the crowd continued to grow, as more hotel guests arrived. We finished our drinks and headed out to find dinner.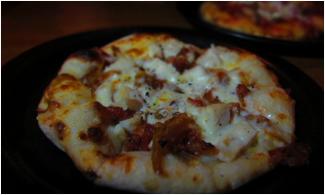 Just a few blocks away from the hotel is the Legends Outlets Kansas City. This retail complex is filled with lots of shops, but also offers plenty of dining options. This evening we were in the mood for one of our favorite foods, pizza. We decided on Chiusano's Brick Oven Pizzeria, which is located near the southern entrance to the shopping center. We were surprised that we didn't have to wait long for a table, even though they were filled with a steady stream of customers. The staff bustled around, and the smell of baking pizza pies filled the air. As we scanned the menus, we discussed the possibility of some after dinner sweets. Knowing these were a possibility meant that we would want to be sure not to eat too heavily for dinner.
Fortunately, Chiusano's offers three sizes of pies, with the smallest being personal size. Combining these with a salad would be the perfect amount for each of us. The menu offers a wide range of tempting flavor combinations, so everyone can find a favorite. If none of them ring your bell, you can build your own from the large list of available sauces, cheeses, and toppings. Once our orders were placed, our conversation fell back on the hotel. Soon our salads were delivered, and devoured. The pizzas arrived shortly after, and we savored every slice. We were surprised at just how filling these had been and ended up being glad that we didn't order a larger pie. Heading back into the winter night, we were glad to only be traveling a short distance. A stop at Russell Stover's gave us the opportunity to pick up a small bag of sweet treats to enjoy later in our room.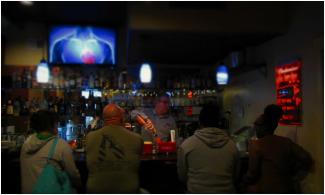 Back at the hotel, we headed down to the bar to see what was happening. A larger crowd had gathered, and a karaoke machine had been put into service. We enjoyed a nightcap martini, while we listened to other hotel guests try their hands at entertaining the crowd. We even joined in on a couple of the more familiar songs. After a bit, we decided to head back to our room where we could get comfortable. Our romance package included a bottle of champagne and some chocolate covered strawberries, which were delicious. A warm soak in the over-sized tub helped chase away the winter chill, as we listened to the trickle of the fountain.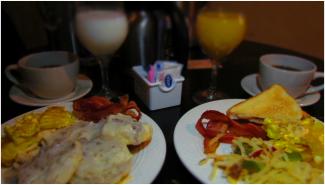 After a good night's rest, we heard a knock on the door. Room service was delivering our anxiously anticipated breakfasts. We relished the last few hours of our visit to Chateau Avalon, and then prepared to head back into the middle of a Kansas City winter. Isn't it time for you to plan your own Kansas City, Kansas escape?