When I heard about Jarocho's Pescados y Mariscos (Jarocho's), I immediately put the restaurant on my long "restaurants to try" list. Everyone I know that has been to Jarocho's raves about the delicious seafood and it was even rated the best seafood restaurant by Feast Magazine in 2017. Exquisitely plated Veracruz inspired seafood right in Kansas City, KS? I knew I needed to move this restaurant up in priority, and I was curious: could Jarocho's really live up to its hype? 
My boyfriend, Matt, and I wanted to find a new place to brunch in the New Year and we were excited to see that Jarocho's had a stellar Sunday Brunch option. On Sunday's, Jarocho's offers a $24 / person seafood brunch buffet and $14 / person bottomless drinks.
Jarocho's has many other great specials during the week too, including:
MON: ½ off select wines
            $3 glasses of house wines
            small plates
TUES: $1 Oysters
WEDS: $4 off Seafood Paella
                $2.99 House Margarita
                Small Plates
THURS: $1 Oysters
SUN: $24 Brunch Buffett
          $14 Bottomless Drinks
Before I ventured to Jarocho's in KCK I did a little research on Veracruz cuisine. I had never been to a restaurant that specialized in Veracruz fare and wanted to learn about the flavors and why seafood was the biggest staple. What I found is that Veracruz is a coastal port-city in Mexico that was named by Hernan Cortes while searching for gold in 1519. Veracruz is known for its beautiful beaches and fresh seafood cuisine influenced by the indigenous people of Veracruz, the Spanish, and Afro-Cuban flavors. Beach vibes in the middle of January? That was a firm yes for me.
We arrived to Jarocho's at about 11:30 am on Sunday. As we pulled up to Jarocho's humble building,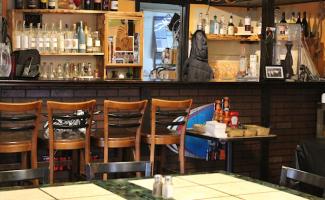 situated in an industrial area of Armourdale, the restaurant's bright blue exterior told a different story: hinting at the bright and sunny seaside creations that were inside.  As we walked into the restaurant, lively Mexican music played overhead and the smell of fresh seafood and the brunch buffet drifted through the space. I immediately knew this was a happy place. The hostess greeted us, and we were promptly seated at a booth near the buffet line. The restaurant was full of families gathering after church and I believe there was even a small birthday celebration. The restaurant is cozy, although provides ample seating – making room for everyone without feeling too cozy.
 Our waitress explained to us the Sunday brunch special and we couldn't wait to dig in. The buffet was extensive and included hot and chilled items. The hot items included: fresh sliced prime rib (served by Chef Carlos Falcon himself) with delicious prime rib sauce, black beans and rice, fried yucca with a tangy pepper relish, mole, street corn, seasoned shrimp, paella, and pot roast with a Veracruz twist. The chilled items included three different types of ceviche, oysters on the half shell, and shrimp all served with your choice of fresh limes, salsa and hot sauce. The buffet also comes with one whole fried fish for the table and bread pudding for dessert.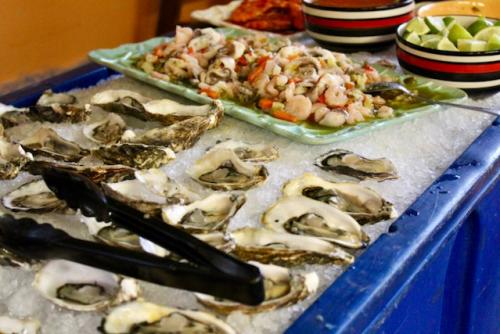 On my first trip through the buffet, I tried the prime rib and fried yucca. The prime rib was delicious and I'm happy that I paired it with the fried yucca. The au jus on the prime rib was unique in comparison to other au jus I've had. This sauce had more of a tangy flavor and was very delicious. The fried yucca was very similar in consistency to a potato – starchy and fried - but was well balanced with the tangy pepper relish with which it was served. The prime rib and yucca made for a lovely pair and was like red meat and potatoes with a Veracruz flare.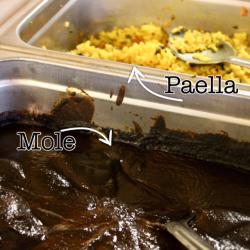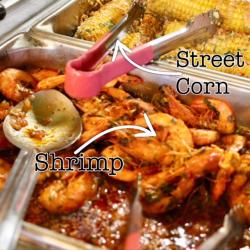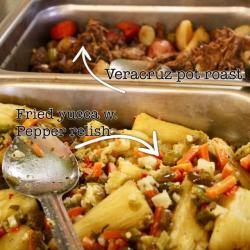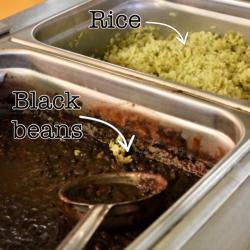 On my second trip through the buffet, I was dedicated to fit as much seafood on my plate as possible. I put a small portion of beans and rice and then went for the shrimp, street corn, paella, two types of ceviche, and an oyster on the half shell.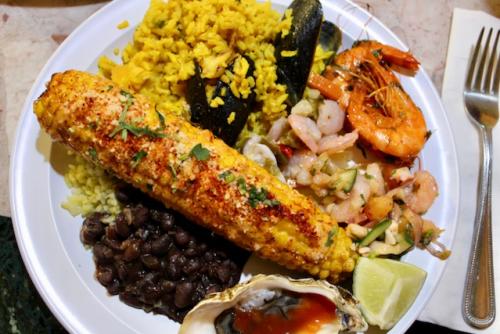 My favorites were the street corn, paella, and ceviche. The street corn was sweet and savory, made with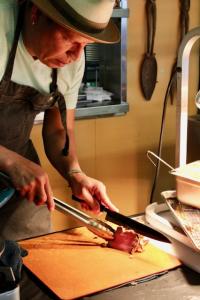 chipotle aioli, crumbled cheese, and what I believe to be topped with Tajin seasoning – it was sensational. Matt had two. The paella was definitely my favorite. I loved how each bite was a surprise of seafood: A bite of fish here, calamari there, oh a mussel – don't mind if I do! The rice was tender and almost creamy – an ode to the lobster broth in which it was cooked. Delicious. Finally, the ceviche was fresh and citrusy – made with shrimp and other bites of white fish, finely diced cucumbers, lime, and cilantro – I could eat it for every meal.
For dessert, Matt and I went off the brunch menu and opted for the house-made churros with homemade vanilla ice cream, dusted with hibiscus powder. The churros were warm and paired well with the cold ice cream. We dipped the warm churros in the ice cream and it was the perfect flavor. The hibiscus powder was sweet and tangy and almost tasted like strawberries – giving this classic Mexican dessert an elevated presentation and flavor. The perfect dessert for two.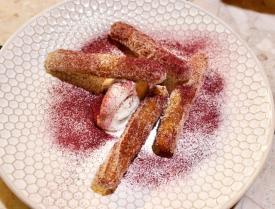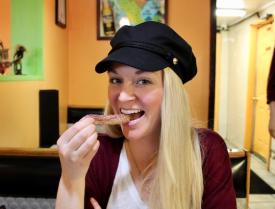 We also learned that Jarocho's is offering a special three course Valentine's Day dinner for $95 / couple and includes a complimentary glass of champagne. What a sweet idea for you and your Valentine.
The verdict? Jarocho's certainly lives up to its hype. The flavors are robust and the seafood is fresh. I certainly recommend you try Jarocho's soon – especially for their Sunday brunch.