Winter temperatures can strike early in the Midwest, but that is no reason to go into hibernation. With tons of attractions, restaurants, and events offering indoor venues, visitors can find plenty to see and do.  We struck back against the cold weather with a warming visit to the Strawberry Hill Museum. We had previously visited this historic home turned orphanage turned museum, but never during the Christmas season. During October, the museum closes to decorate for the upcoming holidays. When the doors reopen in November, the entire interior has been transformed into a Victorian wonderland. Guests can schedule day or evening tours but be warned that they sell out quickly.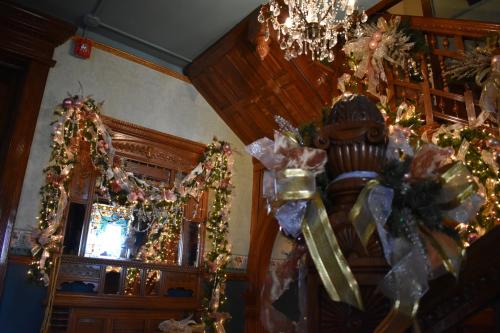 During our visit we noted that every tour was completely full. (Our time slot ended up being split into two groups!) As we made our way through the building, we heard stories of the family that once occupied the home. Later, the topic changed to the nuns who ran the orphanage, as well as the families in the surrounding neighborhoods. These are the types of historic tours that we relish. We could feel the history with every squeaking floorboard and see it in the ornately carved woodwork. Every room is decorated by volunteers who strive to top past achievements. The entire place is liking taking a magical trip back to a simpler time. After our tour completed, we were invited to visit the gift shop. Here we found a wide assortment of items specific to the ethnic families of the area. Crystal couldn't pass up a pair of handmade earrings.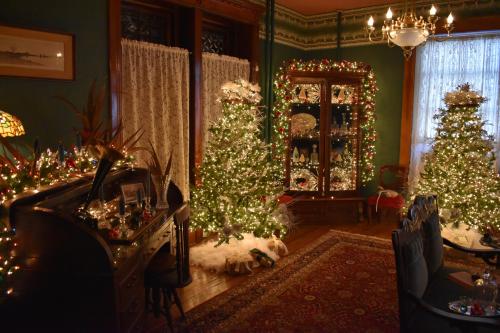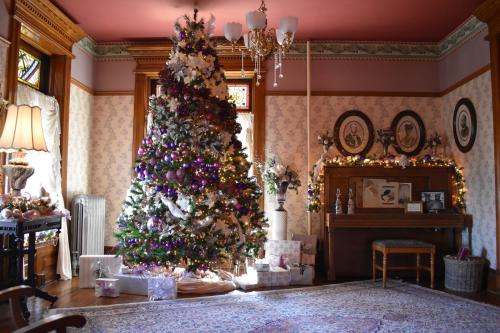 By the time we finished our time at Strawberry Hill Museum, we were starting to feel the pangs of hunger. Time for us to dash south to the farthest edge of KCK. While Kansas City may be noted for barbecue, there are plenty of other cuisines to savor. Our trip landed us at 1889 Pizza Napoletana,which sits next door to the home of the original Joe's Kansas City Bar-B-Que  location. The name may sound unusual, but it signifies what many believe to be the date and place where pizza began. Husband and wife duo, Jason & Kelli Kolich, created this space to bring authentic Neapalitan pizza to Kansas City, Kansas. We had the pleasure of meeting both, as well as some of their amazing staff, during our visit.
  After learning more about the couple's background and passion for true Italian pizza, we had the opportunity to witness some of the behind-the-scenes work that goes into creating their picture-perfect circles of happiness. One of the first things we noticed, was their dedication to using fresh ingredients that are prepped on-site. One of their chefs showed me the ropes, as he worked on his own lunch. He started by gently working the Caputo flour dough, and then spread it carefully on a wooden paddle. A swirl of San Marzano tomato sauce created a perfect base. Once the toppings were added, it was time for the oven. 1889 Pizza has two wood-fired pizza ovens that are designed to bake their pies to perfection, in short order.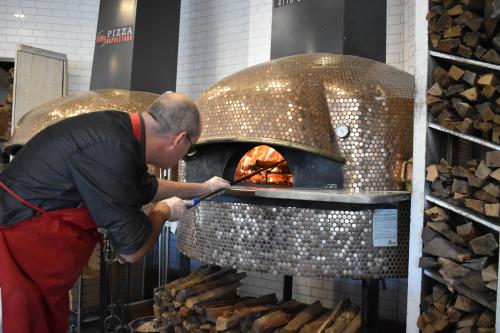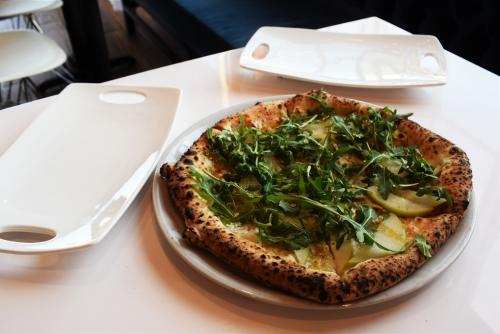 Once his pizza had been placed inside, we could see the crust begin to rise and color. He explained that the bricks used in the ovens help create a uniform heat exchange. This helps the pies cook in just a couple of minutes. Talk about something amazing to watch! Once it was out and sliced, he offered us a couple of slices to taste his masterpiece. OMG! The flavors are so bold yet melt together in each bite. Now it was time for our selection. The Kolich dynamic duo has developed some unique flavor combinations, but customers can always just build their own, if they prefer. We decided the Honey Bee sounded interesting, as it combines fresh pear, Gorgonzola cheese, locally sourced honey, and fresh arugula. We waited with anticipation to taste our prize, and were not disappointed. The combination of sweet and tangy paired so well, that it didn't take long for the entire pie to disappear.
  During our visit, we noticed a large group sitting at a table covered with flour dust. Kelli explained that 1889 Pizza offers classes focused on pizza, mozzarella, and wines. I took this opportunity to speak with the group and found they had pre-scheduled the pizza making class. Everyone was enjoying the fruits of their labors, so they were more than happy to allow me to take a few photos of their just rewards. This seems like a great option for a birthday party or family get together. It will certainly be something we will have to research further.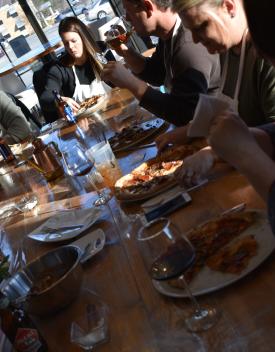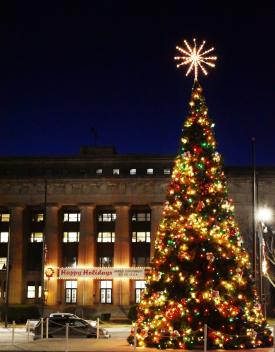 With our hungers satiated, it was time to head back out into the cold. One last stop would be back downtown for a view of the Mayor's Christmas Tree at City Hall in downtown Kansas City, KS. As we huddled in the cold, we reflected on our day exploring our hometown. We had so much fun and only scratched the surface of what our city holds. Be sure to check out the Things to Do page for even more ideas to make the most of your day in Kansas City, Kansas.