At Bichelmeyer Meats, people come for the meat market, but stay for the tacos.
Every Saturday, Bichelmeyer Meats transforms into a bustling taqueria serving tacos, tamales, and quesadillas along with the usual meat market patrons. Customers sit family style on one of the several banquet style tables clad with red-checked tablecloths and set with plastic green lawn chairs. Everyone in the joint is in good spirits, and once you take your first bite of taco – you soon find out why.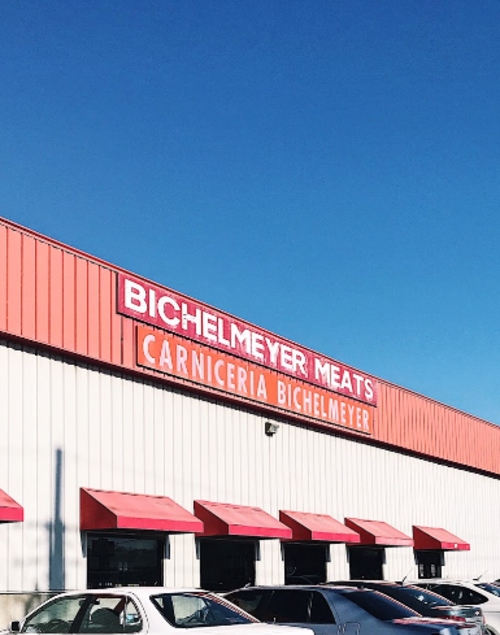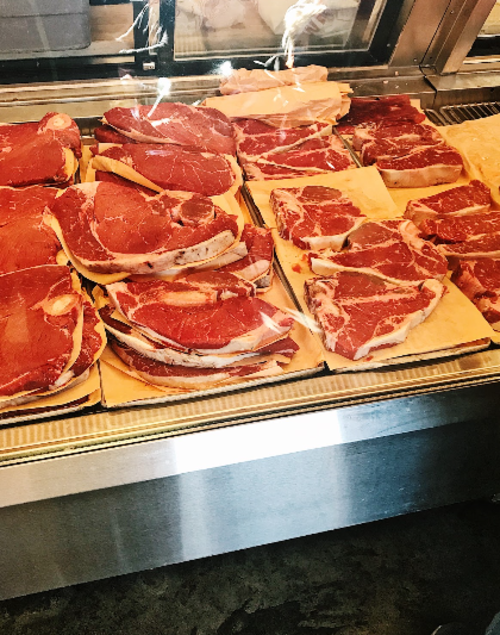 Bichelmeyer Meats has been in business for the past 72 years. Founded in 1946 by John F. Bichelmeyer, the shop is now owned by John Bichelmeyer's sons, Jim and Joe, and his grandson, Matt. This family establishment serves all the cuts of beef, pork, chicken, lamb, and goat to make any meat lover roar with carnivorous delight. All beef and pork is from local farmers, they do not inject their chickens with water or artificial flavor, and the lamb and goat selection comes from high quality domestic and New Zealand farmers.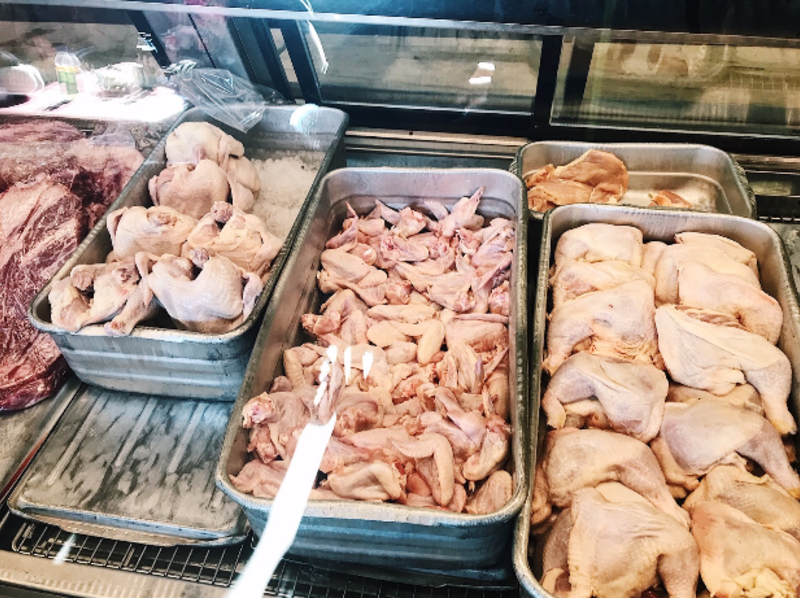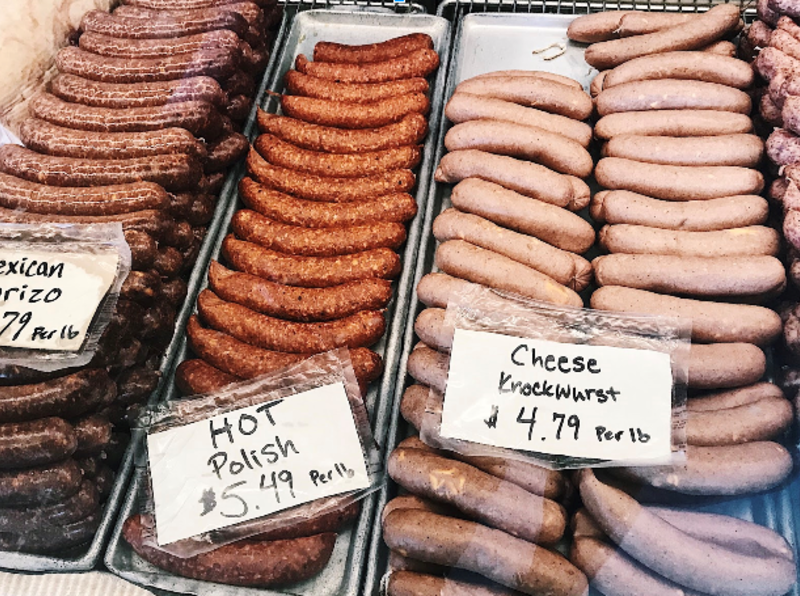 My fiancé, Matt, and I sauntered into Bichelmeyer's last Saturday with the intention of waiting in a huge line to order tacos, as they've gained quite a following. We arrived around 12:30pm and to our enjoyment there wasn't a line yet (a line immediately formed after we got there, so I think we just got lucky).  We were excited to see not only tacos graced the menu, but quesadillas and tamales were additional options with an assortment of sauces and salsas to accompany your entrée.
For a total of $11, we ordered a pollo taco (spicy chicken), asada taco (steak), and a meat and cheese quesadilla. They also had options ranging from cow tongue, to carnitas, barbacoa, pastor, and more. The woman at the counter offered cilantro and onion for the tacos – with which I happily complied (cilantro is my love language). If cilantro it is not your jam, you can opt out. I scooped up 3 sauces to try with my meal, a green crema sauce (definitely my favorite), a simple salsa, and a spicy orange sauce. I never got to try the spicy orange sauce as I subsequently splattered it all over my lap, my jacket, and partially into my eyeball. Which I must admit, stung a bit. Also, I made quite a spectacle of myself!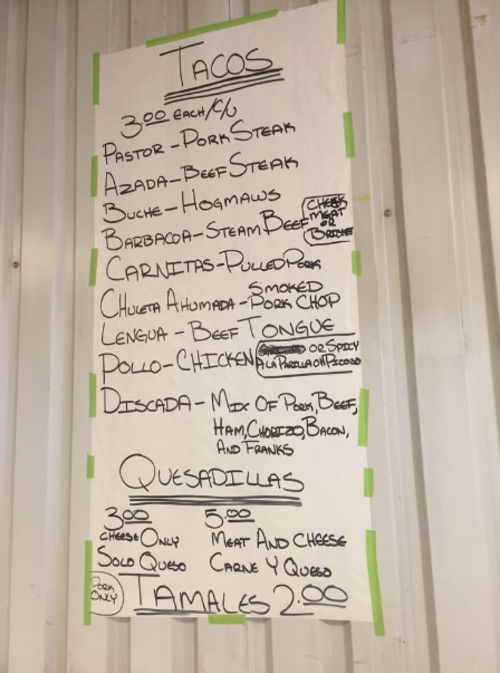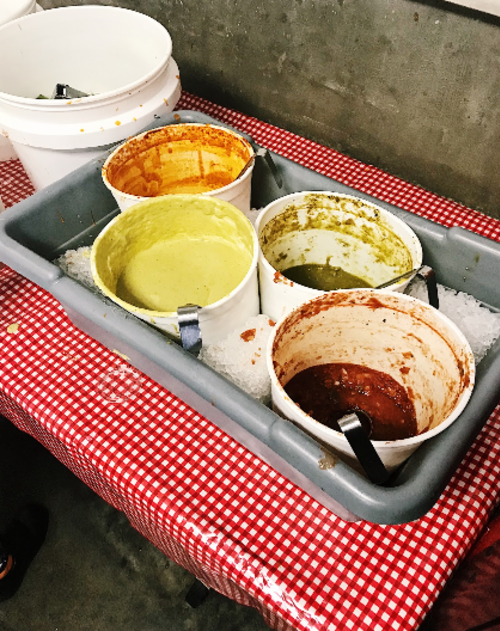 (photo source: Yelp.com | Bichelmeyer Meats - Scott T.)
The tacos were phenomenal. Loaded with meat and two corn shells per taco. I looked around, and watched customers separate the two shells and put half of the meat on one tortilla and leave half on the other – so I followed suit. This stretched my two tacos into four tacos total, which I appreciated so I could try the crema sauce and the salsa on both tacos.
The chicken taco was flavorful, juicy and delicious, I sometimes worry about chicken tacos because they can be dry or flavorless, but not here. It was perfect. The asada (steak) taco was also done perfectly. The steak was melt-in-your-mouth tender and flavorful. Although I must say, my favorite was definitely the meat and cheese quesadilla. There is something magical about a warm, griddled flour tortilla bursting with hunks of meat and cheese. It was delightful.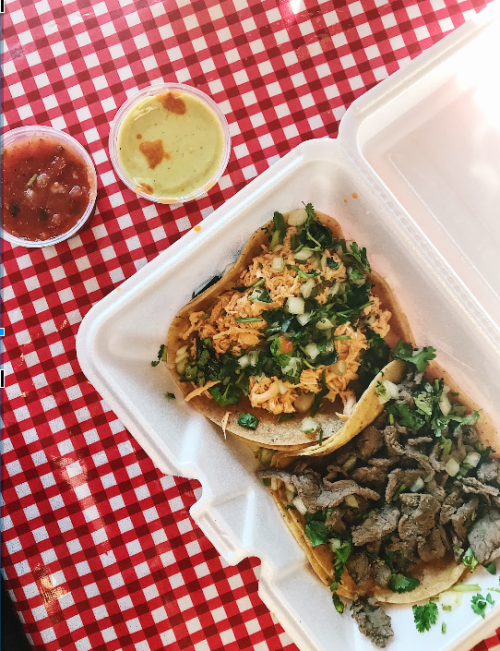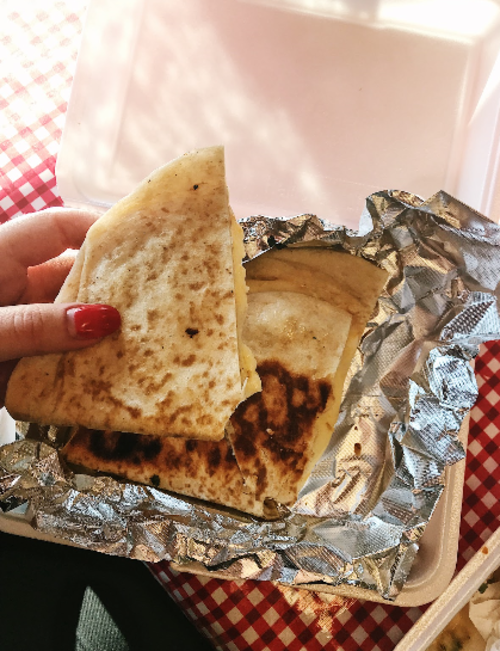 A few tips for your taco visit on Saturday's:
1.      There will likely be a bit of a line when you get there, but it goes fast. There is a lot going on in there so the wait is actually a good time to eye all the meat selections, watch everyone pick out their meat, ogle at the exotic meats, and fill up your salsa cups while you wait.
2.      Bring your own drink or cash. The taco shop is an order at the counter situation and they do not serve drinks. They do however have soda machines that only take cash. It is $1.50 for a bottle of soda. I brought my own water but also purchased a Pepsi.
3.      Family style seating. Tables are limited so many patrons share tables with others. Saddle up to a stranger and make a new friend. You can also get your meal to-go if it's a packed house.
4.        Parking. Bichelmeyer's offers a sizable parking lot, so you don't have to worry about circling around 100 times searching for a spot!
If you aren't able to make it out for a taco Saturday, Bichelmeyer Meats is simply a great place to stock up on high-quality meats, cheeses, seasonings and salsas. With New Year's resolutions approaching it's a great opportunity to stock up for all the lean meat and veggie dinners in your future!

For more restaurant reviews and recipes follow me on Instagram @foodgalal and on my blog www.foodgalal.com.
Great dining can be found all around Kansas City, KS! Get the low-down on barbecue, authentic eats and more here.