Partaking in global-inspired eats in Kansas City, KS
Months ago, I was brainstorming with my husband, Travis, about where we could go to celebrate our anniversary. "How about Mexico?" he asked. "Or Italy," I said dreamily, picturing us sharing a bottle of red wine and feasting on pasta carbonara at a quaint outdoor cafe. I knew that wherever we decided to go on our vacation, the cuisine would take center stage. Cooking is one of my greatest passions, and dining out is how I research things to try in the kitchen. Traveling to different regions and countries introduces me to new ingredients and flavors that I can experiment with back at home.
But as we scrolled through our family calendar, crowded with activities typical of a family of five, it became clear that a weekend getaway would be the only option this year. "What about Kansas City, Kansas? It's just two hours away," Travis said. "We always stumble across the coolest restaurants there."
"Let's do it." I opened my laptop to start researching. Although we couldn't travel out of the country this year, I knew we'd still find cuisine to satisfy our global appetite in a place as diverse as Kansas City, Kansas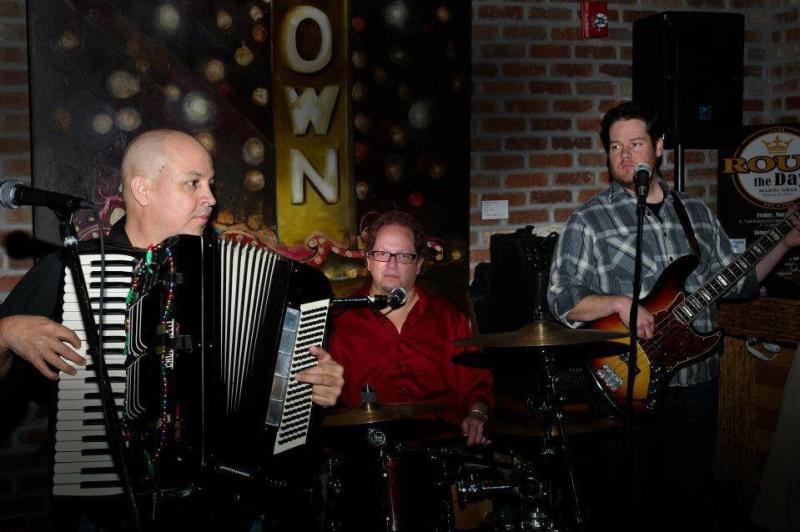 THAT BIG-EASY FEELING
We arrived in the city Friday evening feeling a bit worn from the workweek, but the moment we stepped into Jazz, A Louisiana Kitchen, located in the Village West area, we felt instantly energized. Live, upbeat Zydeco music filled the restaurant. Mardi Gras posters decorated the walls, and purple, green and gold beads adorned wrought-iron railings, making me feel like I was walking down Bourbon Street. I'd gone to college in New Orleans, and while I was there, I'd fallen in love with its exceptional Cajun and Creole cuisine. Tonight, I'd get the chance to taste it again.
As we read the menu, Travis asked me, "What are boudin balls?"  "They're made from a Cajun sausage, and then fried." At Jazz, they're served with a side of jambalaya, and we ordered this as an appetizer. The boudin balls were fried to a light crunch, and the jambalaya was perfectly smoky and spicy (and paired well with a refreshing Abita beer from Louisiana).
For dinner, I satisfied my shrimp po' boy craving while Travis ordered a Jazz specialty: Chicken a La Mer, which consisted of tender chicken topped with shrimp and a creamy Parmesan sauce. I'd never tried anything like that in my New Orleans days, but I can understand why it's the most popular dish at Jazz.
We finished our virtual trip to New Orleans with a slice of decadent bread pudding bathed in a vanilla-bourbon sauce. Laissez les bon temps rouler!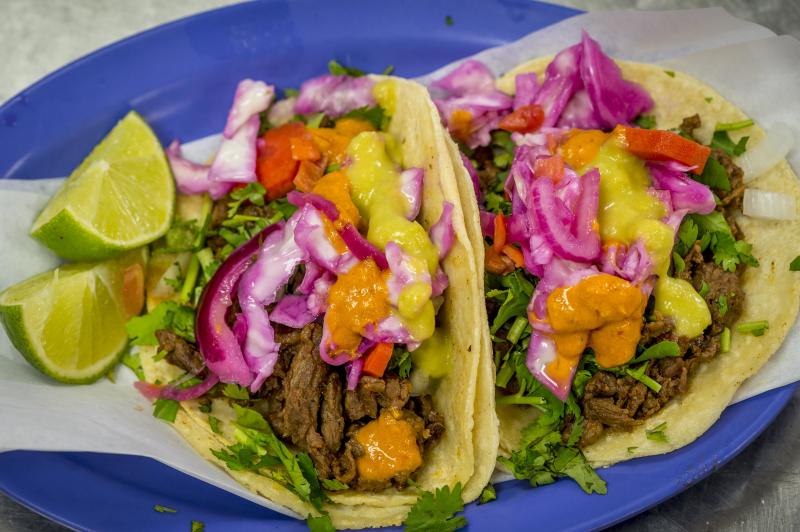 GLOBETROTTING ON SATURDAY
After a morning of shopping, we headed to downtown Kansas City, Kansas, to Bonito Michoacan, a meat market known for its street tacos. Here, an eating area and food counter occupy the front right side of the building, and a bustling grocery store—complete with a case of tantalizing Mexican baked goods—occupies the rest.
A menu hangs above the food counter and features tamales, burritos, gorditas, menudo and a variety of tacos. Travis ordered a burrito that I'm pretty sure was the size of a small child, and I opted for the street tacos: one asada (grilled seasoned beef steak), and one pastor (marinated pork with pineapple and onions). The tortillas were fluffy and light, and the fillings were fresh and flavorful. I also added a tamale to my meal; it was spicy enough to make my eyes water but was oh-so-good.
As we walked to our car, Travis said, "It feels like we made it to Mexico after all."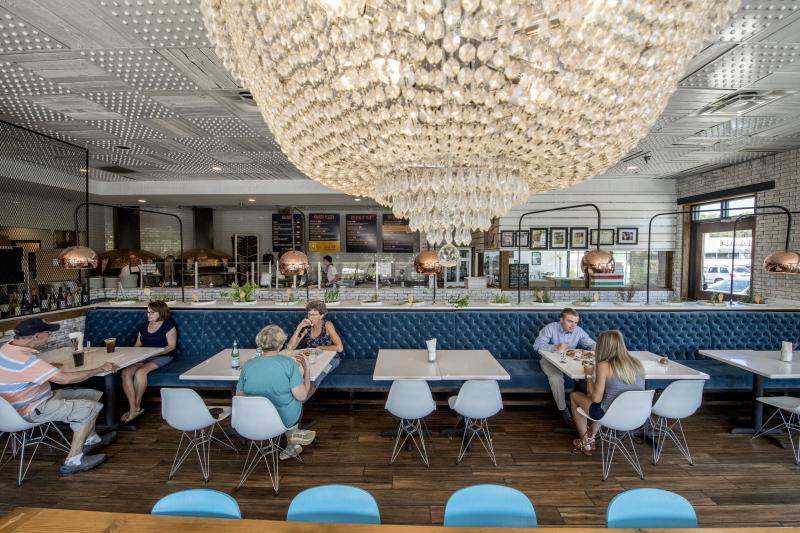 We spent the afternoon sightseeing, then rested up at the hotel—gastronomic tours can be exhausting, after all. That evening, we ventured over to 1889 Pizza Napoletana. The first thing that caught my attention here was the huge elegant crystal chandelier, the focal point of the elegant and modern interior resembling the chic urban restaurants in Rome.
The name of the restaurant describes the origins of the style of pizza served here: in 1889, wood-fired pizza was first introduced in Naples, Italy. Neapolitan pizza is made with OO flour—a wheat flour with a low protein content that produces a soft, chewy crust—and then topped with simple ingredients.
After placing our pizza order at the food counter, we stopped at the beverage counter (beer and wine on tap!), then found a table in the dining area. We were only a few sips into our drinks when our pizzas arrived: the Honey Bee, with fresh pear, arugula and buttery Gorgonzola, drizzled with local honey and extra virgin olive oil; and Green Eggs and Ham, made with pesto, arugula, prosciutto, fresh mozzarella and an egg. I wasn't sure how the unusual combination of flavors would taste, but after one bite, I realized that the folks at 1889 knew what they were doing.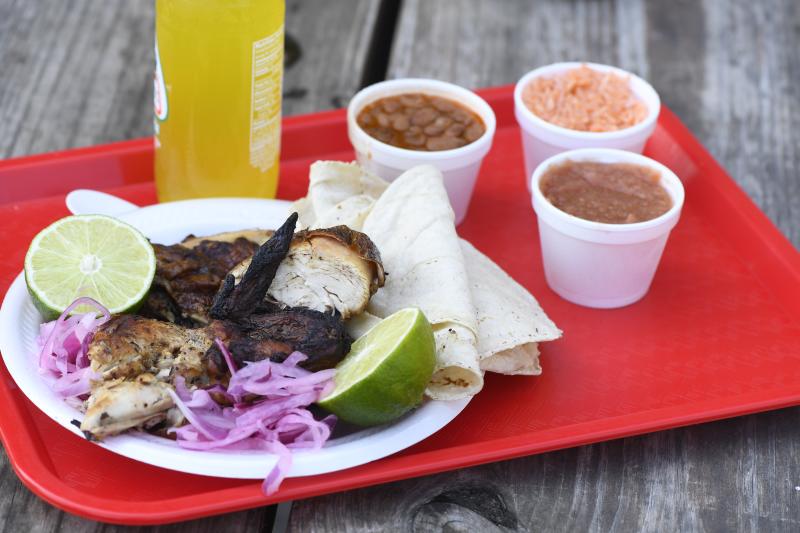 SUNDAY SOJOURNS
Sunday is an important family day in Hispanic culture, and we witnessed this firsthand at lunchtime at El Pollo Rey, which was crowded with multiple families sharing a meal together. This simple restaurant in Armourdale, Kansas City's Mexican-American neighborhood, offers only three main items on the menu: a whole chicken, a half chicken and Buffalo wings.
The perfectly smoked chicken, which I ordered, came with tortillas, rice, beans, onions and one of the most flavorful salsas I've tasted. Travis went through multiple napkins eating the meaty Buffalo wings, which were bathed in a spicy sauce.
Typical of the culture, a televised soccer game played in the background on mounted TVs in the restaurant. At one point, we heard the distinctive celebratory, "Goooooaaaaallll!" pierce through the din. We locked eyes, and I knew we were both thinking the same thing: You can't get any more authentic than this.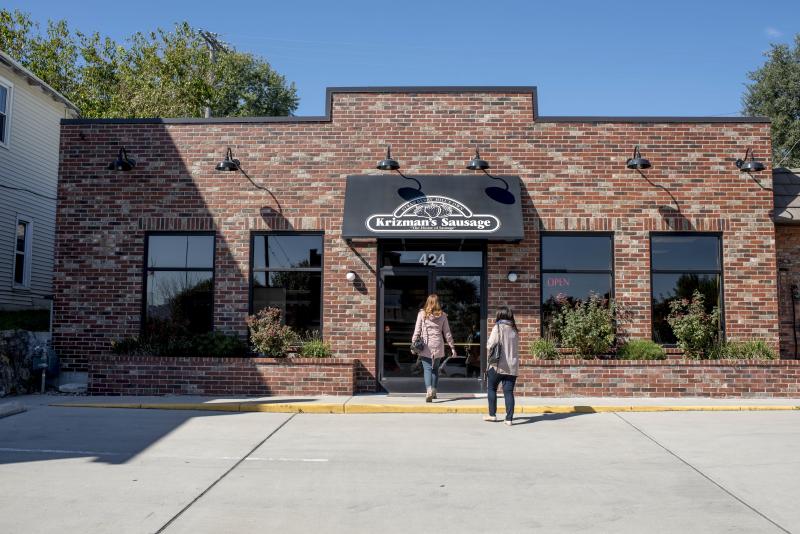 For dessert, strange as it may sound, we hit up Krizman's House of Sausage, a third-generation, family-owned Kansas City, Kansas landmark that specializes in Polish sausage, homemade sauerkraut—and povitica bread. Pronounced "poh-va-teet-sa," povitica is a sweet treat made up of layers of filling swirled within soft, sweet dough. Krizman's makes it in walnut, cream cheese or strawberry cream cheese flavors. Between the two of us, Travis is the nut lover, so he enjoyed the walnut filling, while I went with the strawberry cream cheese.
Of course, we couldn't spend time in Kansas City, KS's premiere sausage deli without also having some meat, so we looked into picking up a couple pounds of sausage to take home. Being newbies to the place, we didn't know where to begin. It felt like we should take a pound of every kind of meat they offered, but since that wasn't reasonable, we took suggestions from two very friendly guys behind the counter who recommended the spicy barbecue sausage as well as the breakfast sausage. And what the heck, we picked up a pound of the Polish as well.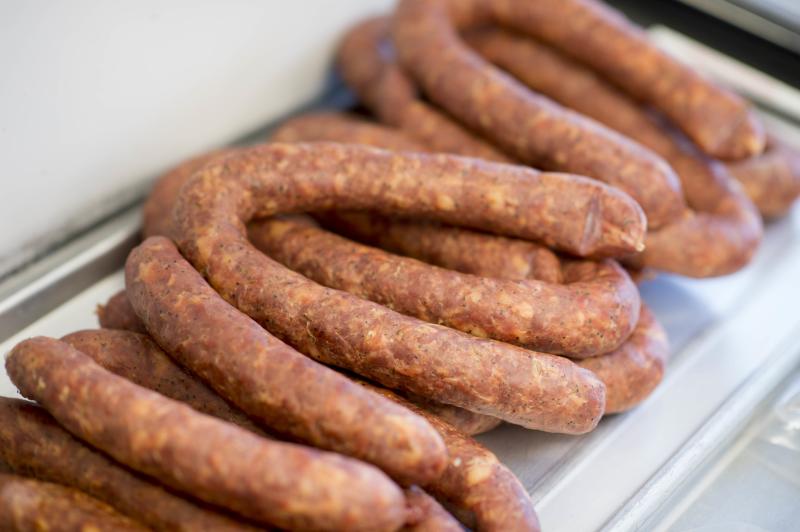 Even better: Krizman's ships any of its smoked sausages through the mail. We chose that option to avoid drooling all over ourselves from the aroma of fresh sausage in the car on our trip home.
As we drove home that afternoon, I thought about all the different types of food that we had tasted over the weekend: Creole, Cajun, Mexican, Italian, and Polish. We found all these flavors within one place—Kansas City, KS. While we'd never left the country, our passport had been filled.
Guest Blogger: Christine Smith