The Parade of Hearts is coming to Kansas City, Kansas! The mission of the Parade of Hearts is to unite our city and region through a public art experience placed around the Kansas City Metro. This project embraces Kansas City's place as "Heart of America" and will energize the local economy and boost tourism to the locations of these beautiful hearts! Here are where you can find these hearts in KCK.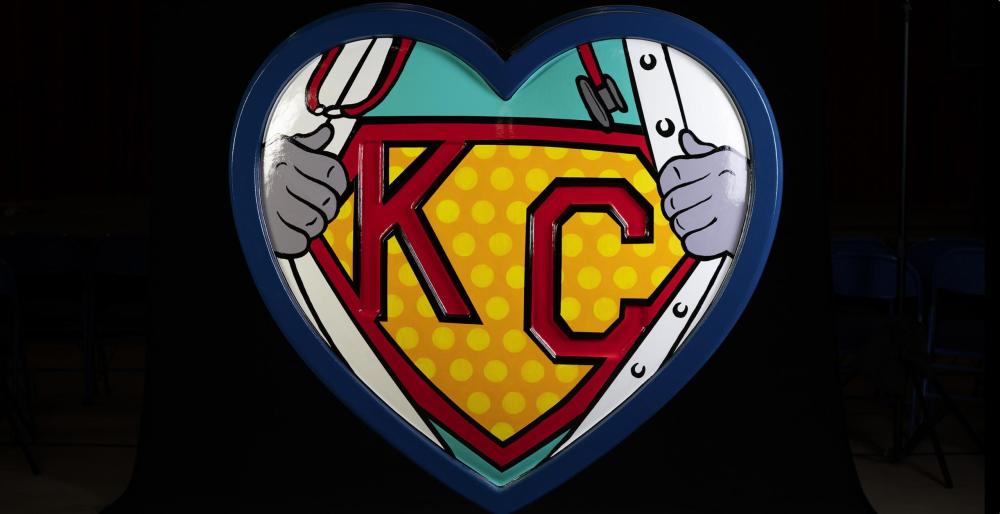 Heros in Healthcare - The University of Kansas Health System - Sponsored by The University of Kansas Health System
Located at Medical Pavillion Urgent Care - 2000 Olathe Blvd. KCK 66106 
"It's been a tough year for KC and the nation due to the pandemic. A huge change for everyone but the one's feeling the most pressure are our healthcare workers. That's why we want to honor people in the healthcare field for their valiant effort and keeping us safe. They are the true superheroes of 2020 and 2021 and that is reflected in the artwork.
 
Our goal is to uplift and humanize the healthcare force and their work during this pandemic. Their heroic efforts have kept us afloat and showcased the resiliency it takes to challenge the unknown head on.
---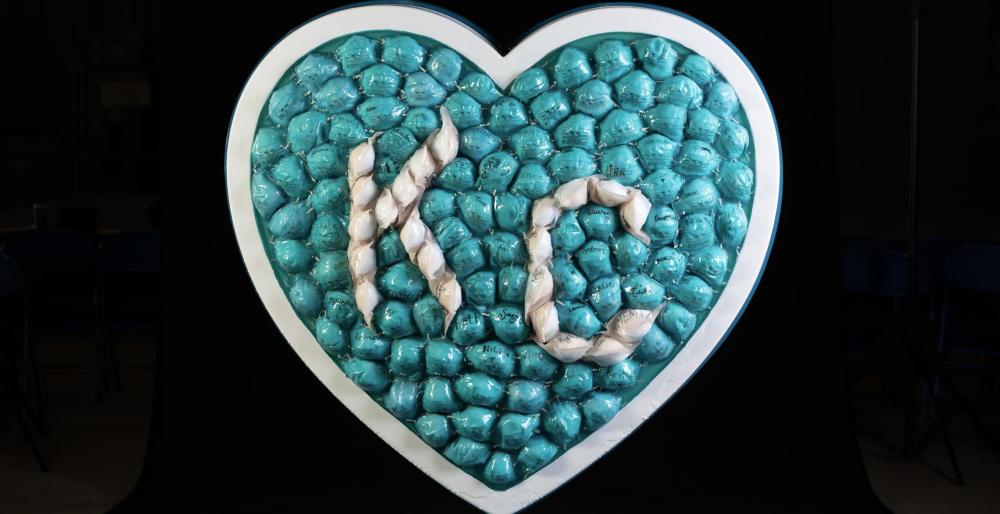 Respirator Heart - Menley Brennan - Sponsored by The University of Kansas Health System
Located at Cambridge Tower A - 3825 Cambridge St. KCK 66106  

My heart will be composed of donated respirators from hospitals around Kansas City. This project is about the people whose lives are forever changed by the events of 2020/2021. The base of the mask will consist of the traditional blue n95s healthcare workers have relied upon for years. On top of that layer will be a "KC" composed of the new "duckbill" masks we are now forced to wear due to mask shortage. Each mask will be signed by the healthcare donator's name. This will be a 3-D sculpture finished and sealed with a thin layer of resin. My sculpture will not only touch the people who have worked the frontlines of the pandemic, but it will hopefully impact those who lost their loved ones by reminding them that this pandemic is still prevalent, it's still real, and the world and Kansas City will not forget. I owe it to my patients to put this design forward in hopes it will be accepted and understood for how important it is to put a little piece of 2020/21 away.
---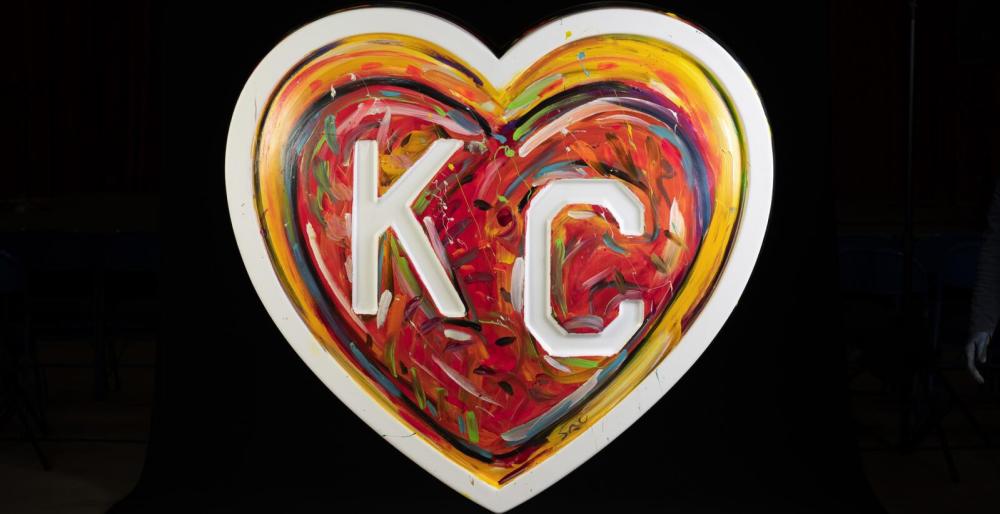 KC. Where Hearts Brush Along! - Mike Savage - Sponsored by The University of Kansas Health System
Located at Cambridge Tower A - 39th and Stateline  

Color heals!
---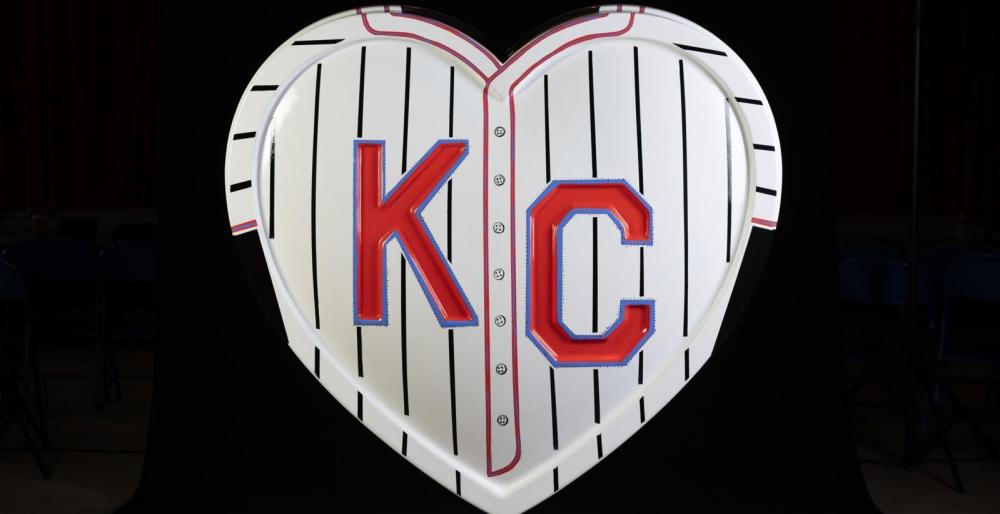 BUCK - Seth Smith - Sponsored by The University of Kansas Health System
Located at Proton Therapy Center - 4001 Rainbow Blvd KCK 66106  

Our Negro Leagues Museum and Kansas City Monarchs history is amazing and important and should be celebrated and honored at every opportunity. Buick O'Neil was an incredible person and I can't think of a better enduring symbol for our city and the spirit of Kansas City. If nothing else, I hope that someone who might not know a lot about Buck O'Neil and his legacy would lookin into it and pass it on to future generations.
---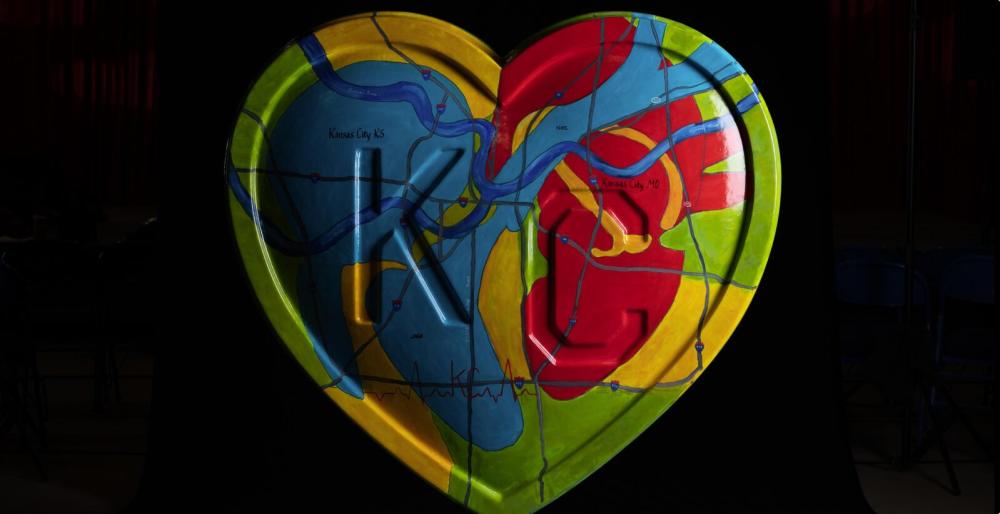 Two Cities Beating as One - Melanie Nolker - Sponsored by The University of Kansas Health System
Located at Center of Advance Heart Care - 4000 Cambridge St. KCK 66106
---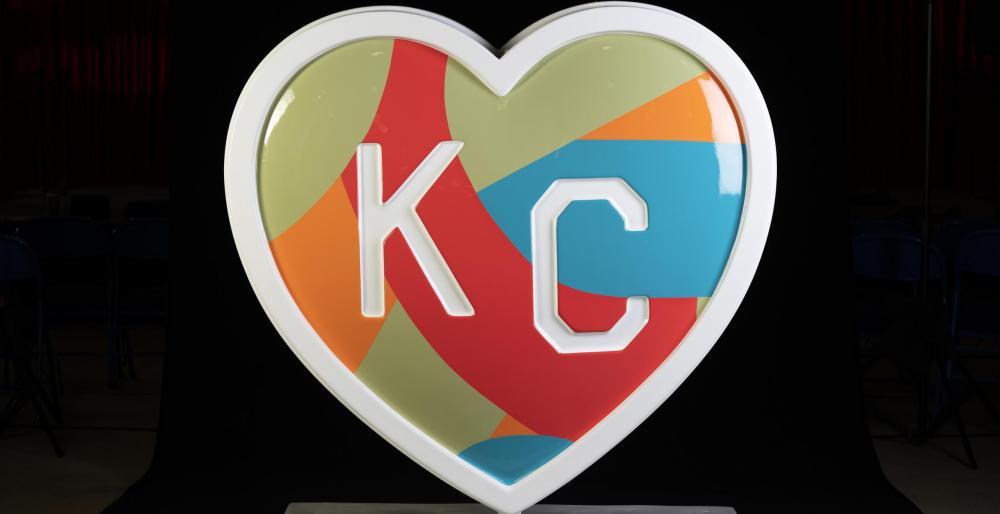 Iconic KC Heart - Visit Kansas City Kansas - Sponsored by The University of Kansas Health System
 Located at Strawberry Hill Campus - 901 N 5th St. KCK 66101

The rivers flowing from Lewis and Clark represent that the park is nestled at the confluence of the Kansas and Missouri rivers, two of our region's greatest resources. The trees at each side signify KCK's still lush rurality despite being a growing city with an urban core. Winkler Clock, The Rosedale Memorial Arch, inspired by the Arc de Triomphe, The John Brown Statue, Kansas Speedway, culinary staples of our community: tacos and barbecue with Sporting Kansas City, KC Current, and the Kansas City Monarchs.
---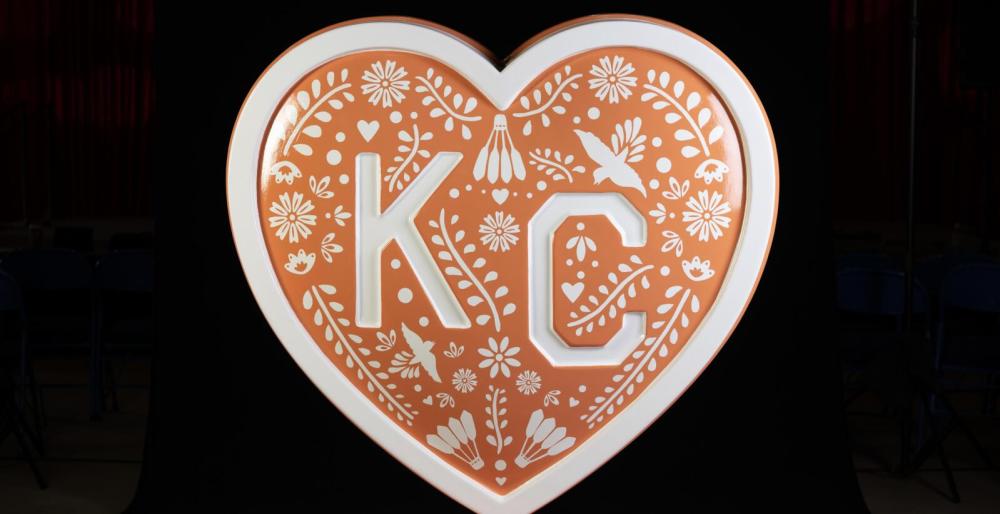 Nuestro Corazón - Andrea Cira - Sponsored by Blue Cross and Blue Shield of Kansas City
Nuestro Corazón was inspired by a painting style from Mexico called Talavera. This style has a lot of little intricate pot patterns on it. And it's usually a high glazed, type of pottery. I wanted to incorporate the Mexican essence in the design, but I also wanted to include a little bit of Kansas City into it, a mix of two countries. We're all in this together…Covid has affected all countries. I hope this heart will lift people up and make our communities and countries stronger. No matter your race, or from a different country, let's work together to lift each other up.
---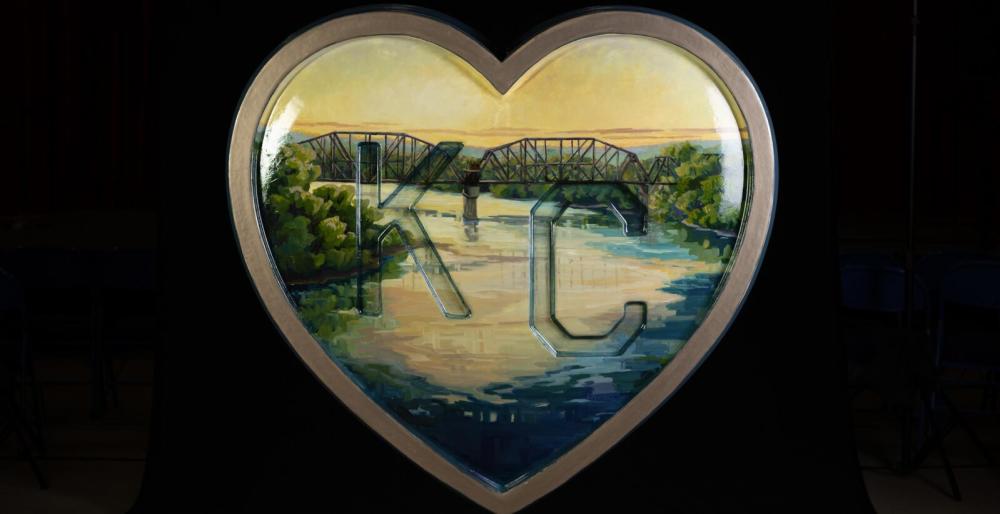 Kansas City River View - Kristin Goering - Sponsored by Holladay Distillery 
This design pays homage to Kansas City's connection to the rivers that run through its heart, the Missouri and Kansas. The design will be painted in warm, evening colors (acrylic), front and back, with the KC glazed over top so that the painting is visible underneath. The base will be painted a deep blue (or something similar) to coordinate with the painting and disappear into the surroundings in which the heart is placed.
---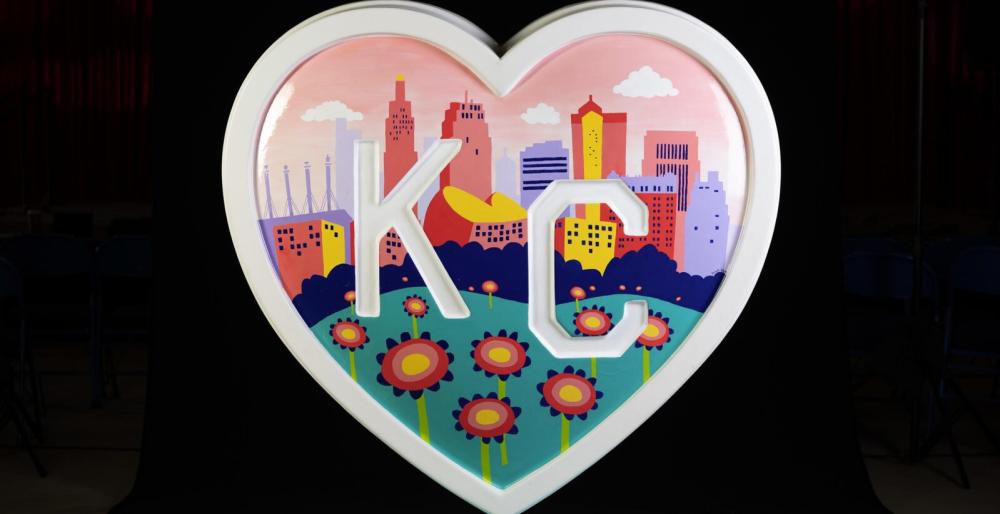 Kansas City: The Happy Place - Micah Rott - Sponsored by First Federal Bank
A technicolor view of idyllic Kansas City. Beautiful whimsical flowers and a colorful skyline show off this city as a truly, happy place.
My goal was to project a whimsical, "sunny" view of Kansas City. Kansas City often feels like a city surrounded by beautiful bluffs. This is my thought of what the city looks like from one of those overlooks. The long view often reminds us that even in difficult circumstances, it's a pretty wonderful, vibrant place after all.
---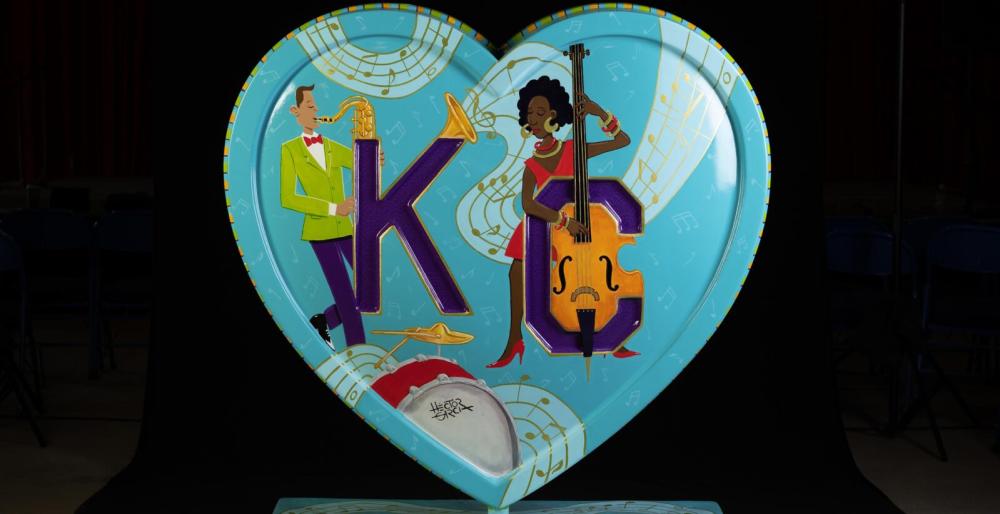 Jazz, the Heartbeat of Kansas City - Hector E Garcia - Sponsored by Propaganda 3 
Music has unifying properties. Since we were a young species, we've gathered together to sing songs that evoke feelings, tell stories, and create a sense of community. During hard times, music makes us feel better because it resonates with our hearts. Certain chords can magically pluck the strings of our hearts to fill them with joy.
---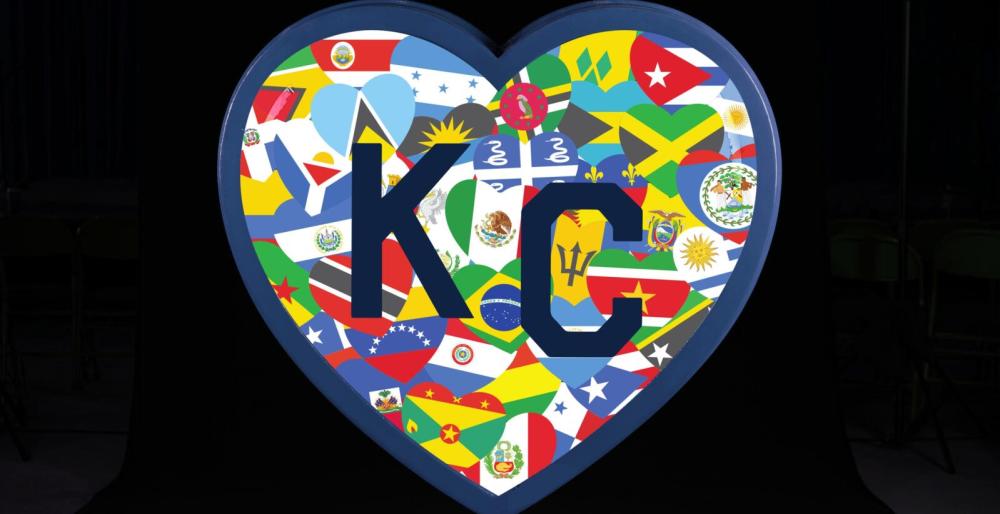 Latin America - Anonymous Artist - Sponsored by Sporting KC 
Latin America. I was born in Honduras and moved to the US about 2 years ago. The US has given so many opportunities's that I would not gotten in my country. America is such a beauty but other Latin country as well especially our birth place.
---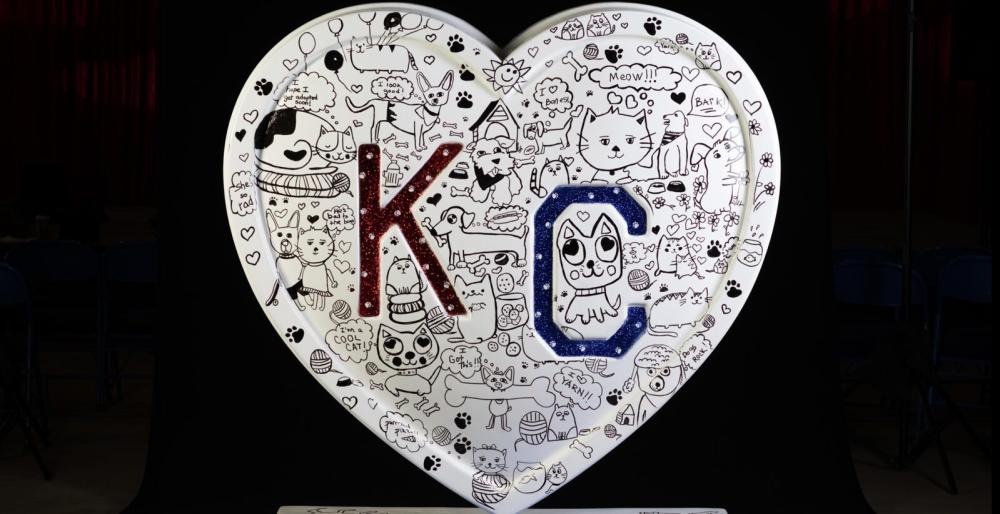 Pawidice - Jade and London Jiskra - Sponsored by Visit Kansas City Kansas 
Jade age 8 and London age 7 share their love of animals and art. The piece is a acrylic black and white painting to bring focus to the line drawings and make it challenging for the viewer to find all the hidden balls of yarn and hidden bones. There are for example 35 hidden bones and balls of yarn. The viewer will search to find them all. The Inset K will have a red background with small white paw prints. The inset C will have a blue background with white paw prints. Jade and London thought it would be extra special if the piece was placed in front of KC Pet Project of any other pet adoption agencies. Bringing attention to animals in need of a loving home. Like so many that have been going through challenging times with the Pandemic.
---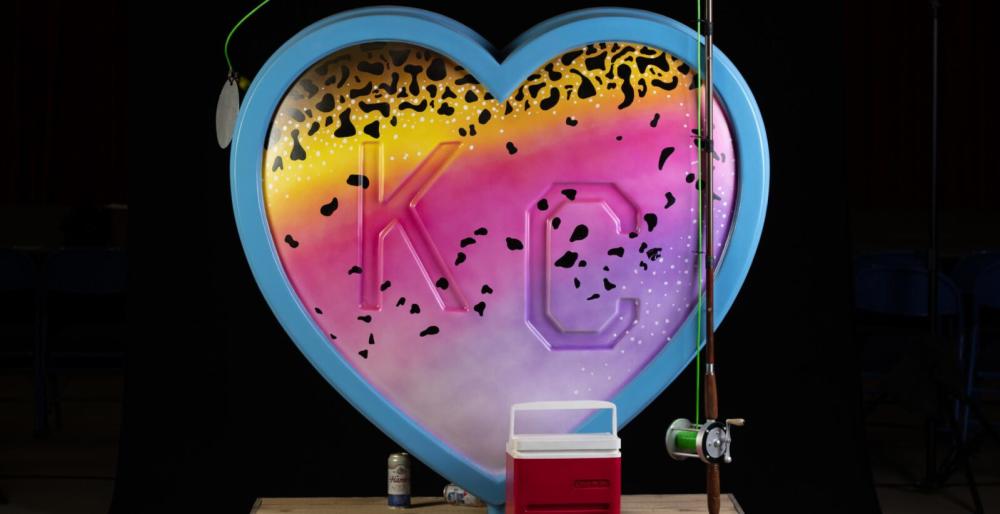 Fishing - Paul Cowan - Sponsored by City of Kansas City, Kansas
I was born and raised in Kansas City Kansas and as a proud "Dotte", I chose to represent fishing and Wyandotte County Lake as the subject matter for my entry. My art compositions deal in 3-Dimensional and this is the approach I have taken for this project. I took the liberty to create a reduced model for my presentation and to see how my design would look.
---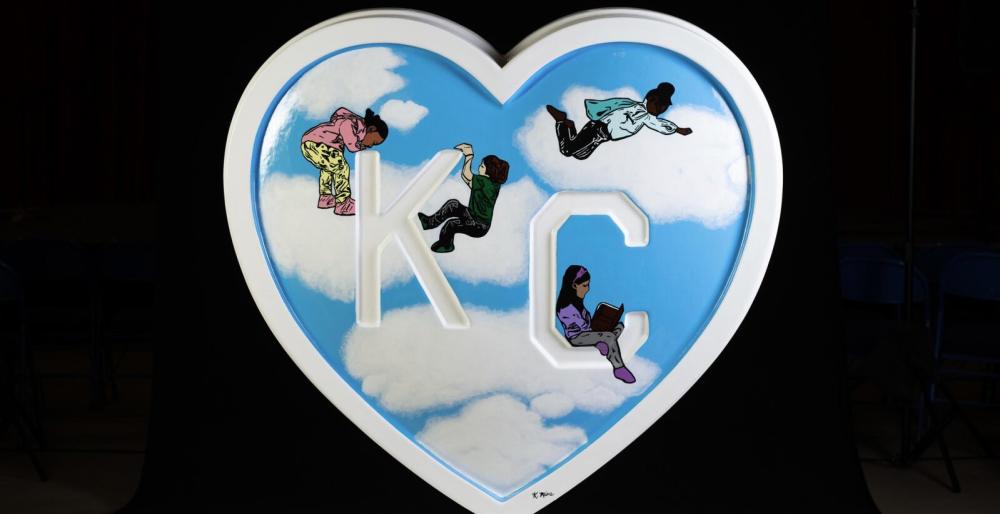 Mama Lied When She Said Outside Isn't Going Anywhere - Kristen Mims - Sponsored by Bill and Christy Gautreaux
I wanted this piece to showcase kids playing, both alone (something we all had to get used to during the pandemic) and together (something we're slowly coming back to). 
As parents we worry that we're always doing what's best for our kids, we have so many questions, the simple joys of socializing and playing with other kids and parents was stripped from us leaving us feeling extremely lonely and making parenting really tough. I wanted to create an ode to all of the childhood play we love.
---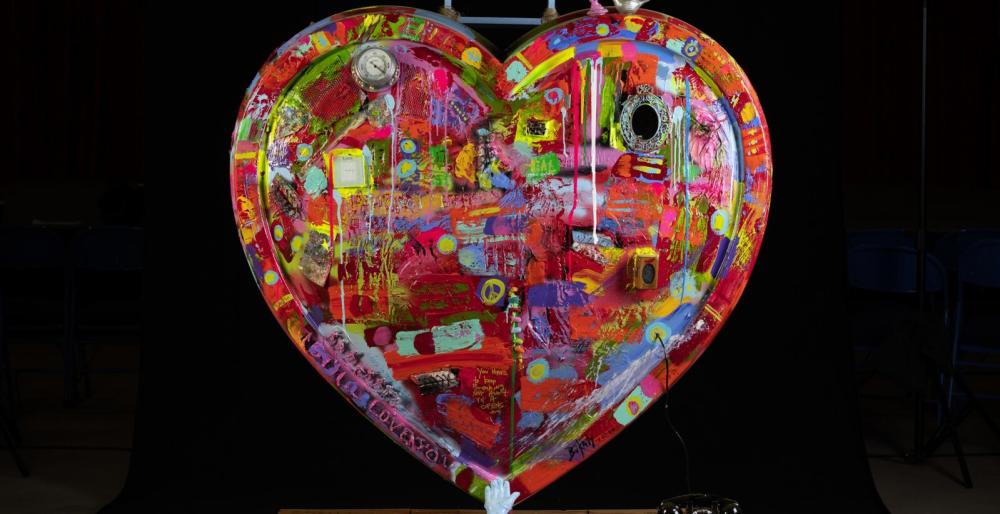 The Unbreakable Heart - John Bukaty - Sponsored by Kansas City Monarchs Baseball Club
---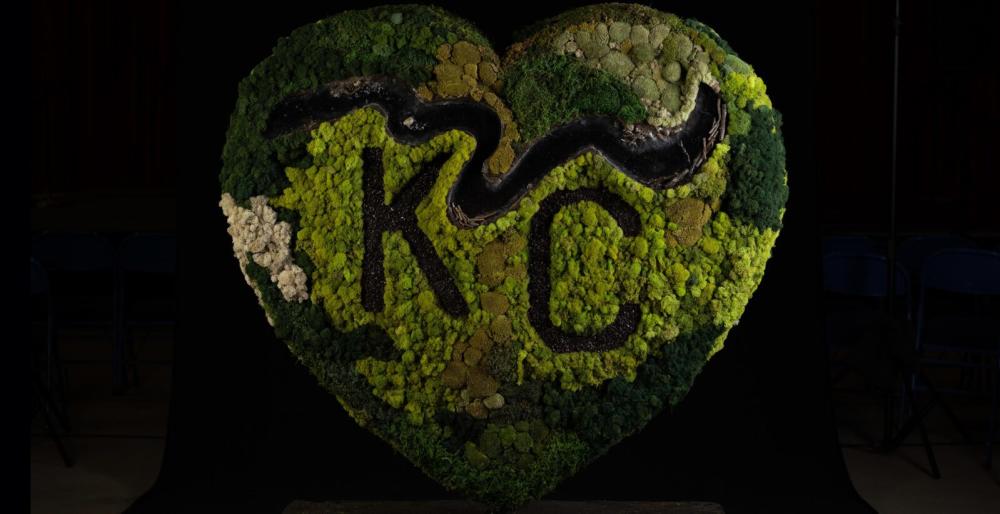 A Walk in Nature - Kim Bruhl - Sponsored by Polsinelli
My inspiration is nature. My heart is made of preserved moss. After I collect the moss I preserve it with a glycerin and alcohol mixture then I dye it. The river is made with a epoxy resin. I went through over 50 bottles of loctite construction adhesive to attach my moss.
Click here for more information about The Parade of Hearts and where all the hearts are located in the Kansas City Metro.