It may seem like good news is hard to find right now. However, during a time of crisis many KCK locals and businesses have stepped up to help those in need. Here is your roundup of good things that happened in Kansas City, KS this week. 
Upon closing for a limited time do to the 30-day stay at home order, Bob Borberg, owner of Chiusano's Brick Oven Pizzeria, needed to find a way to use leftover prepped food. This week the local business donated about 250 lbs of fresh produce and dairy to Harvesters of Kansas City. Various items mixed greens, lettuce, tomatoes, carrots, mushrooms, lemons, limes, cucumbers, sour cream, heavy cream, ricotta cheese, and fresh spinach.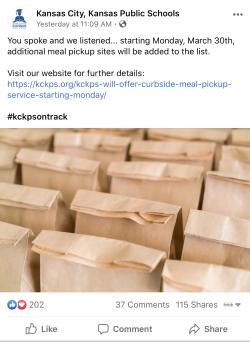 Local restaurants Chips & Coins and Jarocho Pescados y Mariscos were featured on KSHB 41 Action News, highlighting ways they are continuing to serve customers. Jarocho has switched to pickup service. Chef Carlos Falcon said. "We want to be healthy. We want to protect our customers, we want to protect our crew." Chips & Coins in downtown KCK offers curbside, carryout and is delivering for free up to a 2-mile radius. Part of their decision to do this was so they could continue serving area senior citizens at a nearby apartment complex. This news feature also discussed the HIRE fund, which allowed 44 Kansas hospitality businesses to receive 0% interest loans up to $20,000.
Last week the Kansas City Kansas Public Schools began providing free curbside lunches for students. Due to the large community response, KCKPS has now added two more pickup locations, as well as breakfast meals starting Monday, March 30th.
The Unified Government of Kansas City Kansas/Wyandotte County is continuing to look for ways to support local economy at this time. The Board of Commissioners recently approved temporary changes to the Small Business Grant for 2020 to help reduce the financial strain on our local businesses as a result of the COVID-19 pandemic. 
Stay up-to-date on resources and COVID-19 information for Kansas City, KS here.