You'll see a lot of friendly, local faces in Kansas City, KS. Here's one to remember! Youa Xiong, Owner of Boba Blend.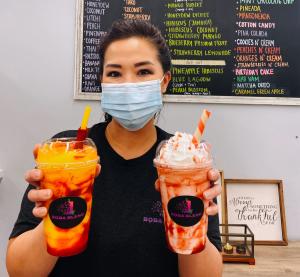 Tell us more about Boba Blend.
Boba Blend is a small family-owned bubble tea and smoothie shop located in Kansas City, KS. We serve a variety of smoothies, milk teas, fruit tea, coffee drinks and specialty drinks. Our drinks are made fresh daily and served with boba pearls, or our customers have the options to choose from a variety of other toppings to add into the drinks.
For those who do not know, explain to us what boba and boba tea is.
Boba tea, also referred to as bubble tea, is a tea-based drink that includes boba. The tea base is usually black or green tea mixed with an array of flavored syrups or powder such as strawberry, mango, honeydew, etc. Milk can also be added to the drink to make a creamy milk tea or be left out and enjoyed as a fruit tea.
Boba are the sweet black pearls that are served within the drinks. These are made from cassava plant roots and has a chewy gummy like texture.
·What made you decide to open Boba Blend in Kansas City, KS? What's the backstory?
My husband and I have always wanted to own a business. We've never imagine running a bubble tea shop. However, when we came upon this opportunity, we knew it would be something that KCK needed and would continue to enjoy. Keeping it close to home would be a joy for some boba fanatics since there are no other boba shops close by.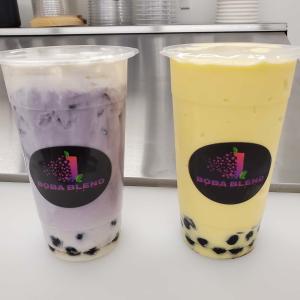 What is your favorite part about owning a business in Kansas City, KS?
My favorite part about owning a business in Kansas City, KS is being able to serve the community and providing them with an experience to enjoy a unique type of drink that has become so popular throughout the states.
· What are your top 3 businesses, museums, attractions or sites to send visitors of Kansas City to?
First off, definitely come visit Boba Blend for a refreshing drink, then head out to our top three must go to attractions in Kansas City. If you want to enjoy a day of shopping and dining, check out the Legends Outlets Kansas City. There are tons of shops and restaurants to choose from. The Nelson-Atkins Museum of Art is a must-see attraction if you love art. There are multiple exhibitions to choose from and art collections that you can see. Lastly, if you want a beautiful night view of downtown Kansas City, Liberty Memorial is the place to go.