Planning a vacation that appeals to everyone in the family is no easy feat. When my husband, Troy, and I decided to plan a family vacation, we had our work cut out for us. We have three daughters under the age of six—Cyanne, Caelyn and Callie—and we wanted to ensure we planned activities that were fun for them and would allow us to have some fun ourselves. We decided a trip to Kansas City, Kansas sounded like the best getaway for our family—looking at photos and doing our research showed us that this was a place both easygoing and engaging. We packed our bags, loaded everyone up into the car and our adventure began!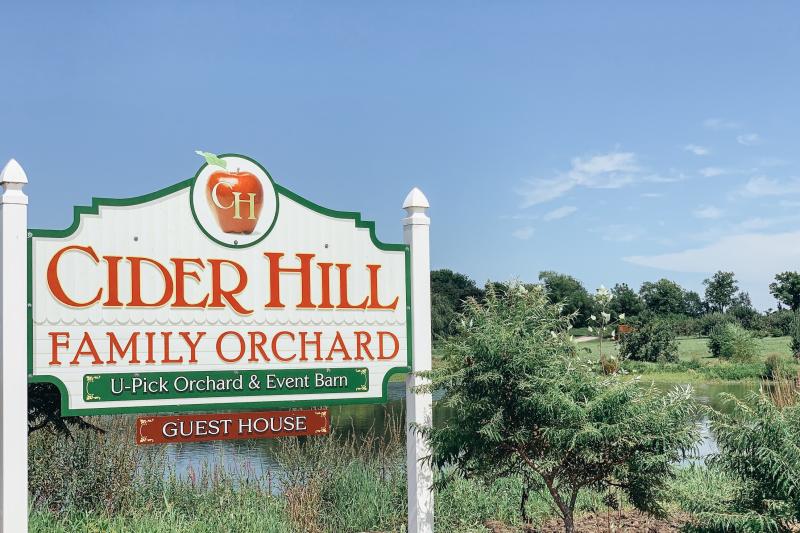 Making memories to last a lifetime
The first destination on our vacation was Cider Hill Family Orchard. As we pulled up to the orchard, I turned around in my seat and saw Cyanne and Caelyn's eyes light up with excitement from the backseat. In that moment, I knew we had made a great choice. The beautiful, 38-acre orchard had 1,300 apple trees, and our girls love apples, so we started our visit aboard the Apple Wagon which took us out to the orchard. Apples hung everywhere from the trees—ruby gems that the girls pointed at from the ground. Even baby Callie's eyes sparkled in wonder and awe. Apples that had fallen from the trees collected at the base, piling up together. Troy used a grabber tool to pluck the apples from the trees, and Cyanne and Caelyn carried them in the makeshift "baskets" of the front of their shirts.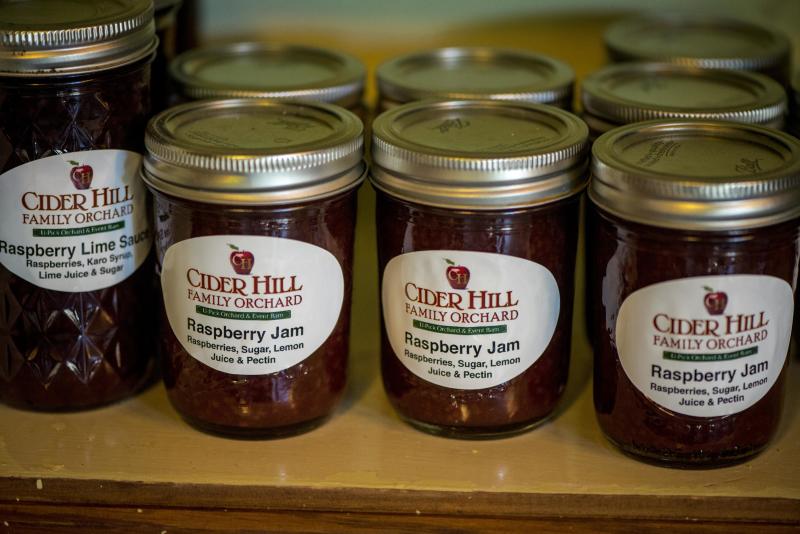 Picturesque and classic, this was exactly what I was hoping to get from this vacation. When we picked our fair share, it was time to eat! A barbecue lunch was being served, and as we enjoyed our meal, we spoke to the girls about the different types of apples we had picked. There are 18 different types of apple trees at Cider Hill Family Orchard, which gave Troy and me a great opportunity to educate the girls a bit in a fun way. Finally, I couldn't leave without some homemade treats from the orchard's general store. It was hard to choose from all the delicious options, but finally some apple butter, blackberry jam and a box of apple cider doughnuts left the orchard with us.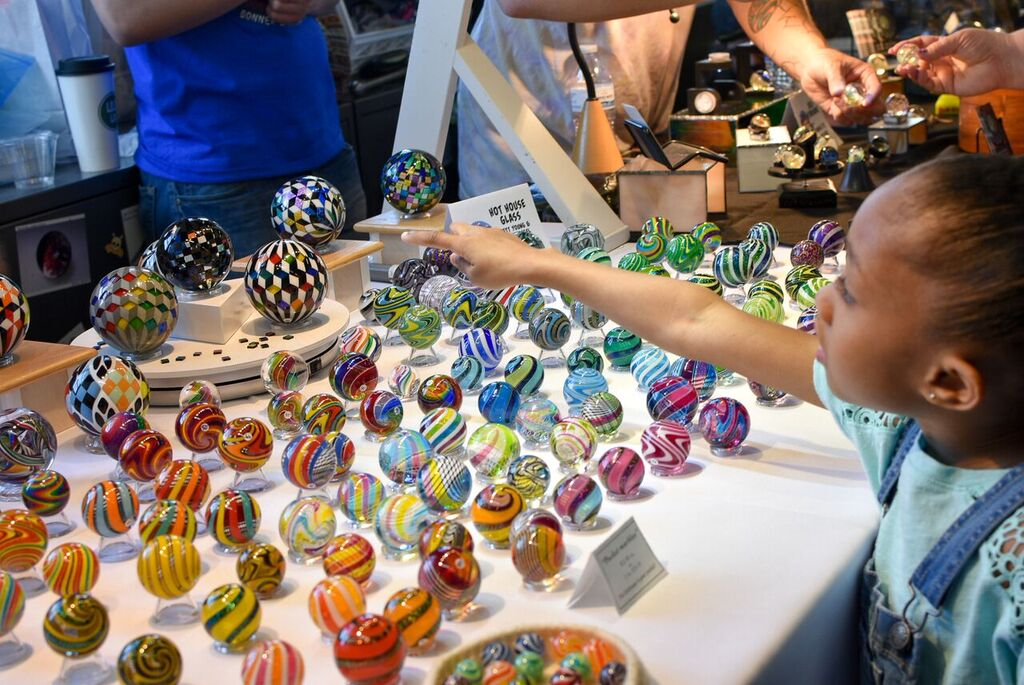 The nostalgia of childhood
After our apple extravaganza, we loaded the car and continued with our journey. Our next destination was the Moon Marble Company store, where marbles are made and sold, about ten minutes down the street. When we walked in the door, Troy and I shared a smile over the girls' heads. Without words, we both knew what the other was thinking… flashback! It was as if we had stepped into a time machine. All around us were the games and toys that we grew up playing throughout our own childhoods. There's something remarkably special about sharing these types of memories with your own children. It was particularly endearing watching Cyanne and Caelyn buzz with excitement at the bins with thousands of marbles. "This one's got polka dots," Caelyn said. "And this one looks like Jupiter," Cyanne said. Big, small, swirled, red, yellow, mosaic—it was a rainbow of pattern and play.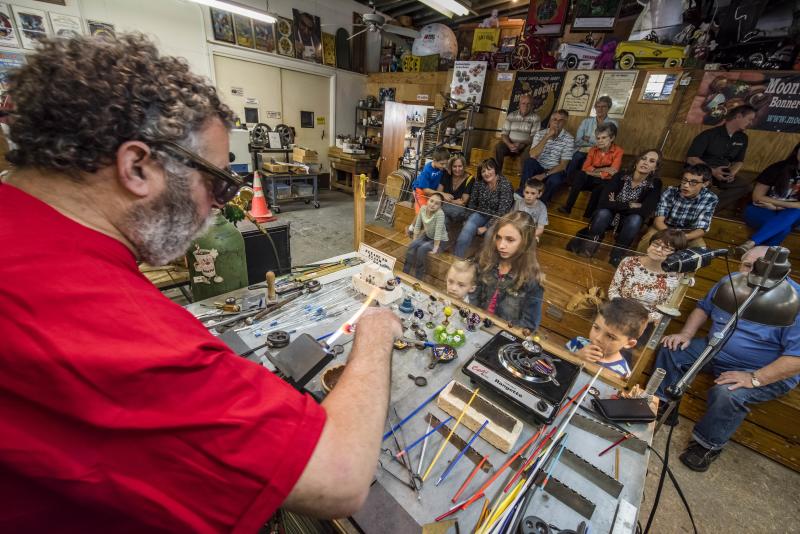 After browsing around for a while, we all took our seats on wooden bleachers and awaited our marble-making demonstration. To say it was cool would be a huge understatement. With so much precision and ease, the owner of the Marble Moon Company completely transformed a piece of glass into a unique and wonderful masterpiece. Caelyn and Cyanne were thoroughly convinced that he must be a magician to have performed such an amazing feat. On the way out the door, he let them pick their own marbles to take home with them. Looks like this would be a hobby that stayed with the family.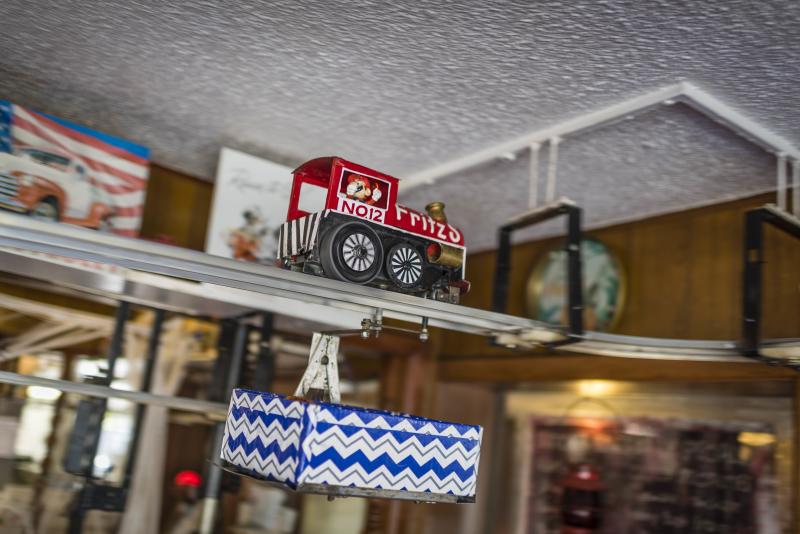 Let the kids be kids!
After we left the Moon Marble Company, we spent a bit of time sightseeing around town, causing us to work up quite the appetite. We decided we'd end our night with dinner and a movie. When we entered Fritz Railroad Restaurant, it was clear that this was no ordinary restaurant. A train track ran around the entire ceiling, providing entertainment while delivering food. Yes, really! Baby Callie's eyes were big as saucers watching it make its rounds. But the fun started before our meals were lowered to the table. Caelyn and Cyanne got a kick out of ordering their food at the old-fashioned telephone booth.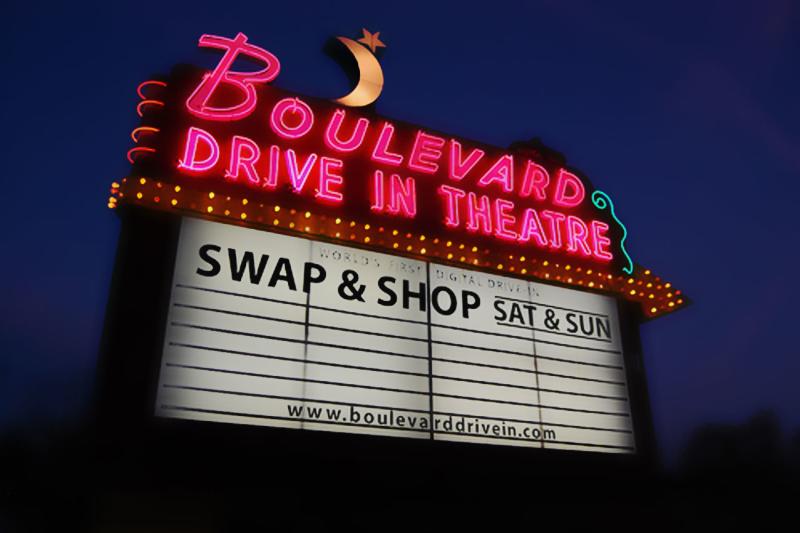 After dinner, we headed to the Boulevard Drive-In Theatre nearby. There are so few drive-in movie theaters left now, but Troy and I both had fond memories of outdoor movies when we were kids, and we wanted to share that with our girls. Here, we didn't have to worry about keeping the girls quiet throughout an entire movie, or them being antsy from sitting still for too long. We just laid out our blanket and enjoyed the movie right beside our car. Callie and Caelyn both fell asleep during the first movie. Cyanne's eyes never left the screen.
After the movies were over, we headed back to the hotel for a good night's sleep. Troy and I stood together looking over our girls who were all peacefully sleeping. I knew Kansas City, Kansas would be engaging and entertaining, but our family also discovered it was a place for classic fun and old-fashioned hangout time. We shared memories with our girls that will last a lifetime.
Guest Blogger: Cynthia Wright