Warmer temps and sunny days have finally made their way to Kansas City, KS and cabin fever can finally be cured for all. Now it's time to escape and do just about anything you can as long as it's not indoors. With a hot, hot summer ahead you're going to want to take advantage of these sunshine and seventies days. Whether you're looking to gather with family, chow down on local specialties or share a glass of fine wine with friends, the outdoor dining scene in Kansas City, KS is one you won't want to pass up. 
Raise a glass to the weekend 
There's no denying the elegance of 1889 Pizza Napoletana – from the freshest, brightest pizzas around, to the intricate upscale interior designed by the owners themselves, you feel like you've upped your classy points just by stepping in the door. Pizza and wine are a good mix anytime of the year, but when good weather comes around and 1889 opens their floor to ceiling doors out onto the patio, and that makes the combination just a bit sweeter. While the air flowing into the restaurant certainly brightens customers and employee's faces alike, the patio allows you to kick back, take a bite, say 'saluti', sip your wine and feel transported to Naples, Italy in the blink of an eye.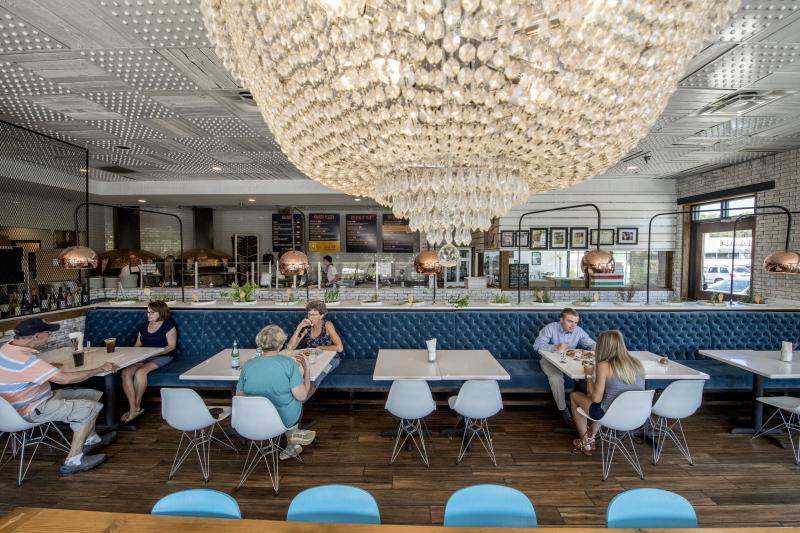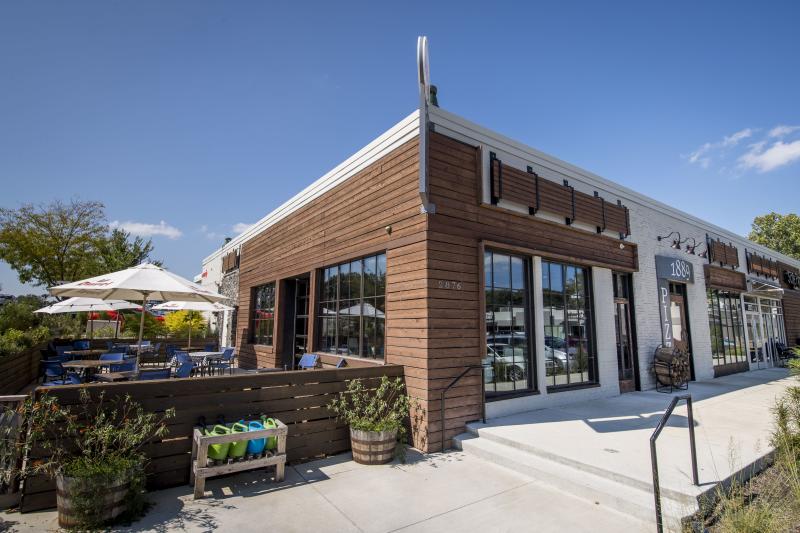 Unless you've been living under a rock (or maybe holing up in your home with your winter blues, which is totally understandable) you've probably heard about the view you can't beat from The Mockingbird Lounge, tucked away in the Strawberry Hill neighborhood of Kansas City, KS. Whether your brunching, lunching, or stopping by after a long week at work, the spacious and pup-friendly patio is a great place to bring your crew, or even make a few new friends with the locals. The highy-praised salmon sandwich and a seasonal cocktails are a match made in happy hour heaven.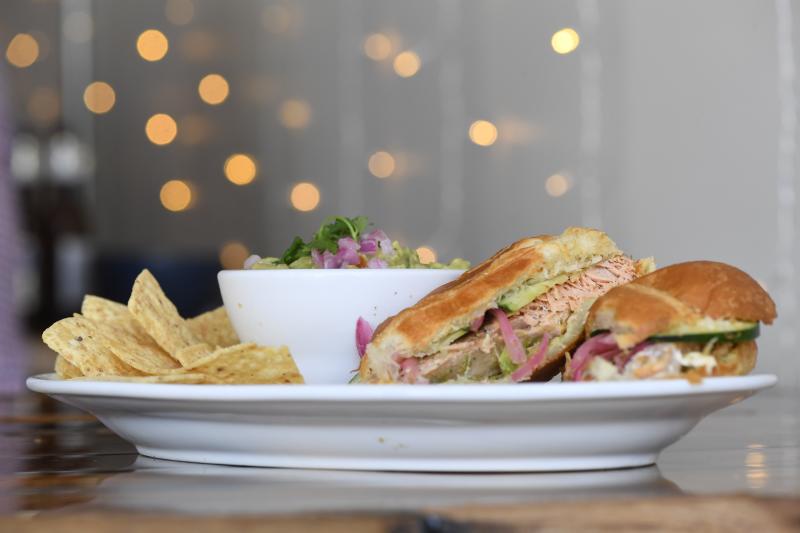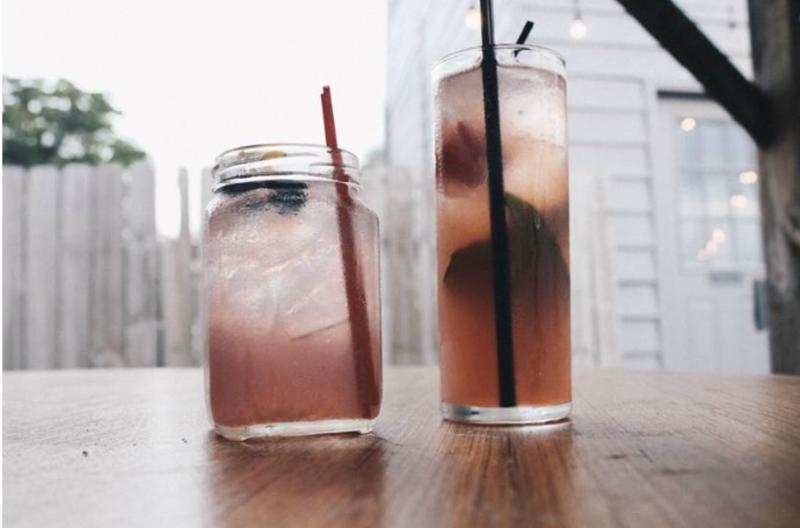 Something everyone can agree on
The big, colorful patio at Taco Republic near the KU Med area of Kansas City, KS is usually bustling on beautiful summer days and nights. With large picnic tables, yard games, ice cold margs, kid's menus and hot, delicious elotes – tacos are only part of the appeal at this welcoming, cheerful establishment.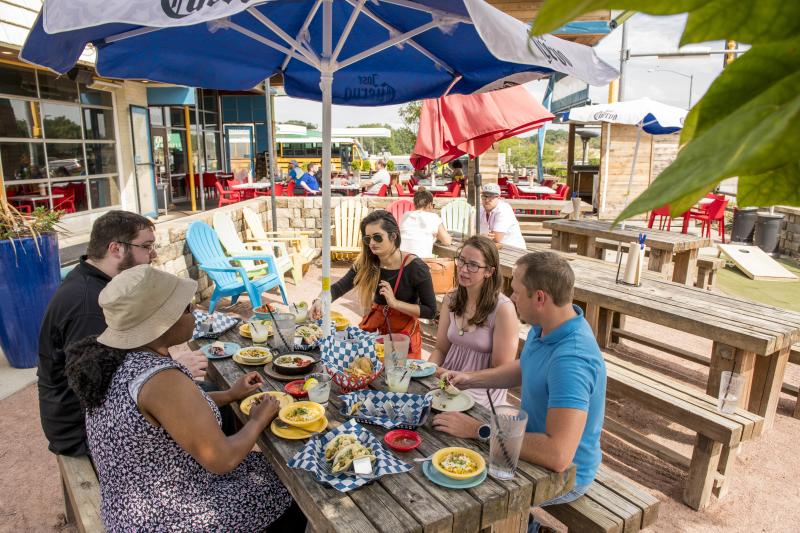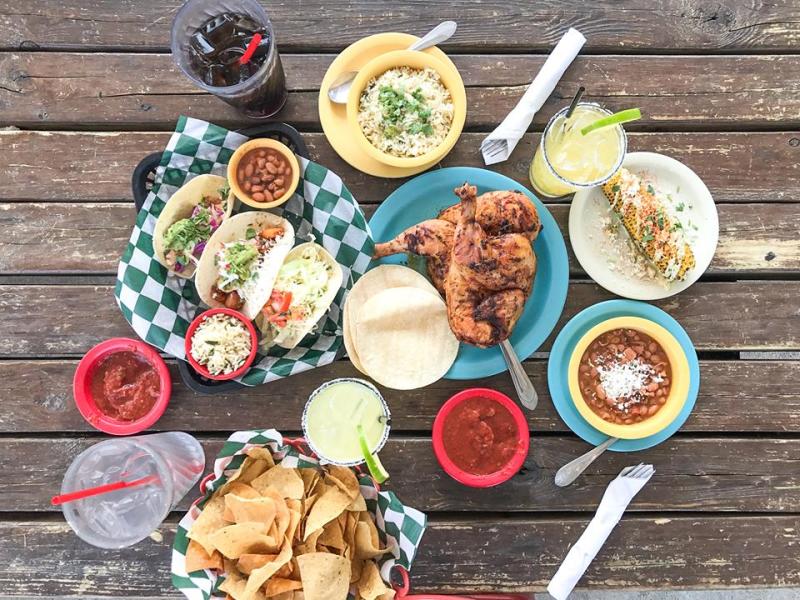 They say if you don't eat barbecue in Kansas City you didn't really go to Kansas City, and while we're expanding our cuisine options, this long-time idea still rings true. Luckily, barbecue is something that usually has the entire family licking their plates. Woodyard Bar-B-Que is known for its quirky exterior and the smell of smoked-meat that will have you drooling even before you pull into the parking lot. Woodyard is another stop on your outside-dining dream list that has large picnic tables perfect for a large crowd to gather round. Pass the cheesy corn, please!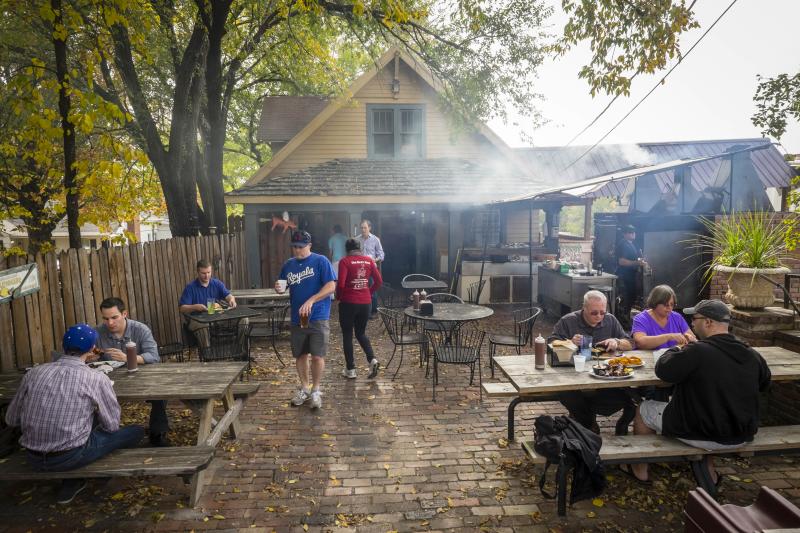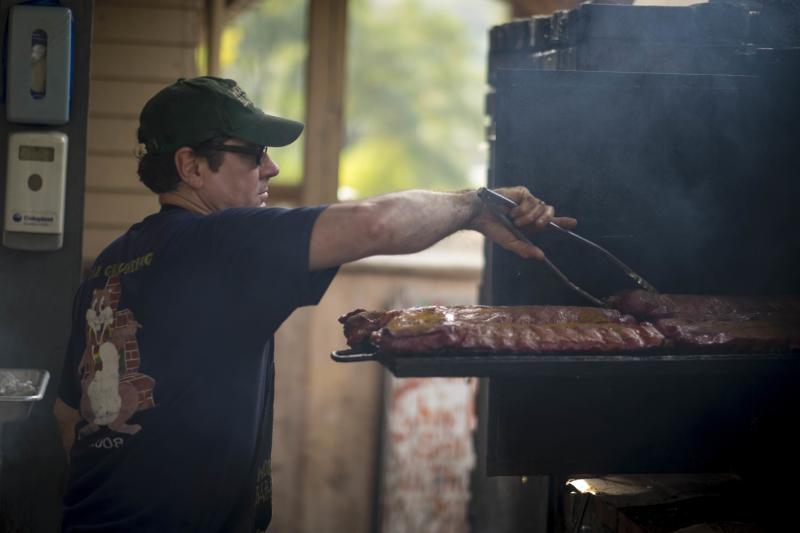 Hot off the press
El Pollo Rey started off with humble beginnings, a hidden gem you could say – but it seems like the name is constantly popping out of the mouths of Kansas City foodies more and more. The simple menu is an option between half or whole charred chicken (flawless balance of crispy on the outside and juicy within), or buffalo wings that have been known to rival a long-time KC favorite. Served up with tortillias, rice, and charro beans, this might not want to be somewhere you go on a first date (hello sticky fingers). However, if you're hungry and looking for something you truly won't find anywhere else around, El Pollo Rey is your stop. *Best enjoyed in the sun, with a cold glass bottle of Coca Cola on the side.*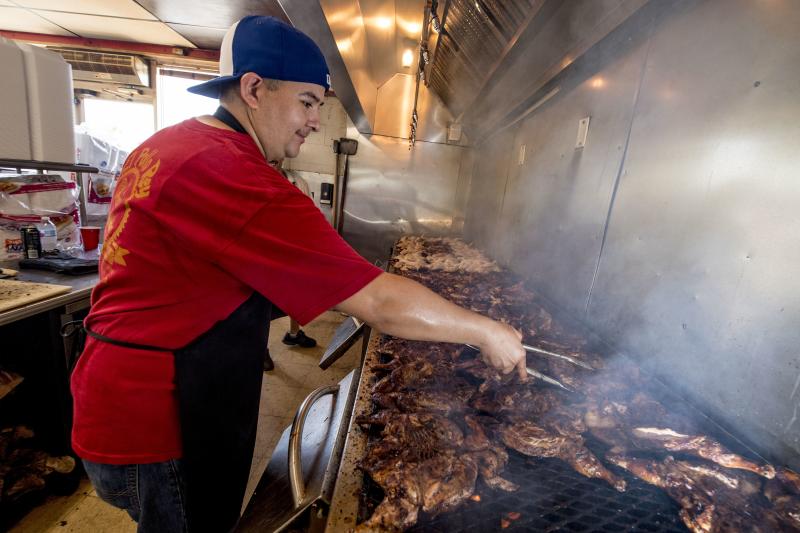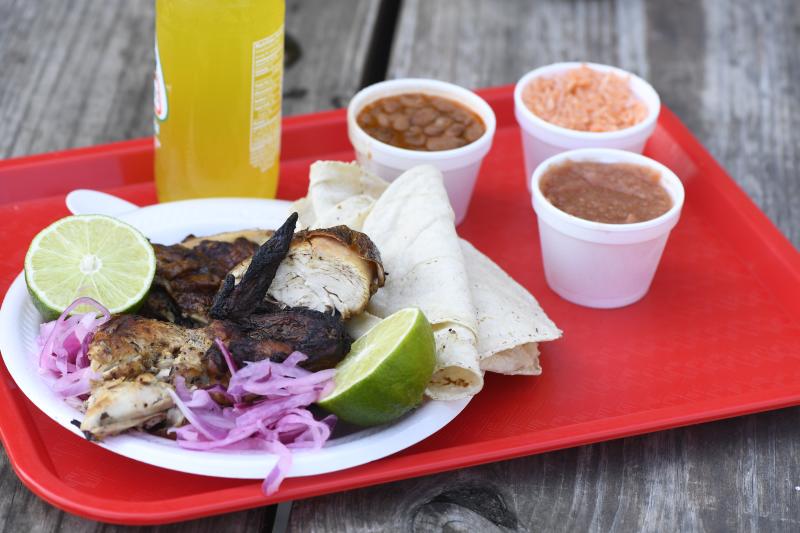 So we've covered tacos and barbecue, key Kansas City, KS classics, but it would be a sin to forget another culinary staple – the Rueben sandwich from Breit's Stein & Deli.  Breit's is known to be the "Cheers" of Kansas City. If you walk in you're bound to run into people who have known each other for lifetimes, and you can probably find some of the best advice for what locals like to do around the area too. The big brick patio is a good spot for conversation, sipping something cold, and of course digging into the sandwich that's been making headlines for years.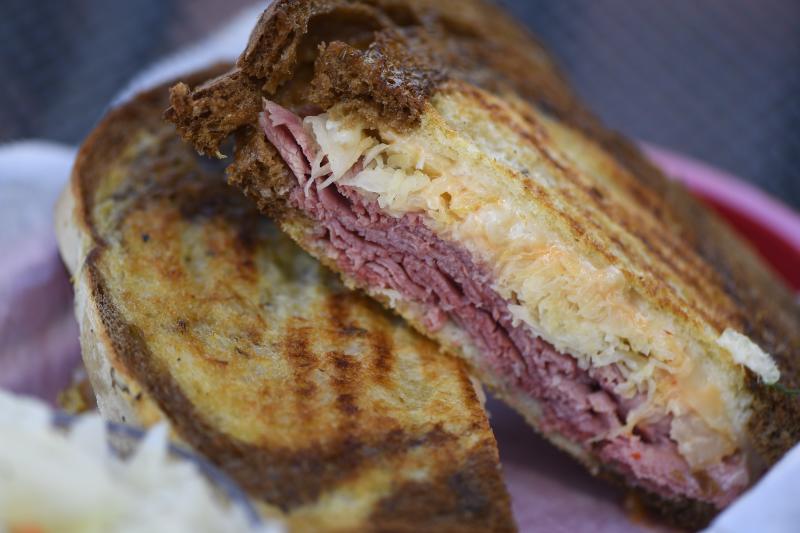 Want to follow along with what else is happening in Kansas City, KS? Subscribe to our visitor E-newsletter here!