Usually, I'm in Kansas City, Kansas visiting my grandmother nearby. But this last time, I was in town for roller derby. My cousin, Dana, had recently joined a team that was going to their first away game in Kansas City, Kansas, and to quote her, "I could NOT miss it." I hadn't seen her in a long time, so it didn't take much convincing for me to go. We decided to turn our trip into a long weekend so we could catch up. With its abundance of art, great food and even better spirits (both of the cultural and drink variety), Kansas City, Kansas seemed perfect for our mini-reunion.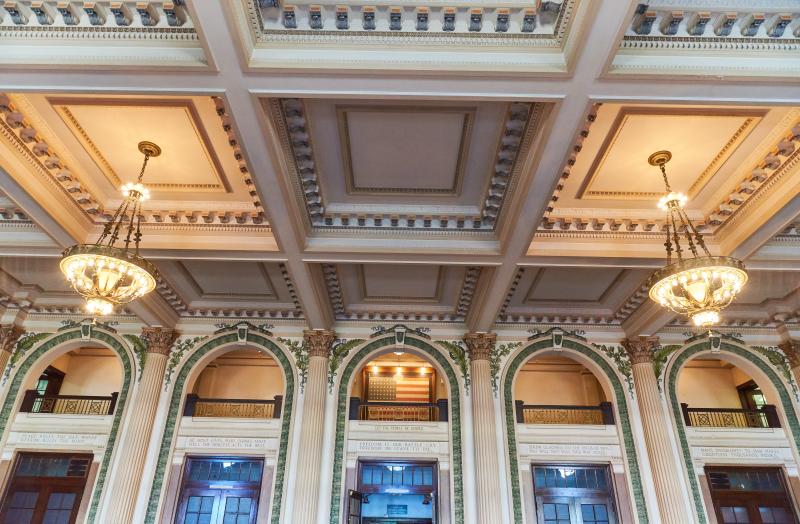 I had never been to Memorial Hall before, so its grand white column entrance surprised me. I was transported to the opulence of 1920s architecture and design. But there was no forgetting the battle going on inside, as I heard cheers, chants and skates.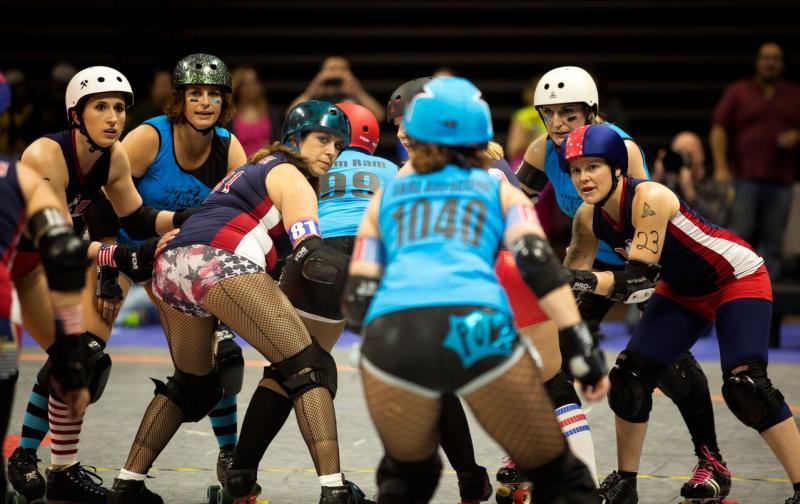 Dana suffered a few clips from the opposing team, but didn't let that stop her momentum. She seemed indestructible to me and I nearly lost my voice cheering her name. Unfortunately, her team lost, but that didn't dampen their spirits.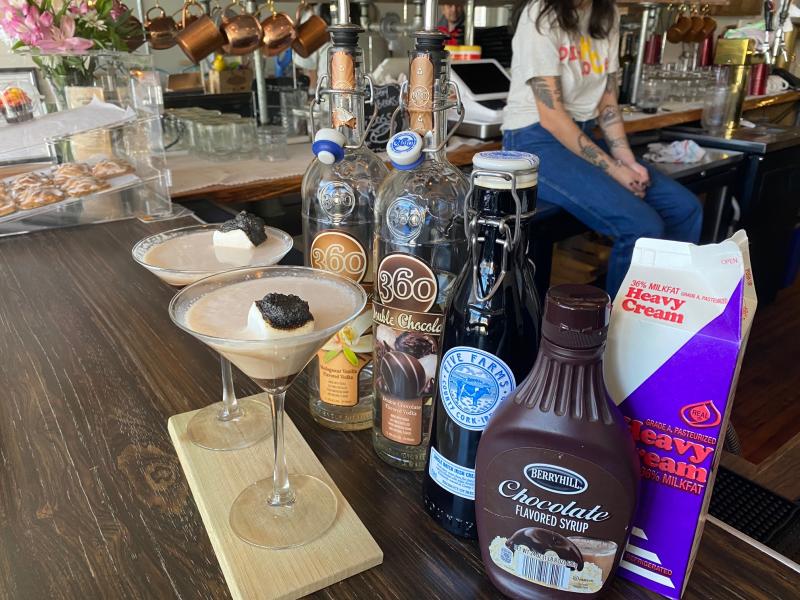 With a pit in their stomachs, Dana's team and their entourage, which included me, went to Mockingbird Lounge for a relaxed atmosphere and a view of the city from Strawberry Hill. Craft cocktails and beer all around, we celebrated their first away game on the outside deck overlooking the city. I drank one of their many rotating beers, the chocolate cherry Yeti imperial stout. Dana had a craft cocktail called the Dirty Hipster, which was basically a spiked version of her favorite coffee drink.
After licking our plates clean, and drinking a couple rounds of liquid courage, we went inside for some karaoke. I scored some priceless videos of the team singing fight songs and the ever-classic "Girls Just Want to Have Fun."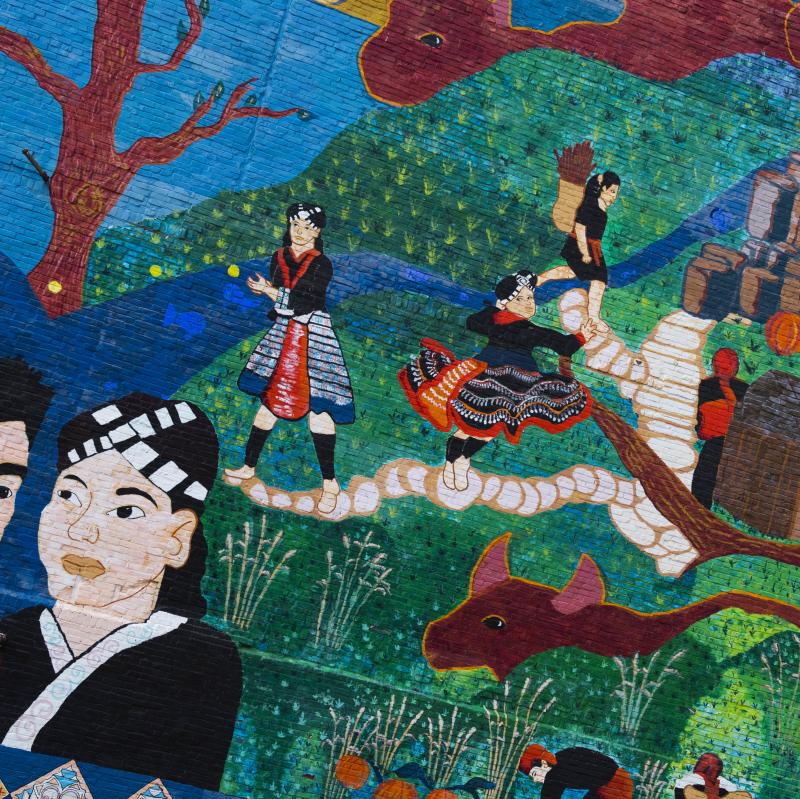 Wanting to take it easy the next day, we didn't make any plans and decided to see where the downtown streets took us. We soon came upon Minnesota Avenue, also known as the "Avenue of Murals."
The murals were a blast of primary colors, depicting the cultural history of Kansas City, Kansas Facing the Past, Looking to the Future: A Kansas Hmong Storycloth caught my eye because the artist mimicked the look of traditional stitched patterns and embroidery found on Hmong story cloth. It reminded me of the embroidery my grandmother and her sewing circle used to stitch. She and her gals would sit on the couch chatting while Dana and I played outside.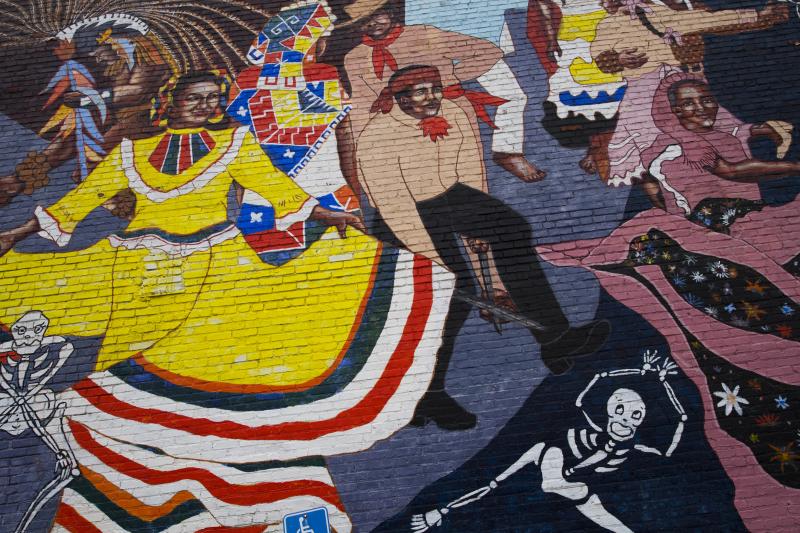 Dana loved the next mural we saw, Baile de la Vida (The Dance of Life), because it represented the Mexican culture her father passed along to her. I took several photos of her dancing like some of the characters depicted in the mural. We filled our Instagram feeds with color and countless smiling emojis.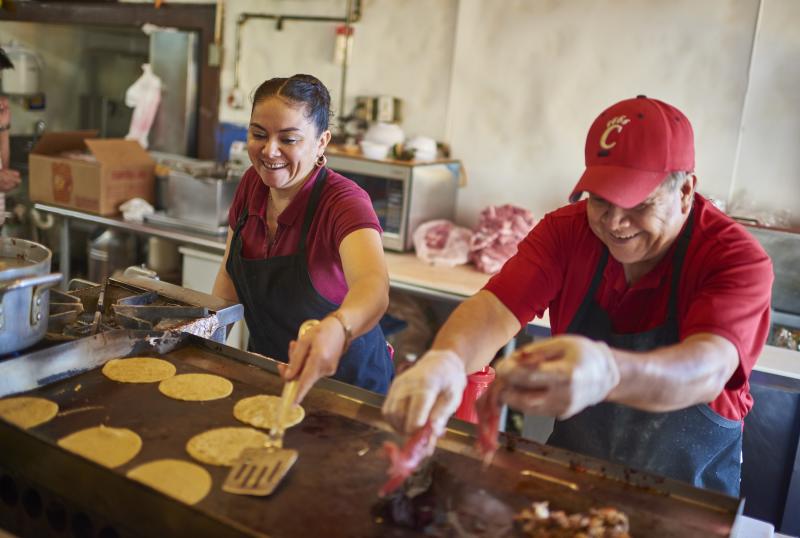 Having walked quite a bit, we pulled up a list of local food favorites on our phones and found El Camino Real nearby. We ate fresh tacos—fresh corn tortillas, fresh cilantro, freshly cooked meat—simply prepared and presented perfection.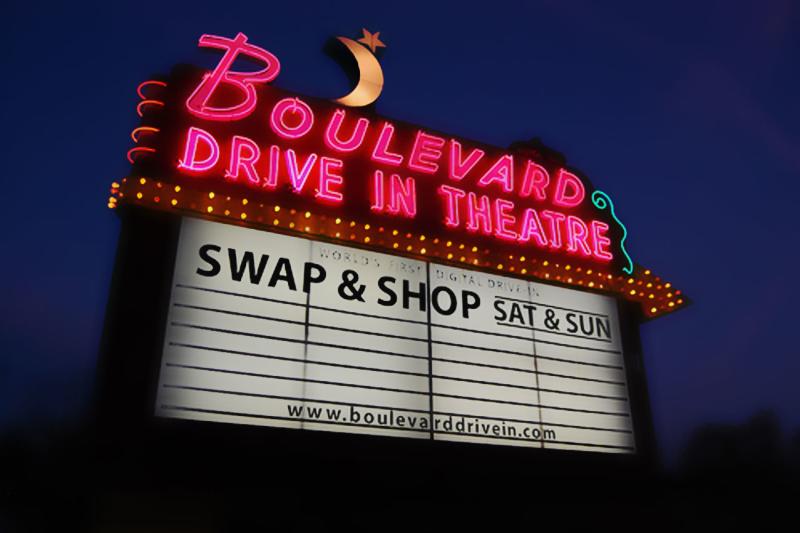 We spent our second evening in Kansas City, Kansas taking in a movie at the local drive-in theater. Boulevard Drive-In is a family-owned theater that serves up nostalgia with 21st century digital sound. We ate American favorites from the concession stand while watching a classic horror film. While waiting for our food, we discussed what we should do the next day. That's when we heard about the drive-in turning into a swap 'n' shop on weekends, and it only cost $1 to enter. Decision made.
The next day ended up being perfect weather for shopping in an outdoor market. The swap 'n' shop had everything from fresh veggies to antiques. We bought a pair of matching antique frames, promising to actually print pictures from this trip to put in them.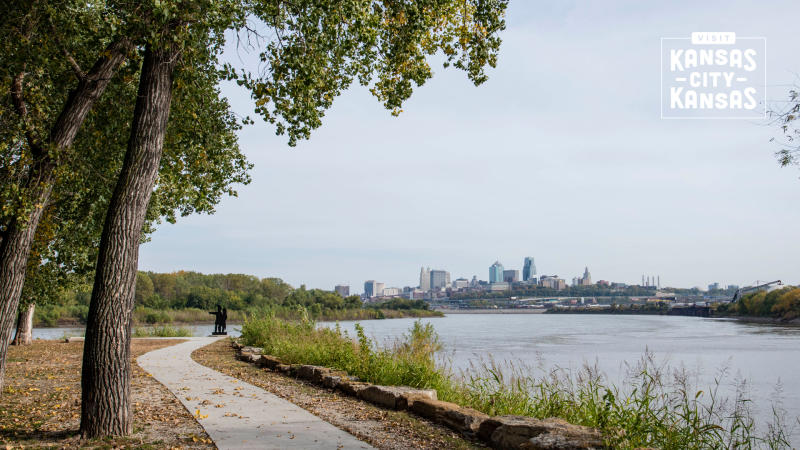 We didn't want to waste the sunshine, so we headed back downtown to check out the parks and river. The Lewis & Clark Park at Kaw Point wasn't too far from our hotel, so we started there. Perfectly green, the grass and trees filled the air with a fresh spring smell and seemed like an oasis in the middle of the city. We decided to continue our outdoor exploration by taking the Kaw River trail along the Kansas river.
Lost in conversation and reminiscing, we walked ourselves back into the Strawberry Hill neighborhood, where famous Kansas City, Kansas barbecue called our senses. Slap's BBQ offered down-home barbecue in a barn-like building. We ordered some burnt ends and their award-winning ribs. The smell alone seemed to melt my tongue in anticipation. Each bite was juicy with a bit of smoke, and I was tempted to drink a straight shot of the sauce. Instead of taking photos of our food, we snuck photos of each other stuffing our faces with sauce smeared across our cheeks.
We kicked off our last night with what seems to be a local tradition: a "Grog shot" at Fat Matt's Vortex. Located on an unassuming corner, the former funeral home turned neon dive bar has the best kind of local character. The bartender poured us shots of the brown liquid and recommended we slam it, swish it and suck it to fully appreciate it. We did as instructed, and tried our best to guess the proprietary mix. Pear? Apple? We couldn't get the bartender to reveal any secrets, but we were pretty sure there was some kind of fruit flavor.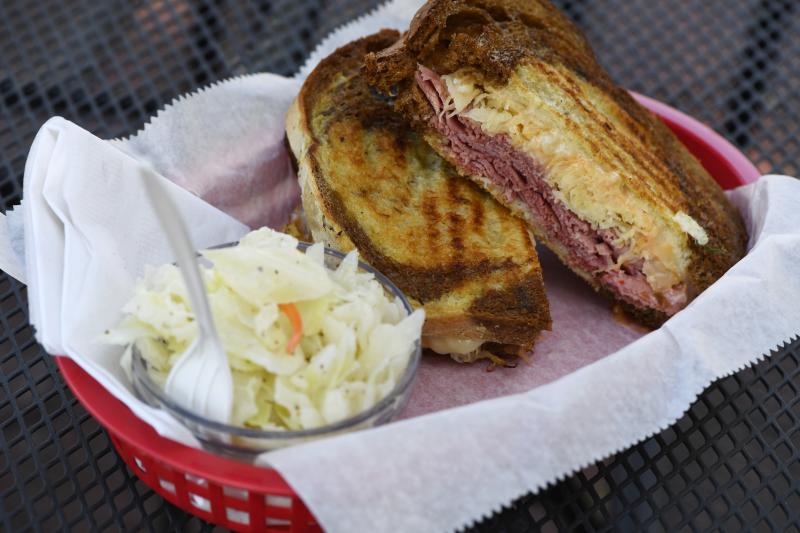 For dinner, we wanted to go to a locals spot. Kat and Shawna, two derby girls we'd met from the home team, said their go-to place was Breit's Stein and Deli. We headed to the deli, and when we walked in we immediately recognized Kat and Shawna. They seemed genuinely excited to see us and invited us to sit with them. Everyone recommended the Ruben, so Dana and I both ordered it. They didn't steer us wrong.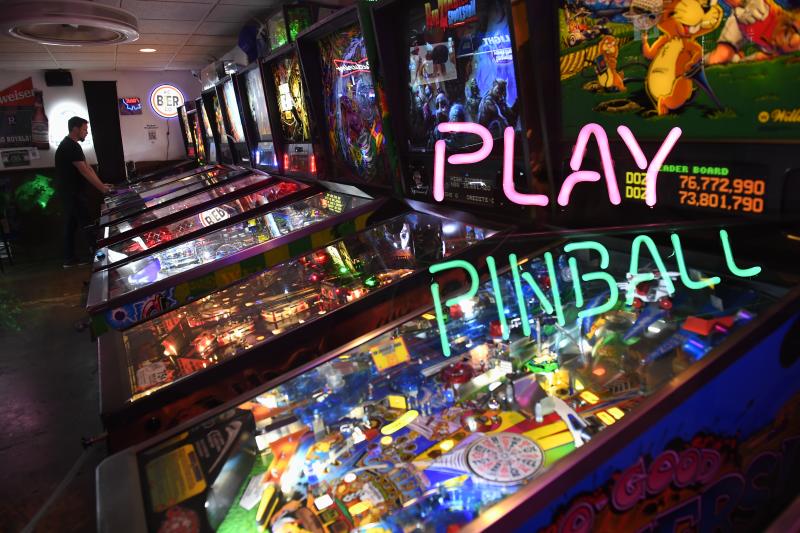 The night wasn't over yet, so we headed to 403 Club for some craft beer and pinball—the perfect combination. With more than 60 craft beer choices from around the world, we took a tour of America from Colorado to Chicago. After a few rounds of pinball (warning: it's addicting!), we found ourselves in a friendly, but competitive, game of pool with Kat and Shawna—a round of drinks on the loser was on the line. By some miracle, we won and enjoyed another round of craft beer, from San Diego this time.
The next afternoon came quickly, and so did the end of our long weekend. We said our final goodbyes, promising to make it back to grandma's this summer "for sure!" When I got back home, I looked through our selfies and posted the one of us in front of the Kansas City, Kansas skyline with the caption "I'll actually print this one."
Guest Blogger: SAVANNA SARGENT