Hi! My name is Anakaren and I am a Chef in Kansas City and I was raised in KCK in the Argentine neighborhood. Given the amazing response to the movie Coco a few years ago more and more people are becoming interested in creating an altar for the Day of the Dead. It's a beautiful tradition that has been around for many generations and it's celebrated all over Latin America. One of the traditional drinks you will see being made during this celebration is Champurrado, a warm chocolate drink thickened with corn flour. It's easy and made in minutes. Perfect for all Winter long too! Hope you enjoy the recipe and that you have a fun time creating your own altar to celebrate those you have loved. - Chef Anakaren Ibarra-Dumovich.
Day of the Dead Altar by Chef Anakaren
Champurrado Recipe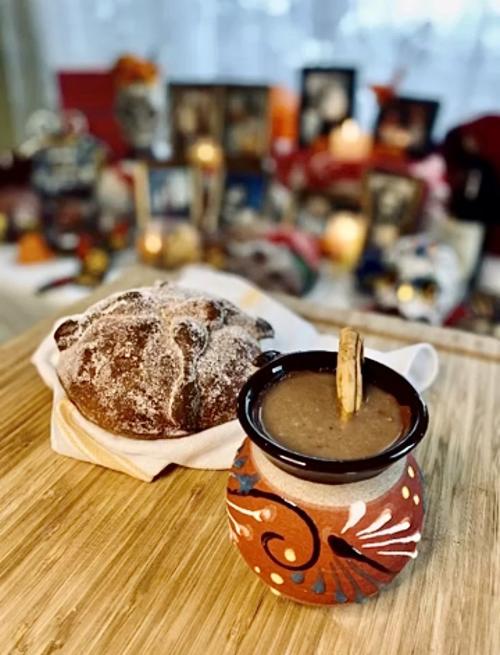 Ingredients:
3 cups of water
1 cup of milk
2 cinnamon sticks
1 star anise
1/2 disk of chocolate
2oz piloncillo
1/4 cup of corn flour (masa harina)

Heat the water in a pot and then add you cinnamon and star anise. Bring to a boil and while you wait chop your chocolate and piloncillo, careful with the knife these tend to be really hard. Bring your water to low heat and slowly add your flour while whisking to avoid clumping. When it is fully incorporated add your chocolate & piloncillo. After they have melted slowly drizzle the milk and keep whisking till it becomes thick. Serve & garnish with a cinnamon stick. See full recipe video below. Enjoy!