These local-approved joints in Kansas City, KS are licensed to grill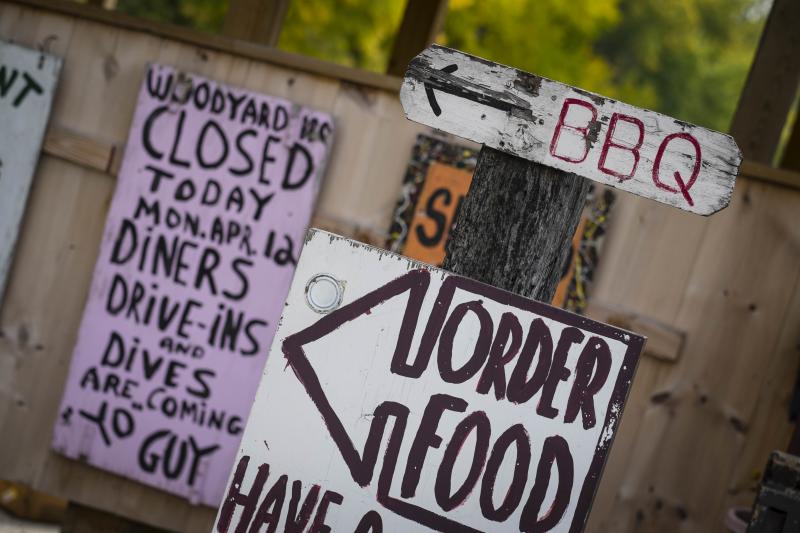 Mention Kansas City, Kansas to any non-native and the topic of barbecue will likely follow. Unlike some cities that offer oceans, mountains or famous landmarks, here, meat is the main attraction. Smoked low and slow, smothered in sauce and served with a side of Midwest hospitality, it's easy to see why KC 'que is on many a travel to-do list.
The hard part is deciding where to start. From mom 'n' pop shops to side-of-the-road smoke shacks, there are more than 40 barbecue restaurants to choose from. Admittedly, I've only made a small dent in that number since moving here six years ago. So when a craving hit hard one weekend, I decided to eat away at my "must-try" barbecue list, visiting a few old favorites along the way.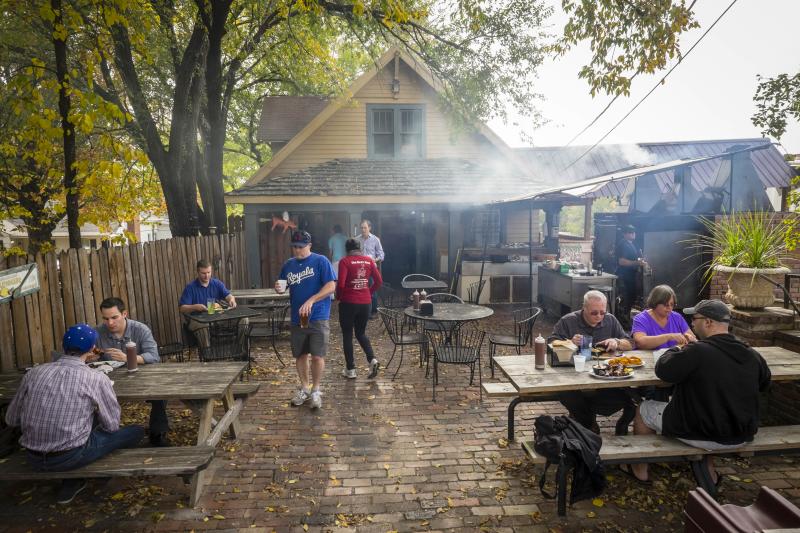 ICONIC AND ORIGINAL
In Kansas City, Kansas the rule is: Where there's smoke, there's barbecue—and I hear nowhere takes that mantra more seriously than my dinner location. Founded first as a lumberyard, Woodyard Bar-B-Que has morphed into a casual roadside eatery. I know I've reached my dinner destination when I smell smoldering meat well before the clapboard house comes into view.
Inside, I'm met with the sound of creaking wood floors and a hodgepodge of tables and chairs. I read the daily special (ribs!) as a mounted deer head stares from the corner. A bubbly cashier takes me through the crowd favorites, which include Woodyard's burnt end chili, smoked chicken and ribs. I pass up two of three and go for the meat platter with ribs, brisket and a side of potato salad.
I soak in some lingering sunshine from the picnic tables out back and enjoy the views of wood piles and brick smokers. Soon my food arrives, along with a cold glass of Boulevard Pale Ale. I devour my plate section by section, starting with the ribs. Lightly charred with a signature smoky aftertaste, each bite of meat easily drops off the bone. The brisket is equally divine—especially after drenching each slice in Woodyard's signature mild sauce. I almost bypass the potato salad, but what a mistake that would've been. The mayo-y mix of red skinned potatoes, smoked bacon, boiled eggs and green onions is ultra-rich and savory. A side that's a star in its own right.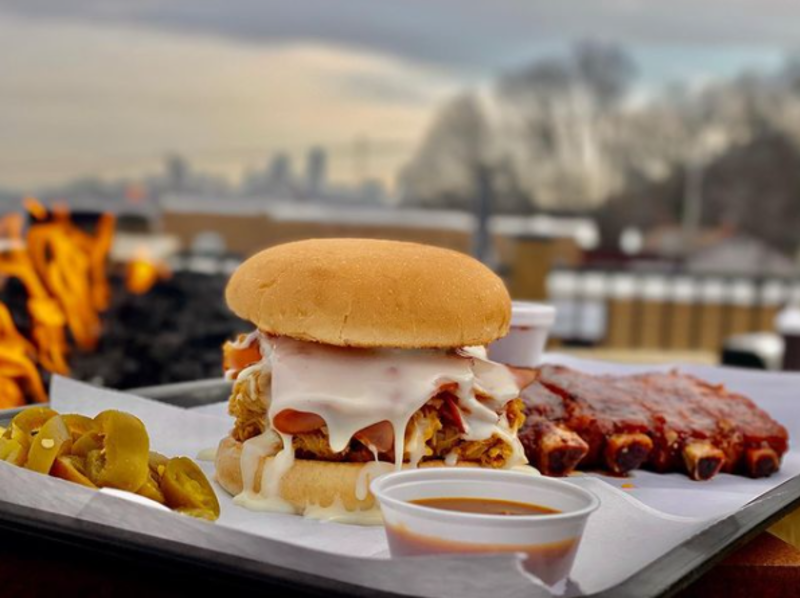 NEW ON THE SCENE
The next day, I head to a local BBQ newbie, Slap's. Since opening in 2014, Slap's competition style 'que has gained popularity fast, and hungry crowds often overflow out the door. Here, that's a sign of good things to come. Pitmaster Joe Pearce runs Slap's with his brother, Mike, and I find both behind the counter on my visit. As I near the front of the line, I watch Joe put the finishing touches on the "Ooey Gooey" sandwich—a teetering tower of brisket topped with melted Provel cheese. He catches my longing stares, then smiles and hands me a hunk of freshly sliced brisket. I eagerly pop it into my mouth, and seconds later the tender meat is melting onto my taste buds, leaving a hint of smoky hickory behind. Well, that made my lunch decision easy. I take my tray and maneuver through the lunch rush, settling on a family-style table. Why not make a few friends while I'm here? As I work my way through Slap's brisket, smoked turkey and cheesy corn, I chat with a man devouring a plate of flame-licked chicken legs. Mouth still full, he declares it's the best chicken he's ever had. I describe my own magical melting brisket, and we bond as only true barbecue fans can.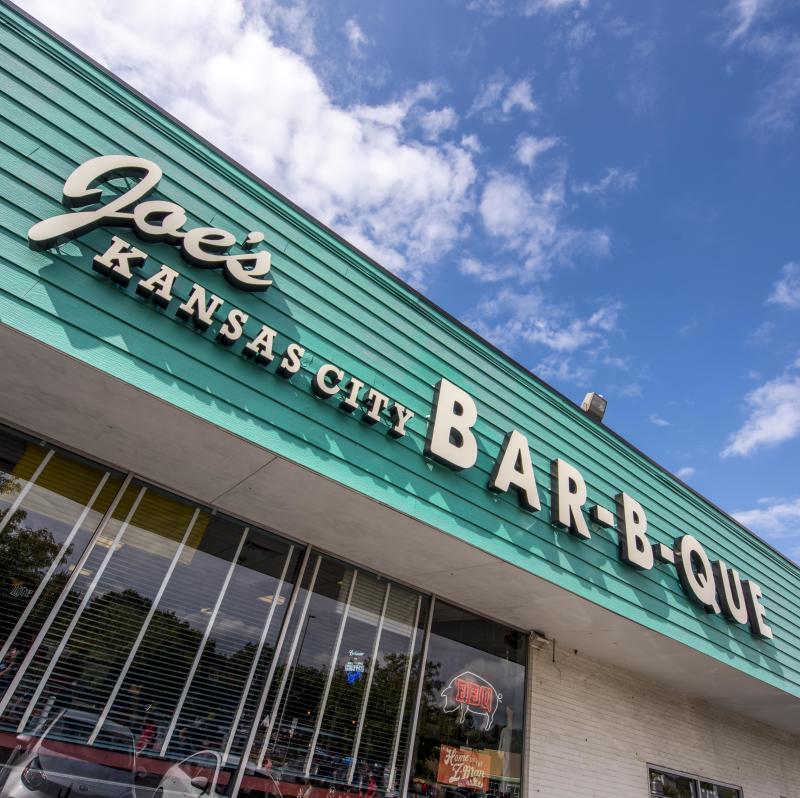 WRAPPING IT UP
I end my two-day tour at the legendary Joe's Kansas City Bar-B-Q, considered another barbecue heavyweight champ. Out of Joe's three locations, the original in Kansas City, Kansas (which operates out of an old gas station) is the most popular. No surprise, I'm met with another line that wraps around the decades-old, white brick building. With major national name recognition and a spot on Anthony Bourdain's "13 Places to Eat Before You Die," a long line is part of the experience. Twenty minutes later I'm inside, inhaling an intoxicating scent of charred beef and Joe's signature dry rub. It's Saturday and that means burnt ends are on the menu, a no brainer. Behind the counter, I watch an assembly line prepare my meal, piling burnt ends high on a piece of buttered Texas toast. "Oh—and fries!" I shout. Almost forgetting those famous seasoned steak fries. I sit with a napkin tucked into my shirt and take a moment to admire the beautifully blackened outer edges of my burnt ends, then savor the tender inside, marbled with fat. Joe's dining style is much like its gas station location so I know to fill up fast and keep it moving. Better let others get a taste of this 'que, too. I'm already in my car before I realize I'm still wearing my makeshift barbecue bib, sauce stains and all. I decide to keep it as a souvenir. After all, this was one experience worth holding on to.
Guest Blogger: Shanley Cox