FOR IMMEDIATE RELEASE
For more information, contact
Allyson Brunner, Page Communications
816-384-2952, ally@pagecomms.com
Visit Kansas City Kansas announces 2021 Tourism Champions
at Tourism Luncheon on Sept. 16, 2021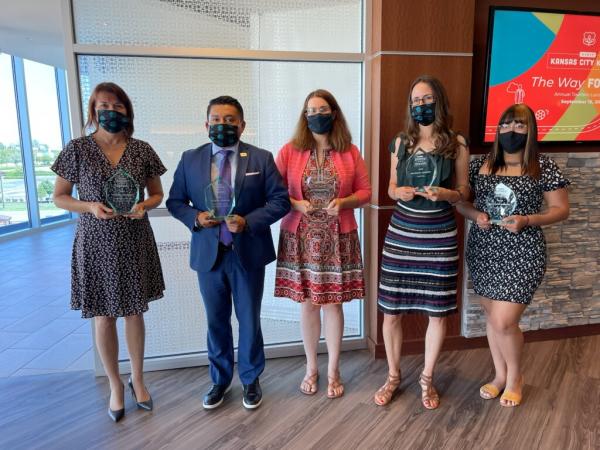 KANSAS CITY, Kan. (Sept. 16, 2021) – Visit Kansas City Kansas celebrated tourism and their partners at its annual tourism event on Thursday, Sept. 16, 2021, at Children's Mercy Park. Approximately 120 people were in attendance, including elected officials as well as tourism industry professionals. 
The Visit KCK Tourism Champions Awards was the highlight of the program, celebrating the success of the people and businesses in Kansas City, Kansas.  Four awards were presented to the following individuals and organizations for their efforts, partnerships, their ability to navigate the community through challenging times, and their contributions to tourism in KCK.
Wyandotte County Historical Museum
Over the last year, despite COVID-19 restrictions, the museum used an innovative approach to bring the museum experience to visitors by launching outdoor and virtual exhibits. The museum works to preserve and share the history of KCK and Wyandotte county.  
Lisa Pena, Urban Hikes Kansas City
Lisa Pena started Urban Hikes Kansas City as a way to combine her love of hiking and of her hometown, and in the process, she is helping bring visitors into downtown KCK. In 2020, she launched new hikes focused on downtown KCK and Strawberry Hill, helping to inspire locals and visitors to get out and explore the city.
Kansas City Kansas Chamber of Commerce and Wyandotte Economic Development Council
The two organizations are longtime champions of the business community in Wyandotte County. In 2020, they stepped up to partner with Visit KCK on the Keep WYCO Well Initiative, which encourages businesses and individuals to promote health and safety during COVID-19. 
Edgar Galicia, Central Avenue Betterment Association
Edgar Galicia is Executive Director of the Central Avenue Betterment Association. Galicia has worked tirelessly to bring more visitors into the neighborhoods by championing initiatives like La Placita Market and the Dia de Los Muertos parade and celebration. This past year, Galicia was instrumental in connecting with local restaurants during the development of the KCK Taco Trail.  Edith Blakeney, Galicia's daughter, accepted the award on his behalf.
###
About Visit Kansas City Kansas
Visit Kansas City Kansas is a non-profit organization whose mission is to generate economic impact through tourism by promoting Kansas City, Kansas as a destination for visitors, conventions, and sporting events.