Explore This Section
A Just-the-Two-of-Us Getaway
New parents make the most of a weekend in Kansas City, KS to enjoy local flavor
By Lori Barnes
"Mom and Dad"… those were names Dennis and I never thought we'd be called. Becoming parents was the single greatest decision we'd ever made, but after many months of routine, schedules, feedings, naps, work and virtually no play; we had to get away. We needed a chance to regroup, recharge and remember all the things we used to do as Dennis and Lori, not Mom and Dad.
"I think we need to get away for the weekend. It's been too long since we spent a night just the two of us," Dennis said to me while peering through the bathroom door as I got ready for work on a chilly Wednesday morning in October.
"Can we, though?" I asked.
"Definitely," Dennis said. "I've got it all figured out."
We'd leave Friday night—my mother-in- law had already volunteered to watch our 6-month- old daughter, Bryn, for the weekend—and come back early Sunday afternoon. Just enough time away.
I was floored. When I asked Dennis where we were going, he said he took into account several factors: somewhere that had a plethora of things to see, things to do, places to shop and places to eat. We were going to Kansas City, KS!
Romantic accommodations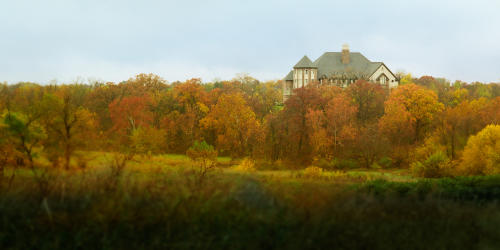 As we made our way across I-435, I spotted the stunning Chateau Avalon, nestled on a tree-covered hill. "Please tell me we're staying there! It looks like something out of a movie." He flashed me a big toothy grin and pulled in.
As we entered the double doors to the grand marble lobby, my excitement grew. The lobby hostess greeted us with a smile and shared lots of information about the hotel, including their Best in The Midwest award from AAA, won three years in a row.
She helped us choose from the 61 guest rooms and 23 unique concept suites. Each room had a different theme and came with complimentary in-room breakfast. Music to my ears!
"I could get used to this!" I exclaimed as I sprawled out on the lush king-sized bed.
"Tonight's activity is your choice," Dennis said as he lay down next to me. I knew that The Legends at Village West was close and we needed to get started on Christmas shopping. Tonight's activity = planned.
Starting to shop
The Legends offered a wide array of specialty shops and outlets, so I knew we could make a nice dent in our Christmas shopping list. My brother and sister love Express, so the Express Outlet was a no-brainer. For our daughter, we splurged a bit at the Off Fifth Outlet and Baby Gap. I am such a sucker for baby clothes. 
"Shopping always makes me hungry," I hinted to Dennis as we carried armfuls of gifts to the car.
"I'm really in the mood for barbecue," he quickly replied. "I've been dying to try Woodyard. I've heard amazing things about it."
Legendary barbecue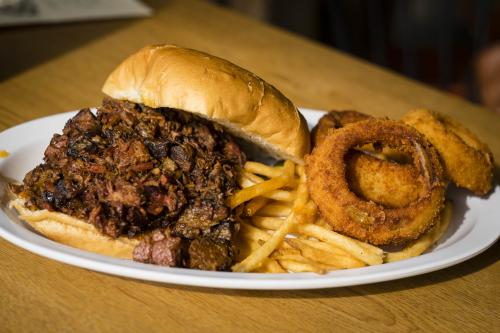 Woodyard Bar-B- Que was a total hidden gem. It's off the beaten path with a bright yellow sign and a plume of smoke from the pit welcoming us inside. Boasting some of the best barbecue in the city (Anthony Bourdain stopped by with No Reservations), Woodyard has also been selling wood to almost all of the local barbeque restaurants since 1913—true to its name. I couldn't resist the Burnt End Chili, a Woodyard specialty that, in my opinion, makes the best use of slightly crunchy barbecue bits. Dennis got fall-off- the-bone ribs that were covered in, of course, a Kansas City-style barbecue sauce that was garlicky and slightly spicy and sweet all at once.
With full bellies, we made our way back to The Chateau Avalon to rest up for the next day's adventures.
Local gifts
On Saturday, we wanted to go exploring for exclusively "Kansas City, KS" gifts for our out-of- town relatives. The first stop was Krizman's Sausage for their handmade sausages, walnut povoticia bread and barbecue rubs. Krizman's has made sausage their business since 1939, and remains family-owned. Since Kansas City, KS is known for barbecue, the rubs make a great gift for my in-laws from California to use at home, whenever they feel like taking a trip to KC for the night. What we loved most was learning that the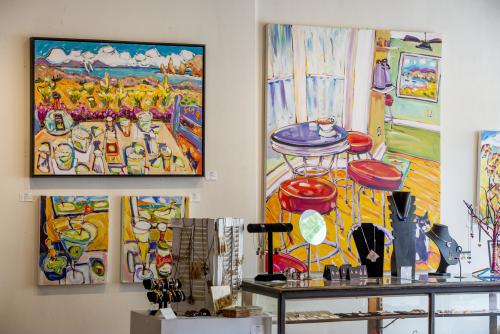 sausages made at Krizman's are made from the highest quality meats—we could taste the difference.
And the KC Barbeque gift basket wouldn't be complete without some sauce from Original Juan Specialty Foods. We are big fans of the CowTown BBQ Original Sauce, but it's always fun to visit the factory outlet store and get to try a few of the 150+ products that are manufactured there.
Dennis was brave enough to try the Sweet & Spicy 3 Pepper Relish and Reaper-Acha Hot Sauce from Pain is Good—a brand for people who like it HOT! If you have any doubts about how hot their sauce is, just look at their labels of people wincing from the bite.
Finally, we decided to do a little shopping for ourselves at SAV-ART, A Simple Gallery. Local artist Mike Savage displayed many of his beautiful, bold and spontaneous paintings, and we loved the visual feast. We picked up several of Mike's famous prints of Kansas City, KS landmarks to display in our living room.
Winding down with wine
The end of the day was spent at Rowe Ridge Vineyard & Winery, a family-owned vineyard just a few minutes from our hotel. It was amazing to sit on the patio and enjoy a lovely bottle of local wine—my favorite was the Sayval Blanc white wine.
As we watched the sunset on our beautiful weekend, I looked into my husband's eyes and remembered why I fell in love with him so many years ago. I loved his sense of adventure, his go-with- the-flow attitude and the constant smile on his face every time we try new things together. This weekend made us realize that it is important to cherish our time together as just "Dennis and Lori," but we can't wait to go back to our life as "Mom and Dad." Well, maybe after one more glass of that delicious wine.