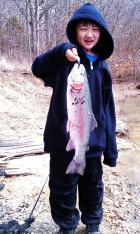 This past weekend's weather was too nice to pass up outdoor activities, so my family and I decided to head over to Wyandotte County Lake and Park  located at 91st & Leavenworth Road in Kansas City, KS.  We've made it our go to place when the weather is nice and we have a few hours to spare.  My husband and 12-year-old son are fishing fanatics, my 14-year-old daughter is an aspiring singer/songwriter and I would like to walk and read more often, so the lake and park really set the stage for a great family outing. 
The 1500-acre park includes a 400-acre lake stocked with trout and catfish and also features a Children's Fishing Pond for kids under 16, picnic shelters, playgrounds, boat and pontoon rentals and walking trails.  After arriving about noon, my husband and son spent a few minutes scouting a good fishing spot before settling, my daughter found some shade under a few trees to strum her guitar and I walked a few miles on the trails.  Normally I bring a book to read but that day felt like a walking day.  After catching the limit, the happy fishermen were ready to go, my singer/songwriter daughter used nature for lyric inspiration and I felt great - everyone's happy.  I see grilled trout on the dinner menu this week – YUM! 
- Maila Yang
Maila is the Marketing & Communications Manager for the Kansas City Kansas Convention & Visitors Bureau, Inc.