Summer in Kansas City, KS means more than a day splashing around in the pool or licking up an ice-cream cone before it melts in your hand (although, those are some of our favorite parts of summer too).  On almost any given summer evening, if you listen closely, you can hear live music heating up the city. All throughout the season, many of our attractions offer live musical acts ranging anywhere from local to national artists. So whether you're looking to take the family out for an evening of free courtyard music, enjoy a romantic dinner with soulful music to match, or rock out at an outdoor amphitheater, we've got tons possibilities for your listening pleasure.
Every Friday and Saturday night, Hollywood Casino at Kansas Speedway features live music, anywhere from country, classic rock to funk. The show goes on in Turn 2 Sports Bar & Restaurant, inside the casino, so you can enjoy the music while having dinner and drinks, and getting a breathtaking view of Kansas Speedway. If you're looking to spice up a date, local Kansas City favorite, Jazz, A Louisiana Kitchen, has live, soulful performances almost any night of the week. The most romantic getaway in the Midwest, Chateau Avalon, also offers live music on its patio during select weekends, along with special date night packages.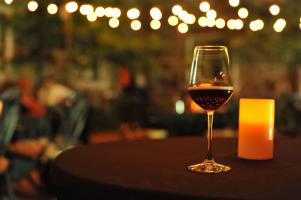 Tucked away in west Kansas City, KS you can find a mini version of wine country. During select weekends, Rowe Ridge Vineyard & Winery, and The Wine Barn Winery &Vineyard host local music artists on their patios for an evening of food, friends and of course, local wine.  
With more than 100 stores and restaurants, Legends Outlets Kansas City is your family's ultimate destination to shop, eat and explore. This summer, you can add jam out to that list too. Live at the Legends takes place on Saturdays during June and July, near the fountain in the center courtyard. This free concert series includes some of Kansas City's finest local and regional bands.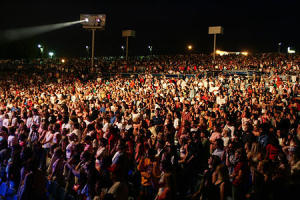 But of course, very summer Kansas City, KS welcomes thousands of music lovers for larger concerts and festivals too. This year, three of Kansas City's most exciting all-day events include 96.5 the Buzz: Buzz Beach Ball 2015 at Sporting Park, and Van's Warped Tour and Mix 93.3's Red White & Boom music festivals, held annually at Cricket Wireless Amphitheater. During summer 2015, Cricket Wireless Amphitheater will also host A Very Special Evening with Dave Matthews Band, and some of country music's biggest names including Luke Bryan, Tim McGraw, Lady Antebellum and Dierks Bentley. All of these events and venues are conveniently located just minutes away from restaurants and lodging.
Looking for more ways to celebrate this summer in Kansas City, KS?
Flip through our Summer Magazine. 
Check out the 94 Days of Summer Fun.
See a full list of events.