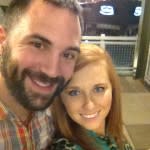 I'll admit it, when it comes to birthday's I'm all about going big or going home! So this year my husband was turning the big 3-0 and I knew I had to do something special. And with Valentine's Day so close I figured if it was good enough maybe it would count for that too!

We love the Village West area; between the dining, shopping and entertainment we feel as though we always end up there for our date nights. I knew that this had to be a part of his special day, but I knew I wanted more, there had to be some sort of new exciting twist.

So the plans were made, all surprises leading up to the big reveal. First he received a massage from Beauty Brands; yes ladies, men love massages too! We then went to Yardhouse for a beer and wings, followed by childhood playtime at Dave & Buster's. My husband worked up quite the appetite setting the high score record on the football pass game (he's so proud) so we went to Johnny Carino's for pasta and wine. Warm bread, fresh pasta, and a Caesar salad – so delicious! The server brought him his birthday ice cream and then it was time for the big reveal….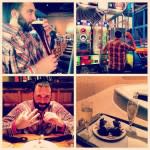 We were staying the night out there in Village West – no not camping, but in Tuscany at the Chateau Avalon! Neither of us had ever been there so we weren't too sure what to expect.

We were blown away.

Walking up the staircase to this beautiful hotel that looks like a mansion, we were both in awe. You enter to the lobby where a grand staircase and friendly staff meet you and are instantly drawn in by the smell of warm chocolate chip cookies out for the taking, located next to fresh coffee. I was sold already!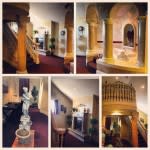 After a flawless check in, we headed up to the second floor to the room titled 'Tuscany'. Key in door, slight turn of the handle, and "WOAH"… we were in paradise. Our eyes couldn't stop looking around at this beautiful place that would be our home for the night; a stand-alone fountain, working fireplace, pillars bordering a large Jacuzzi, winding stairs leading up to the bed, and an open bathroom complete with two plush white robes.

I felt like it was my birthday! This room was beyond gorgeous. After turning on the fire, I noticed a bottle of champagne on the mantle, already chilled with two champagne glasses. We poured two glasses and toasted to our luxurious night in Tuscany complete with a rose pedal turn down, bubble bath, and chocolate covered strawberries.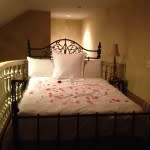 The next morning, we were both so sad to our beautiful oasis. We skipped the made-to-order breakfast, as we had to hurry off to work, total bummer. As we were checking out, the front desk staff member told us about the daily tours that they have so that you can see the other themed rooms. The tours are done through the week, Noon-3pm. We were anxious to come back and see all the other rooms!

Not knowing the hours, we decided to go check it out… on a Saturday. We entered the grand lobby only to find out thetour wasn't happening that day, but if we wanted to walk around and see some rooms as they were being cleaned we could. YES! We were thrilled!

We were able to see all of the themed rooms thanks to the amazing staff at the Chateau Avalon. Every staff member we encountered was beyond accommodating taking us through all the rooms – it was almost as if there were proud mommas showing off their children!

Each theme was so unique and exquisite!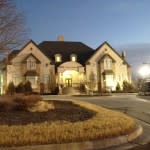 There are the Luxury Rooms which consist of: Tuscany; Monte Cristo; Venetian; Roman Dynasty; Presidential; Camelot.

Then there are the Adventure Rooms which consist of: Castaway Isle; Serengeti; NY Penthouse; Tahitian; Tahitian Treehouse; Pirates Cove; Colorado Frontier; Jesse James; Mayan Rainforest; Egyptian Palace; Buckingham.

As if the rooms weren't exquisite enough, the Chateau Avalon also has a brand new hideaway, the d'Nile Bar. It is such an intimate wine bar complete with so many creative drinks, including non-alcoholic. The décor is just lovely with beautiful tall, gold Egyptian statues. The patio connected to the bar is just divine; we can't wait until Spring to sit out there!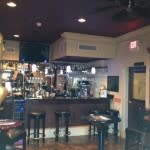 All-in-all, if you are looking for the perfect Valentine's Day, Birthday, or just a reason to get away, my husband and I both recommend escaping to a new world in the Chateau Avalon. The hardest part is picking which fantasy location you want to go to! My husband's next pick is either the Camelot room, complete with a drawbridge and a Knight, or to live in the 'Old West' in the Colorado Frontier room! My pick would either be the Castaway Isle room, where the bed is in a huge wooden, ship-wrecked boat, or the Monte Crisco which has three different levels to the romantic getaway!

Either way we choose, we know we'll be in our own little paradise, right here in Kansas City, Kansas.

- Liz Holmes
Liz Holmes is the Visitor Services Coordinator for the Kansas City Kansas Convention & Visitors Bureau, Inc.