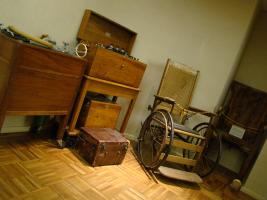 Kansas City, Kansas is a city full of interesting history. It is part of our culture and what makes us unique. This week I was able to immerse myself in a piece of history that was new to me. I visited The Clendening History of Medicine Library & Museum, housed at the University of Kansas Medical Center. This was an awesome place. As I looked at the old pieces of medical equipment I thought about how far medicine has come. I must admit, some of the pieces were a little frightening. One of the most unique things I saw was a turn of the century birthing chair. Now I don't know about any other women, but I don't think I would want to give birth in that thing. Both of my children were born at KU Med Center and I am one to appreciate modern technology where medicine is concerned!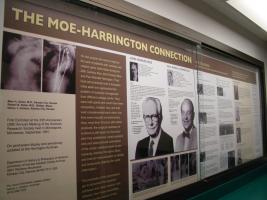 The museum focuses on late nineteenth and early twentieth century American medicine. They have a variety of exhibits that change approximately every three months, so every time you visit, you will see something new. Some of the significant exhibits have included: A History of Surgery at the KU School of Medicine, A History of Anesthesia in Kansas, A History of the KU School of Nursing and others. There is an emphasis on Kansas medicine. There are also collections devoted to American Civil War and World War I and II medicine. I was intrigued with the work of Paul Harrington and his expertise in scoliosis. There is an entire wall discussing the progress of medicine in this area.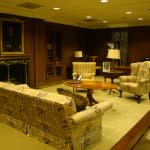 While I was there I also visited the library, and the Harrington Reading Room.  Both of these brought a sense of peace. The information housed there is so beyond me. I am happy that we have modern medicine and the men and women who strive to improve and find cures for disease every day. The books held in the library date back to the earliest days of medicine. It houses one of the nation's finest collections of rare and classical medical books, manuscripts, works of art and artifacts. There are also archives which were established in 1988 to preserve and document the University of Kansas Medical Center's history.  These archives are used by researchers in their works. 

So, as you can tell there is much to see while visiting this amazing library and museum. It is one of the reasons that the University of Kansas Medical Center is world-renowned. This is definitely a hidden treasure and one that I am glad I visited.

The Library is open to the public Monday and Wednesday – 9am-1pm and Tuesday and Thursday – 12pm-4pm. The museum is open to the public Monday through Friday – 9am-4pm.

 -Kerry Green
Kerry Green is the Meeting, Group and Event Manager of the Kansas City Kansas Convention & Visitors Bureau, Inc.