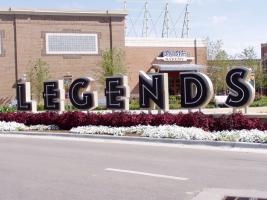 Last weekend, while shopping with my daughter I took time to look around at the surroundings.  It was a wonderful feeling to know that I was in my own backyard and had multiple shopping options.  Who would have dreamed that we would have The Legends Outlets Kansas City, Kohls, Sam's Club, Cabela's, Target and other options right here?  Not to mention the multitude of restaurants, fast food chains and local eating establishments.

I grew up in Wyandotte County.  I am an "Original Dotte".  I remember the area now occupied by Village West and the surrounding blocks when they were pastureland.  Not that I don't miss the quiet sometimes, but it is really nice to know that I can spend my money in the county where I live and work.

When I think of where the county was just a few short years ago, when I had to drive a considerable way to buy the necessities, I am overwhelmed.  Now I can make a quick trip or stop on the way home to pick up a gallon of milk or bread.  Sometimes it is fun to just call ahead and pick up dinner!

Love to shop and I love to have options.  Multiple choices are now available to me.  I still have our neighboring shopping areas, but I can make a quick stop or spend the day shopping in Kansas City, Kansas.

The next time you are out, remember where we were….how far we have come….and enjoy all that we have.  You won't be sorry you shopped, dined and relaxed in your own back yard.

-Kerry Green
Kerry Green is the Meeting, Group and Event Manager of the Kansas City Kansas Convention & Visitors Bureau, Inc.