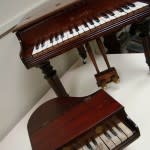 Recently I got the opportunity to tour the Piano Technicians Guild (PTG) Museum in Kansas City, KS, operated by the Piano Technicians Guild Foundation. The foundation opened the museum in 1994 during their annual convention which was held in Kansas City, MO that year. The Museum displays include antique piano building tools, historical pictures of the PTG and the piano industry, historical manuscripts, books and documents, unique pianos, and piano components that have historical significance to the piano industry. The museum also features older pianos and action models. The piano is one of the most popular instruments in existence and continues to be one of the premiere instruments today. Since its inception, the instrument we know today as the piano has had many innovators over the past 300 years who have shaped its functionality, appearance and sound. The museum does a wonderful job of displaying that history through their piano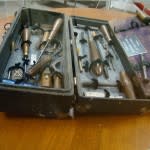 collections.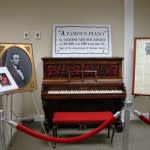 The most exciting part of the tour was discovering the piano that "saw" President Abraham Lincoln assassinated, is located right here at the PTG Museum in Kansas City, KS. This historic piano is an ornate finely-carved upright made by Chickering's of Boston in 1859. It was on stage at the Ford's Theater in Washington the night Lincoln was shot. The piano is on display along with articles and clippings regarding the night of Lincoln's assassination. Another astonishing discovery is a rare Giraffe Piano built by Frank Teupe, of Louisville, KY. In 1896, Teupe patented a piano-string frame that he considered a great improvement in the inner works of grand and upright pianos.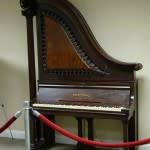 I have to say that although I am not a pianist or a musician, the museum gave me a deeper level of appreciation for music. This museum is definitely a must-see for piano enthusiasts, music teachers and history buffs. The PTG Museum is located at 4444 Forest Avenue right off of I-35 and Shawnee Drive in Kansas City, KS.  Hours are Monday through Friday, 8am-4:30pm. The museum asks that you please call their office at 913.432.9975 in advance before stopping by.