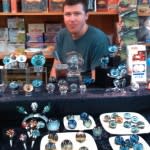 Years ago, boys would anxiously wait for the end of the school day bell to ring so they could rush outside to pull out their bag of marbles and start playing.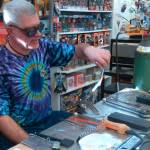 Today, marbles aren't just for rolling around on the ground anymore. Now, making marbles is an expression of art. The Moon Marble Company in Bonner Springs, Kansas hosted "Marble Crazy" an event held annually on the first weekend in March. Twenty Artists from all over the Nation participated in this glass working show.  They gave demonstrations of their own marble making techniques and showcased their marble designs and crafts.  One artist was there showing off his marble making machine which he built after studying how the first marble machine was made. Making marbles and creations from glass is slowly becoming a lost art form.  There are fewer than 100 glass working artists in the United States. This craft takes a lot of skill; using a blow torch, glass, and paint. It's amazing to see the artists work so carefully with the hot torch forming the glass into shape. They Implement special techniques, add certain colors, brilliance, and shine. The result? Beautiful decorative standing marbles, wine stoppers, flowers, bird figurines, pendants, sea creatures, and writing utensils, you name it and they can just about create it with glass!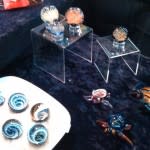 The next event at Moon Marble Company will be their biggest of the year!  It's called "Marble Day" and will be held May 3rd. The "Marble Day" event is a way to celebrate spring. At this year's "Marble Day" there will be an annual marble tournament at Centennial Park, marble making demonstrations, the Wacky Parade,  Running of the Pinkys (thousands of pink rubber balls are dropped and race down Oak Street through a series of obstacles), and local performers. The whole family will enjoy taking part in old fashioned fun & games!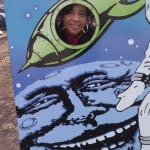 You'll have a marbelous time reliving the fun of yesterday and discovering new possibilities that come out of the art of marble making. 
-Judith Rainey
Judith is the Visitor Services Coordinator for the Kansas City Kansas Convention & Visitors Bureau, Inc.