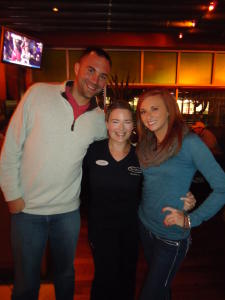 "Hi. My name is Liz, and I am a shop-a-holic." There, I said it. 

Believe it or not my fiancé, Jeff, is somewhat okay with it as long as we go shopping at the Legends Outlets Kansas City, located in the Village West area at I-70 and 435. I love showing him how much I save when I shop there (like I'm some sort of saving genius), but really it's just the great prices the outlets have to offer. I don't think he really minds going there with me. We always start off by visiting the Visitor Information to receive our free book full of numerous coupons. Then I usually lose him (or he loses me) but know I can find him in either the Under Armor or Nike outlet stores. Jeff teaches elementary PE and is a high school football coach so he tells me all of his purchases in these stores are for work and lounging so he's the one 'really saving money'… lucky man. 

The best part of our shopping adventure is dinner. We always end up at The Yard House where we sit down at the bar to get waited on by the best bartender in town – Corie! She knows her stuff when it comes to the dozens of unique beers they have on tap. The food there is divine, unique and tasty drinks, and a service that is absolutely amazing. 

We enjoy Corie so much that last time we were there we invited her to our wedding, not to work it but as a guest. She kindly accepted. 

So next time you want to go shopping, make your significant other go with you by telling him you'll buy dinner at the Yard House. Ask for Corie and tell her Liz sent you!

- Liz Holmes

Liz Holmes is the Visitor Services Coordinator for the Kansas City Kansas Convention & Visitors Bureau, Inc.