You could say Kansas City, Kansas is full of extremes. From the Midwest's only surfing ride to the most talked about barbecue sandwich, to a speedway where racing fans can both watch and join in on the high-octane fun, this city is certainly not short of reasons to visit. But along with these extremes comes a small-town charm. If you dig a little deeper into the Kansas City culture you will find local shops and restaurants scattered all throughout the area, making it a Midwest destination that is enjoyable, unique and tough to beat.
Here are a few one-of-a-kind places you will want to check out on your next visit to Kansas City, KS. 
EAT
Although the shop has only been around since March, A Cup on the Hill has had Kansas City buzzing since 2009, as it has catered events and served coffee at local farmers markets. Now a pleasant little coffee shop and meeting space in the heart of downtown Kansas City, KS, A Cup on the Hill is busy serving up craft caffeinated beverages like Lavender Honey Lattes, Thin Mint Frappes and cold brew iced coffee. Accompaniments include giant, gooey cinnamon rolls, and scrumptious donuts (like the pistachio masterpiece you see here)  courtesy of Hana's Donuts, another local establishment. A Cup on the Hill's friendly, lax atmosphere and delectable treats make it the perfect place for morning coffee and conversation.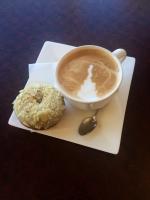 Indulge in the deliciousness of one of Kansas City's sweetest eateries. Cowtown Cheesecake Company's owner/chef Terry W. Mille has served many famous faces and had some pretty interesting gigs in his extensive and fascinating career. This has included being the backstage catering chef for the Sprint Center and appearing on The Food Network's Cutthroat Kitchen. The cheesecake created and served at Cowtown Cheesecake Co. is anything but ordinary. Flavors include sweet potato with gingerbread crust and praline filling, and green tea and blackberry swirl with almond cookie crust. Oh, but Cowtown Cheesecake Co. takes its unique eats too seriously to only serve cheesecake. Here you can also enjoy fresh cronuts, biscuits and gravy, paninis and more.
WONDER
.POP Shop, pronounced Dot-Pop-Shop, is a new charmer to downtown Kansas City, KS as well. The pop-up gallery/gift shop (see right) was introduced to downtown Kansas City, KS. Here you find work from local artists and handmade jewelry and other unique trinkets.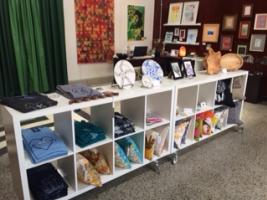 Sav-Art Gallery owner and local artist, Mike Savage is known for capturing the beauty of well-known scenes and spaces in Kansas and the Kansas City Metro Area including, sunflower fields, the University of Kansas campus, Strawberry Hill, and Kauffman Stadium. At his gallery you can find his popular, colorful art as well as work from other local artists. 
SHOP
Over the years downtown Bonner Springs has grown to be known for its quaint specialty shops. This includes FLIP KC, a boutique that opens its doors every 2nd & 4th weekend of the month. FLIP KC specializes in repurposed furniture, handcrafted home décor, clothing and accessories. DeeDee's Jewerly & Vintage Décor is also known for its handmade jewelry and other home furnishing made from vintage pieces.
Tour
But of course, it wouldn't be Kansas City, KS if we didn't add at least one extreme. Original Juan Specialty Food has produced an array of specialty sauces for retail, wholesale and private-label customers for more than 17 years.  Today Original Juan manufactures 150 different salsas, marinates, dipping and barbecue sauces for its own company, as well as many more private-label food products for more than 100 companies all over the world.
While Kansas City is known for its barbecue, and Original Juan creates some delicious sauces to top your ribs and burnt ends, perhaps what is most notable about the local business is its hot sauce. To be more specific, you must know about The Source. With 7.1 million scovile units, The Source is the hottest hot sauce known to man. To put this into perspective, a ghost pepper has 1,041,427 scoville units. OUCH!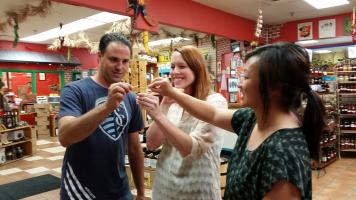 Think you're up to the challenge of trying the world's hottest hot sauce? You're in luck! While a bottle of The Source run at a steep price, you can try it at Original Juan Specialty Foods for free –after signing a waiver saying you fully understand what you're getting yourself into, of course. (Pssst..that's two of our staff members getting ready to take the challenge!) Original Juan gives a tour of its manufacturing warehouse for groups of 10 or more, and offers taste tests of many of its flavorful sauces, making for a truly one-of-a-kind way to spend your time in Kansas City.