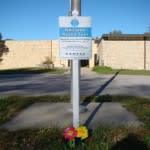 Looking for a fun way to spend a beautiful Fall afternoon, something you might not have done before? Have I got a plan for you! Next time you are out and about in Kansas City, be sure to stop by one of the 26 attractions that are part of the Guide by Cell program, sponsored by the Kansas City Kansas Convention & Visitors Bureau.

You will find the Guide by Cell, bright blue sign in close proximity to the attraction. After dialing the phone number, 913-489-3423, use the attraction unique extension, followed by the # key to hear a recorded explanation about the featured attraction. This is a great way to learn about the fascinating details of historic sites and attractions that form the history of Kansas City, Kansas. The participants include museums, attractions, sports venues, statues, lakes and parks, so the choice of what to see and listen to is yours.

You can listen at any time, from any location, simply by using your cell phone. The audio files can also be downloaded at your leisure at  www.visitkansascityks.com. This is a free service to you. The only cost will be the minutes on your cell phone.

I would suggest that you spend time looking for these great attractions in our cities. Spend an afternoon….or two…..it's a great way to learn and enjoy all we have to offer.

-Kerry Green
Kerry Green is the Meeting, Group and Event Manager of the Kansas City Kansas Convention & Visitors Bureau, Inc.