Coffee. One of the great loves of my life. A warm comfort to ease me from a sleepy fog into a productive afternoon; a necessary component of my "real world" functioning. I've never met a cup I didn't like, but I must say I am partial to supporting local business. So I recently combined two of my favorite things, coffee and exploring the city, and set out to "hop some shops" around Kansas City, Kansas. 
I grabbed a friend I who I know loves a good caffeine jolt like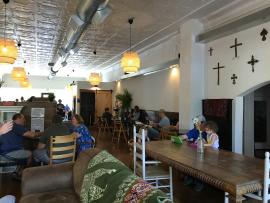 I do - it's a lot to ask to drink coffee all day, but someone has to do it. The early spring brought a slightly chilly, rainy day so we wanted our first stop to be somewhere with a nice, cozy ambiance. We knew we wanted to start west and go east, so Third Space Coffee sounded like just the spot. 
Spacious tables, comfortable seating, beautiful decor and even a play area for kids all wrapped up in a homey package at this adorable shop in downtown Bonner Springs, KS. Third Space covers all your basics, and even has a signature "Bonner Brew," which I had to try. I have to admit, while coffee drinks are definitely their forte, the real star of the show is their food. Fresh baked biscuits smothered in sausage gravy and a breakfast sandwich that...well, I'll let the photo do the talking. Not to mention they've always got rotating seasonal pastries that will keep customers coming back for sure. Ahh - can I just live here?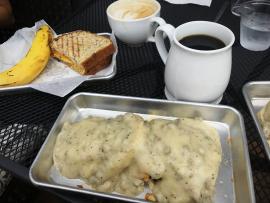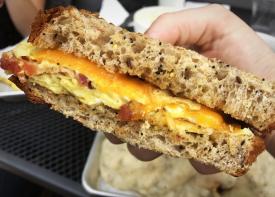 The last coffee shop on my tour was the newly opened Three Bee's Pottery & Coffee Shop in the Rosedale neighborhood. The owner was extremely friendly, and the charming little shop, still in it's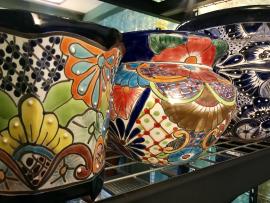 beginning stages, is brimming with potential. I sipped my tasty latte and perused the shelves, which were full of beautiful, vibrant hand-painted pottery from Guadalajara, Mexico. The owner explained the impressive pottery-making process, which can take months to complete. There is also a selection of décor and jewelry made by local artists, with plans to showcase more and more local artists' work in the future. I appreciated the no-frills menu and eclectic vibe of this place, and look forward to seeing the owner's vision come to life.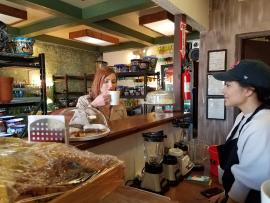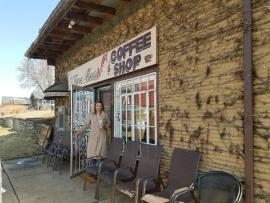 Surprisingly all that coffee drinking (and touring the city) made me pretty worn out - but I conquered the day! Where's your favorite coffee spot in Kansas City? Don't forget to check out KC Destinations' KC Coffee Trip, featuring 15 local favorite shops around the metro area! Stop in at 5 of the 15 shops and snag yourself a limited edition free coffee tumbler!
See what other Kansas City, KS coffee shops and cafes you can explore here!