If someone asked me a few years ago for a great place to go for coffee I probably would suggest somewhere other than Kansas City, KS. Sure - there were a couple Starbucks locations, gas stations and other franchise spots to help cure the afternoon lull, but a quaint, quiet spot to read or chat with a friend? You'd probably be better off searching elsewhere in KC. However, if you were to ask me today, my answer would be entirely different. It seems as if recently local coffee shops and cafes have been popping up all about my beloved KCK. 
Coffee enthusiasts, rejoice! Splitlog Coffee Co. is a popular kid on the block. The Instagram – friendly spot was founded by two brothers working in the Strawberry Hill neighborhood. The brothers traveled to the River Market or Midtown KCMO to grab coffee each morning, and wanted to bring a similar feel across the state line. Splitlog's multi-roaster format allows the shop to provide consistent cup quality from Messenger Coffee Co. a roaster based right here in Kansas City, while also featuring selections of coffees from other roasters across America.  
While Splitlog's location at 548 Central Avenue (just off interstates 670 and 70) and drive – thru service makes it perfectly convenient for anyone needing to make a quick stop on the way to work in downtown KCK or KCMO, I definitely recommend stopping in to sit, relax and enjoy your brew when you get a chance. Splitlog's trendy, simplistic décor gives it a very tranquil ambiance that makes it ideal for getting some work done, or sharing in good conversation with a friend.
Might I recommend: One of the flaky, fresh baked croissants always found atop the counter and one of the shop's select pour overs.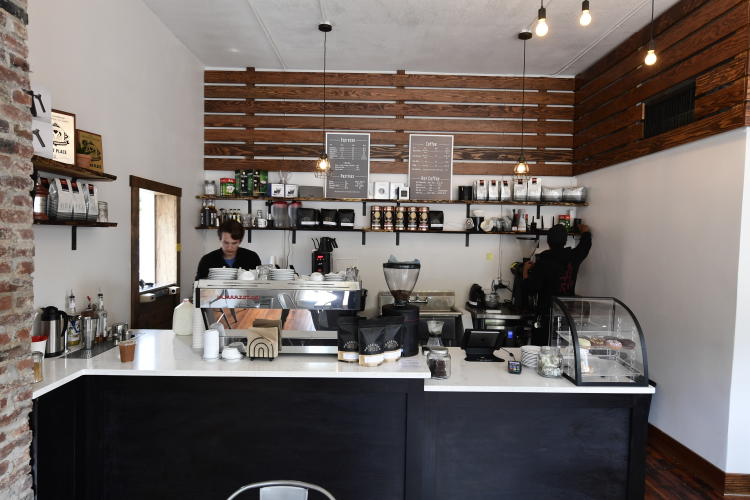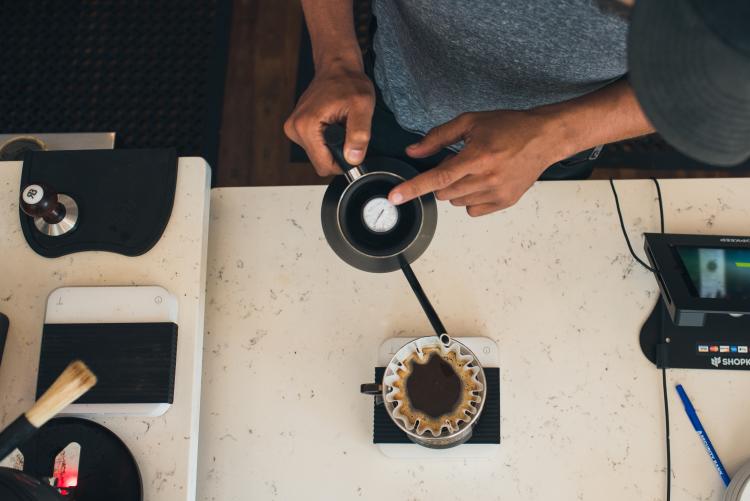 Spacious tables, comfortable seating, beautiful decor and even a play area for kids all wrapped up in a homey package at this adorable shop in downtown Bonner Springs, KS. Third Space covers all your basics, and even has a signature "Bonner Brew," which I had to try. I have to admit, while coffee drinks are definitely their forte, the real star of the show is their food. Fresh baked biscuits smothered in sausage gravy and a breakfast sandwich that...well, I'll let the photo do the talking. Not to mention they've always got rotating seasonal pastries that will keep customers coming back for sure. Ahh - can I just live here? 
The last coffee shop on my tour was the newly opened Three Bee's Pottery & Coffee Shop in the Rosedale neighborhood. The owner was extremely friendly, and the charming little shop, still in it's beginning stages, is brimming with potential. I sipped my tasty latte and perused the shelves, which were full of beautiful, vibrant hand-painted pottery from Guadalajara, Mexico. The owner explained the impressive pottery-making process, which can take months to complete. There is also a selection of décor and jewelry made by local artists, with plans to showcase more and more local artists' work in the future. I appreciated the no-frills menu and eclectic vibe of this place, and look forward to seeing the owner's vision come to life.