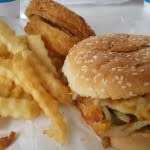 A local favorite diner in Kansas City, KS is Fritz's Railroad Restaurant located on 18th street. Fritz's is famous for their unique food delivery system and their old fashioned hamburgers made with 100% choice ground beef, grilled onions seared in the meat, toasted buns and always "cooked to order". The prices are reasonable and the atmosphere is fun for kids. Diners order food by phone and watch their meal delivered by train. It transports the food out of the kitchen and around the ceiling of the restaurant to your booth.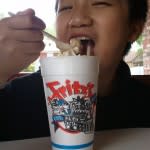 It's a great place for families to enjoy good old fashioned greasy burgers and fries. It has been a while since I've visited Fritz's, so on a nice afternoon my 12-year old son Marcus and I head over to Fritz's for lunch. It was extremely busy however we were able to get in within a few minutes. They also have a drive-thru and a little bar area for those who want to grab something to go. We wanted the full experience so we waited for a booth to open. Once we are seated I place our order via the phone booth. I order a single Gen Dare consisting of a single hamburger topped with hash browns, grilled onions, pickles and cheese and an order of Frings (French fries and onion rings). Why choose one or the other when you can have both!  Marcus ordered an Old Fashioned Hamburger with fries and a Root Beer Float, which he absolutely loved. Kids receive free paper engineer hats to complete the whole experience although Marcus refused the hat because he says tweens are too old for these kinds of things. He takes a video of the train delivering our food with his IPod, and I know I chose a great spot for lunch when he beams with excitement and says "that was EPIC!".

-Maila Yang
Maila is the Marketing & Communications Manager for the Kansas City Kansas Convention & Visitors Bureau, Inc.